Trap Shooting Hits Its Target In Minnesota High Schools
05:20
Play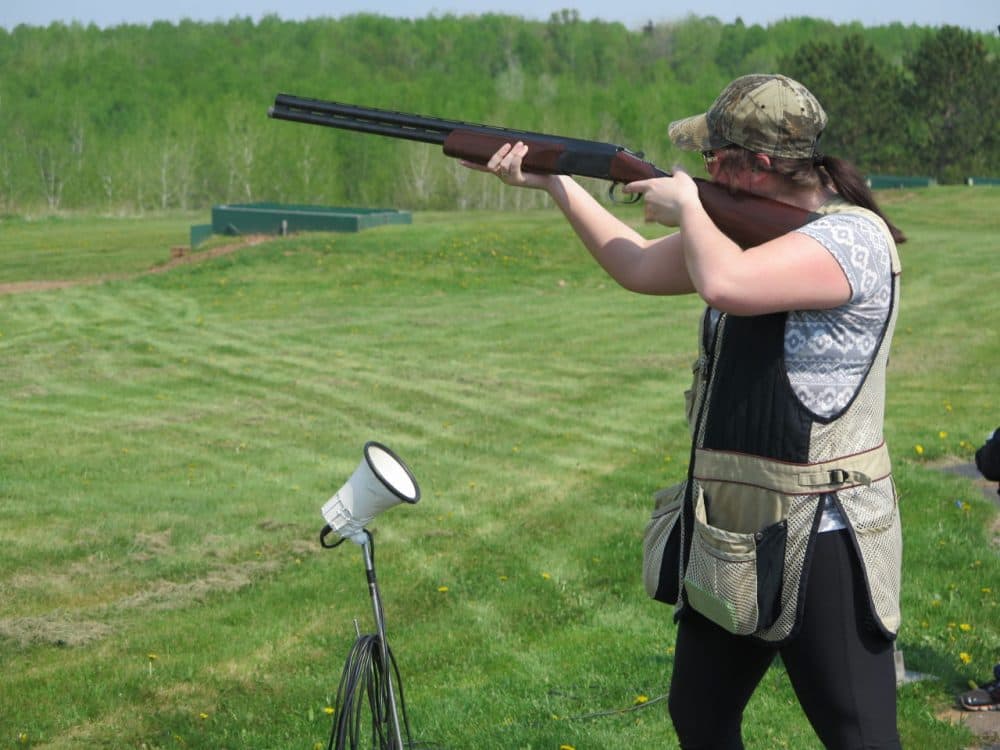 This article is more than 5 years old.
It's a warm Wednesday afternoon in late May, and gunshots are echoing off the trees next to a rural highway in northern Minnesota.
It's after school, and this open field is packed with middle and high school kids, brandishing 12-gauge shotguns. There are groups of five shooters, spaced apart.
In one group, a girl with her hair pulled back under a camouflaged hat yells, "Pull!" A little, bright orange clay disc, four inches across, zooms out over the Proctor Gun Club's grassy field. She aims her gun and fires.
These are the kids that respect the guns, and they hunt and fish. ... And it keeps them from playing these stupid video games.

Guy LeBlanc, Hermantown trap shooting coach
The little clay pigeon breaks apart in mid-air. One point for the Hermantown High School trap shooting team.
"It's difficult at first, yeah, it's very difficult at first. But once you get the hang of it, it's kind of second nature to you, I guess," said Erin Flaig. She's a senior at Hermantown, the team manager and one of just three girls on the team."It's kind of fun because some weeks, some days I'll outshoot the boys, and I'll feel pretty good about myself."
Flaig grew up around guns. Her dad's a hunter, but she didn't know anything about trap shooting.
"I had heard about it through my sister," she said. "She had a couple friends who were into it, and I came and watched her a couple times and I really enjoyed it. I thought it was kind of fun. It was different. It was interesting."
Back when Flaig joined, there were just a handful of kids who shot trap at Hermantown. The year before a student approached math teacher Guy LeBlanc about helping start a team, so he agreed to make the case to the school board.
"The school board wasn't real receptive to it," LeBlanc said. "And I understand with guns and school. So, we had to agree to not have the guns on campus, of course."
LeBlanc had never shot trap, but he hunted pheasants and ducks. And he told the school board: these aren't the kind of kids you have to worry about.
"These are the kids that respect the guns, and they hunt and fish and know the outdoors. And they know that one screw up and something bad is going to happen," he said. "And it keeps them from playing these stupid video games."
The school board relented. A team was formed. And the next year Josh Rollins started competing as a freshman.
"In our first year, I know, I would come here and I would be able to shoot in 10 minutes and leave," Rollins said.
But as word got out around school, the team grew. And grew.
"And now I have to wait half an hour to an hour to get onto a line," Rollins said. "So, it's really been growing."
There are now 45 kids on Hermantown's team. That's more than there were in the entire state only seven years ago. This year, statewide, there were more than 8,600 shooters competing. It's by far Minnesota's fastest growing school sport.
I called up John Nelson with the Minnesota trap shooting league and asked him what's behind that incredible growth.
"From a school's perspective, it provides a safe program. We've never had an injury," Nelson said. "This also helps comply as an adaptive sport. So kids who have physical disabilities can participate in shooting sports. We have many kids that shoot from wheelchairs. We're also a co-ed sport, so this is a program that is open to all.
From a parent's perspective, it's terrific because they don't have to travel with their kids across the country to participate in the sport. They shoot at their local gun club. That's the only place they have to go."
OK, but what about the kids? Well, there's a whole bunch of reasons.
"It fits the niche of a different kid," LeBlanc said. "Most of our kids — I think there's 45 kids on our team this year — there's about 28, 29 of them that don't play another sport. They're not in band, choir, drama. This is their thing. And you don't have to be 6-foot-2, 220 pounds to be effective at it."
That helps Rollins, who's now a senior. He's just a normal-sized teenager with glasses and curly hair tucked under a ball cap. For him, trap shooting was a natural fit.
"I get to shoot guns," Rollins said, "and it helps improve how I shoot, 'cause I duck hunt and I deer hunt, and this is a lot like duck hunting."
Like a lot of kids growing up in northern Minnesota, hunting is a big part of his life, something he grew up doing with his parents.
"My dad always gives me crap: 'Oh you can't hit the broad side of a barn, Josh,'" he said. "So, I came here and I shot against him and I beat him, so that made me pretty happy."
And what about Flaig? She wasn't a big hunter growing up. She played soccer and basketball and participated in other after school activities.
"I was involved with dance team this past season, but this is my primary sport this year," she said.
"So dance and then trap shooting," I asked. "Some people might say,"What the heck?!"
"Yeah, definitely both ends of the spectrum there, yeah," Flaig replied. "Get all dressed up, put makeup on, put your hair up and dance to a song and then come out, put your camo hat on and shoot with the guys."
This weekend two of Flaig's teammates will compete in the state finals.
And they're helping to blaze a trail for young shooters around the country. Minnesota was the first state to start a trap shooting league. This year Wisconsin and North Dakota followed suit. By next year, five or six states are expected to have their own. And now organizers have started a U.S. clay target league to duplicate the Minnesota model nationwide.
This segment aired on July 4, 2015.