Meet Jen 'Dr. J' Welter, The NFL's First Female Coach
Play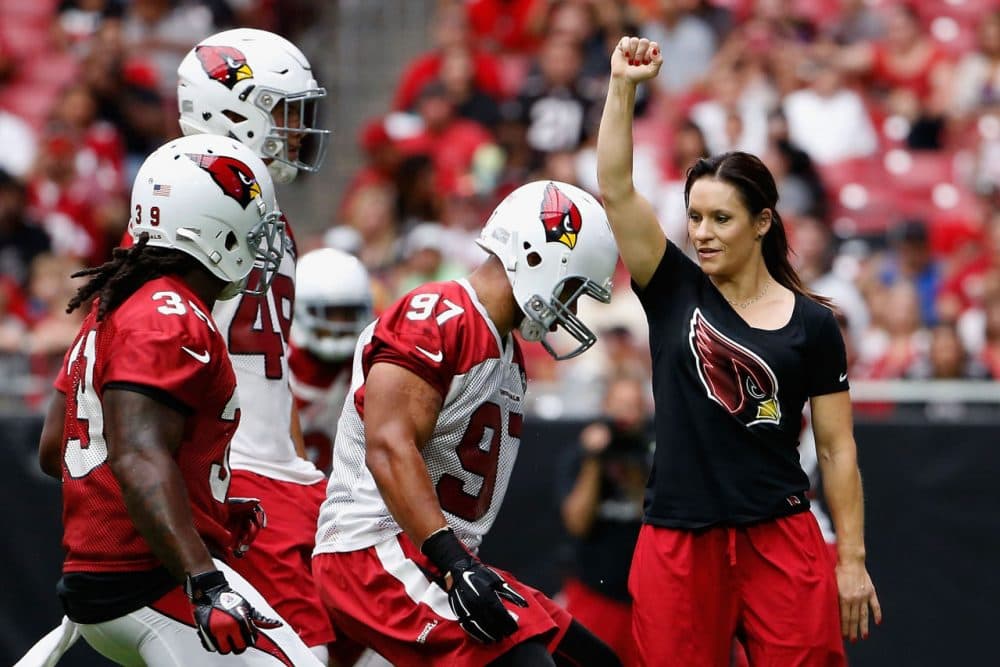 This article is more than 7 years old.
This story is part of Only A Game's "Time Show" which examines how the passage of time influences sports.
The Arizona Cardinals made history this summer by hiring the league's first female coach as an intern during training camp.
"I could not have dreamed big enough to imagine that this day would ever come," Jen Welter said at her introductory press conference last month. Cardinals head coach Bruce Arians sat by her side.
"Though it's a dream I never could have had, now it's a dream other girls can grow up and have," Welter said. "And so I guess if that makes me a trailblazer, then --"
She fits right in. You don't even know that she's a woman when she's in there giving guys technical input.

Patrick Peterson, Cardinals cornerback
Welter, 37, who has a doctorate in psychology, has been playing football for 15 years, first as a linebacker for the Dallas Diamonds of the Women's Football Alliance.
Then, in 2014, she became the first woman to play a non-kicking position with the men when she took the field as a running back for the Texas Revolution of Champions Indoor Football.
With the Cardinals, she's helping coach the team's inside linebackers.
The team has not made her available for individual interviews, but after two weeks, Arians was impressed.
"She's been fantastic," the third-year head coach said. "About a hundred times more than I thought it would be. Players have embraced her as a coach. They listen. She's got really good insight, as they call her 'Dr. J.' There's a really good rapport out there right now."
In the locker room, players agree.
"She fits right in," said cornerback Patrick Peterson, one of the team's leaders on defense. "You don't even know that she's a woman when she's in there giving guys technical input. You can't even tell that she's a lady."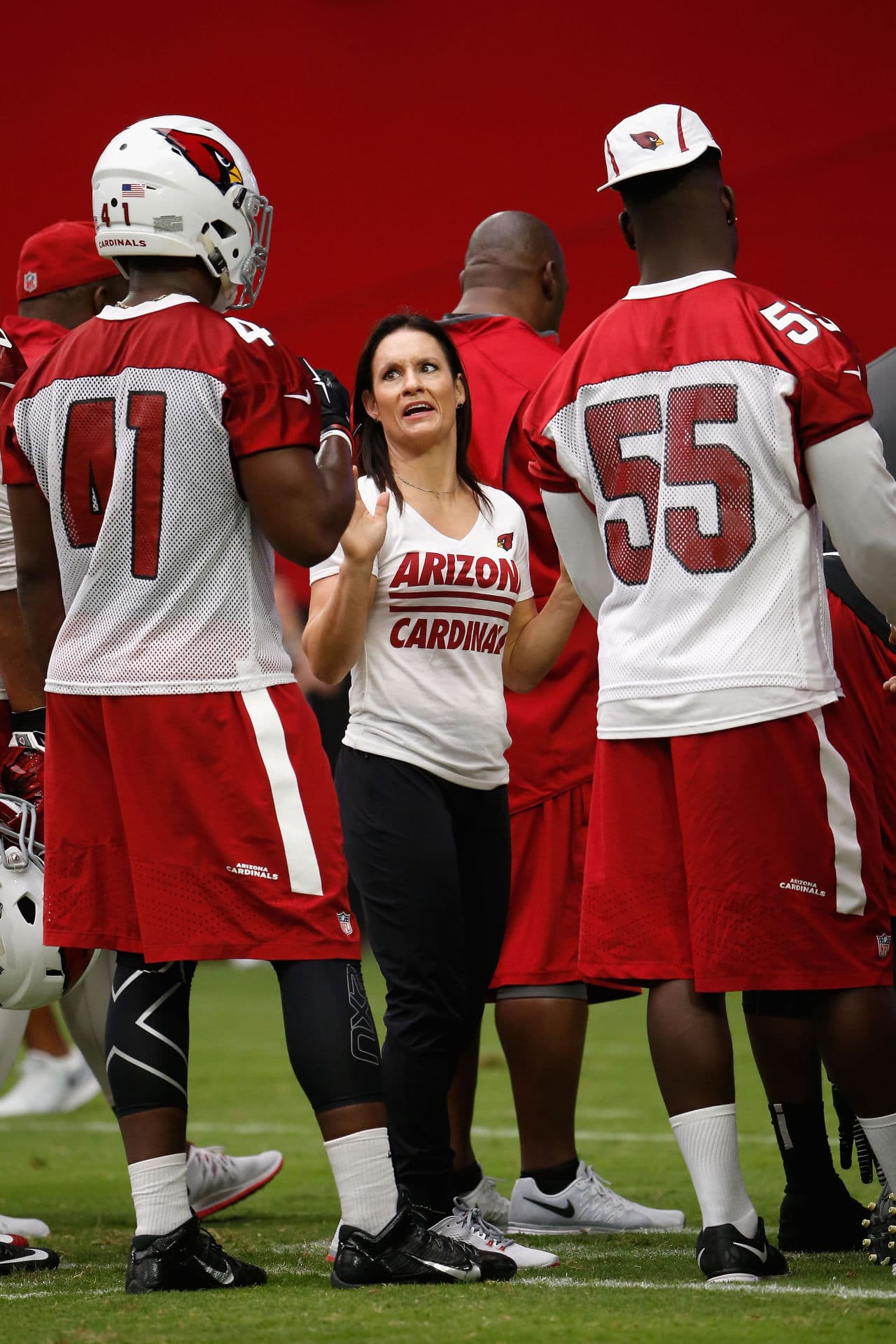 But to find out how Welter is really doing, you need to make your way over to the linebackers, the burly guys in the center of the defense who dish out hits and make the majority of tackles.
Second-year pro Kenny Demens said she's helped him with technique.
"She's real big on footwork and eyes," he said. "If you get your eyes in the right place, it's gonna take you to the ball. It's gonna take you to where you have to be."
Another young player, Kevin Minter, says Welter has helped him get back to the basics.
"She's a stickler for fundamentals," Minter said. "You kind of get away from that, a bit, being at this level, sometimes. With her, she's always on footwork, staying behind the ball, that sort of thing. Having someone reinforce that is kind of refreshing, like, 'OK, let me get back to Linebacker 101.'"
And it didn't take long for Alex Okafor to figure out his new coach was no joke.
"She knows the game, and I think that was just the biggest skepticism with her coming in is, 'Does she actually know the game?' And she does," he said.
When did he realize that?
"When she was kind of coaching me up on some technical issues about hand placement and driving my feet and stuff like that and flipping my hips," Okafor said. "I was like, 'OK, you actually know what you're talking about. Let's go. Let's get this thing going.'"
And even the veterans, like LaMarr Woodley, who signed with the Cardinals in the offseason after a stint in Pittsburgh, say Welter is the real deal, even if she never played in the NFL.
"I think it doesn't matter at all because of the simple fact you have a lot of coaches in the NFL that never played a down of football in their life, and they're coaching," said the 30-year-old linebacker. "So, I don't think it's any different for any woman who hasn't played a down of football and also get the knowledge of football and come out here and coach."
Arians says his bold move is already paying off.
"We're just happy to give her this opportunity, and she's run with it," he said. "I mean, she's really done a great job."
As for Welter, she said she appreciates the opportunity and the support of Arians.
"He had to get all of the right yeses," she said, "but it was his heart that made it happen. And it was his belief that the Arizona Cardinals was the team that could handle this happening and that he had coaches on his staff that would embrace it, not cast me off to the side."
But Welter may not be a permanent fixture with the Cardinals. As a coaching intern, she's only guaranteed six weeks on the staff. A decision will be made on her long-term role with the team when the preseason ends in September .
This segment aired on August 22, 2015.