Rugby Star Leaves Australia For Try At The NFL
05:16
Play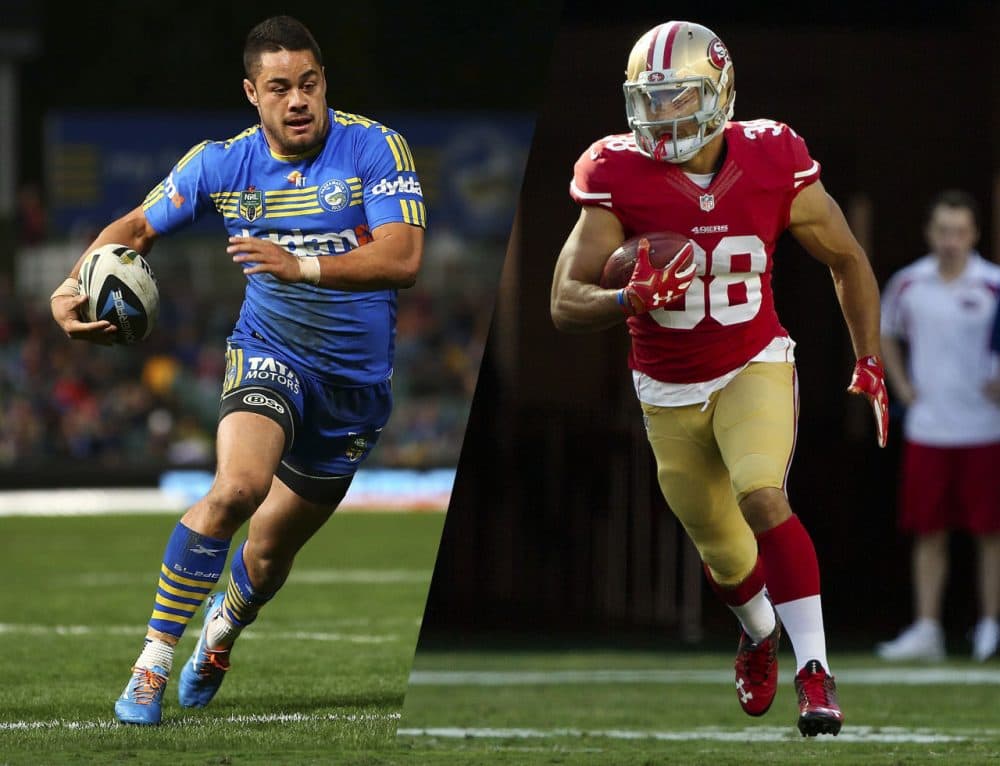 This article is more than 5 years old.
Jarryd Hayne is an Australian rugby star-turned-NFL wannabe. And in his first preseason appearances with the San Francisco 49ers, the reigning rugby MVP has made an impression.
Julie Tullberg, former sports editor for Melbourne's Herald Sun, has followed Hayne throughout his career in the National Rugby League. Tullberg joined Only A Game's Bill Littlefield to discuss Hayne's move.
BL: Hayne is taking a $4 million pay cut to come to the NFL. And if he doesn't make the 49ers 53-man final roster, he's gonna walk away with only about $100,000. Are people in Australia scratching their heads at this point and wondering why he's taking that risk?
He's just super quick and powerful. And I think he can make it, and I think he'll continue to make a statement.

Julie Tullberg
JT: Hayne was very emotional when he left. He was actually in tears in his interview to announce his transition to American football, so it was kind of heartbreaking for him. I think a lot of Australians realize that some footballers locally have a dream to play American football. And the NFL is regarded as the pinnacle of football as an athlete, so they understand where Hayne is coming from.
BL: Hayne had never played American football before this pre-season. Now he's trying to make the 49ers as a kick returner and running back. He averaged 129 total yards in San Francisco's first two preseason games. How do you see Hayne's skills as a rugby player transferring from one sport to another?
JT: He's a very versatile player simply because he's so strong and fast, and he can play various positions for rugby league. But in American football he will need to nail a specific position, and what he's playing now is perfect for his athleticism. What you have to consider also is Hayne actually plays with no protective equipment in Australia. So he runs with no helmet or no padding at all, and he's saying he is struggling to get used to wearing a lot of protective gear, which is quite interesting.
BL: So his position is perfect for his athleticism, but do you think he has what it takes to succeed in the NFL?
JT: The thing about Hayne is he's incredibly determined and he's almost obsessive-compulsive. He's such a very determined character, who is a great student of NFL, and he's been studying it for two years. He has gone over with friends, other footballers from Australia, to watch the game and totally absorb it. And he's just super quick and powerful. And I think he can make it, and I think he'll continue to make a statement.
BL: Hayne's U.S. agent is already talking about scouting other NRL players who might be interested in switching to the NFL. Meanwhile, Jason Holmes has become the first "born-and-bred" American to play top-flight Australian Rules Football. I gotta wonder if this is the start of a trend where U.S. and Australian athletes just switch places?
JT:  It's a  really fascinating, I call it an experiment. There's really only been about five incredibly successful Australians to play NFL. And to be perfectly honest, Australians are very excited to see our locals go over to America and be effective in the NFL. We're actually very proud, and it's very common for even young kids to get up early in the morning — because of the time differences — and watch football. A lot of people do it. And the following when the Super Bowl is on or major games, there is huge coverage on websites here — on sports websites it's the top story of the day.
BL: You paid some attention to Hayne's career as a rugby player. Have you a favorite moment or image that you can share with us at this point?
JT: Well, Hayne is known as the Hayne Plane, and he's just got the ability to shrug off many footballers and runners down the field. And when he scores a try, which is the same as a touchdown, he brings out his arms like an airplane and they call him the Hayne Plane, so I'll be very interested to see if he does the Hayne Plane if he scores a touchdown in American football. That's always my favorite moment.
BL: Well I hope somebody warns him that if he pulls any of this Hayne Plane nonsense after scoring over here they're going to fine him for excessive celebration cause the NFL has no sense of humor.
JT: Oh, yes, that'll be very interesting. Australians have a very different approach with their celebrations.
This segment aired on August 29, 2015.