AFC Bournemouth: From The Brink Of Extinction To The EPL
06:10
Play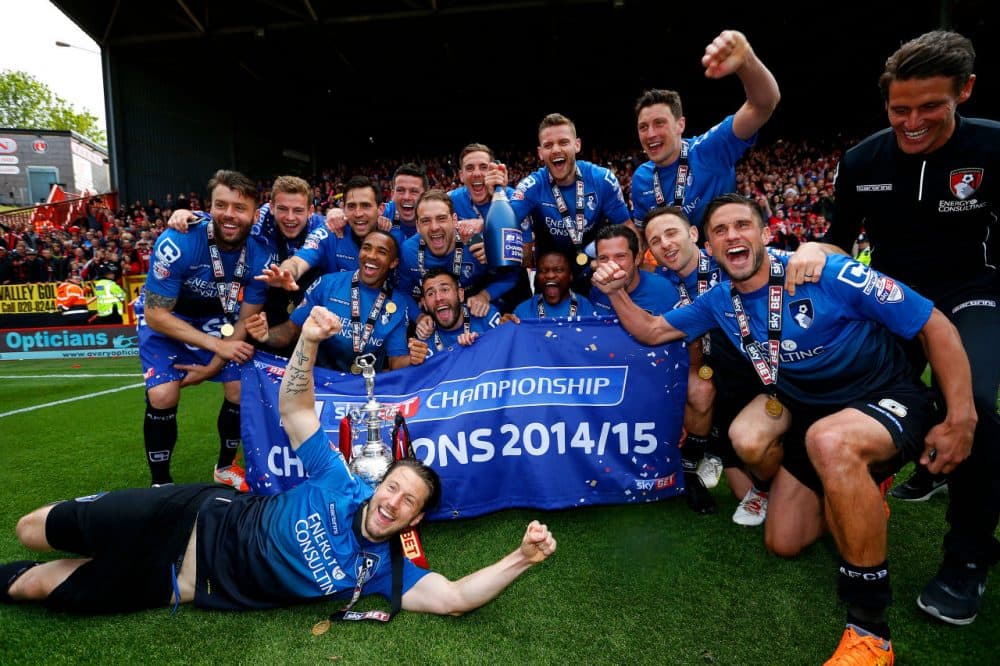 This article is more than 5 years old.
The English Premier League has been underway for a few weeks now. This season, Manchester United, Chelsea, Arsenal, Liverpool and others have been joined by newcomer AFC Bournemouth.
Bournemouth's rise to English soccer's elite has been sudden and swift. Reporter — and lifelong AFC Bournemouth fan — Russell Crewe investigates.
Soccer By The Beach
Now, it's not often you get to start a sports report on the beach.
But this is Bournemouth — a town and a football club unlike any other in the English Premier League.
While most EPL clubs are located in large, gritty urban centers, Bournemouth is the only one which can be found in a seaside resort. (One tourist went so far as to compare it to California but smaller.)
Having lovely weather, seven miles of sand and a more relaxed pace of life is probably the smallest difference between Bournemouth and the rest of the EPL.
12,000-seat Arena — And A Lot Less Money
To find out more, I met with Michael Dunne, presenter of the All Departments podcast. It's the only podcast dedicated to following AFC Bournemouth.
And we started by measuring crowd numbers.
For most of my supporting life, we've been the poster child for how not to run a football club.

Michael Dunne, Bournemouth podcaster
"We've got a stadium which holds about 12,500," Dunne said. "It will be full for every single game. Biggest ground in the Premier League is Manchester United. That's about 75,000. Arsenal have 60,000. Newcastle, I think, it's around 50-55. We're a very small club."
The huge difference in ground sizes will certainly be an eye-opener for players such as Wayne Rooney and Diego Costa.
And they'll have an even bigger shock when they discover just how much cheaper it was to build Bournemouth's squad of players.
Manchester City bought Raheem Sterling for $75 million this summer, while Bournemouth's starting 11 cost around $60 million in total.
Making it to the Premier League and competing against the world's biggest clubs and players has suddenly made AFC Bournemouth a global brand.
Until recently, this football club would be lucky if just one of its games appeared on live television in the UK.
Now every one of its matches is shown in 140 countries.
On The Brink Of Extinction
So for many outsiders it's hard to understand that just seven short years ago, this club was on the brink of extinction. But Dunne remembers it clearly.
"For most of my supporting life, we've been the poster child for how not to run a football club," he said. "There's been two or three occasions when we've come very close to going out of business. The turnaround in the club's fortunes has been something that no fan would expect."
AFC Bournemouth's home ground is known by locals as Dean Court but to the new sponsors as the Vitality Stadium.
And it was there — in the air-conditioned inner-sanctum of the owner's box — where I met Bournemouth chairman Jeff Mostyn.
Back in 2008, AFC Bournemouth was playing in the fourth tier of English professional soccer.
As a business, the club was financially bust and the chairman put in some of his own money to save it.
I wondered if Jeff ever thought he'd get that cash back.
"Never in a million years," he said. "I still, even to this day, don't know why I invested in it. I'm embarrassed to say I'm a financial adviser."
Despite Mostyn's action, the soccer authorities punished the club for its financial failings.
Out of 92 teams, the Bournemouth squad started the 2008-2009 season in 91st place.
They faced a fight. It was a fight for their survival, both as a soccer team and as a business.
"I think the years of adversity created an incredible tenacity," Mostyn said. "We felt that the whole sporting world were against us."
Their fight didn't start well, and within four months the club had sacked two managers.
Enter Eddie Howe
In desperation they turned to a locally born ex-player (and former fans' favorite), Eddie Howe.
Just 31 years old, it was his first-ever job managing a professional side. And in just a few months he achieved the seemingly impossible, saving the club from relegation and certain doom.
The following season, almost as if all the bad things hadn't happened, he led his team to promotion, taking them from the fourth to the third tier of English football.
"We've got a manager here, Eddie Howe, who seems to be able to get an awful lot out of his players," Dunne said.
Although briefly poached to manage another club, Howe returned and immediately took those players from the third tier to The Championship, England's second division. No one dreamed they could earn promotion once again. But in The Championship, Eddie Howe remained true to this football philosophy and continued to rely on many of the players who had risen up through the English soccer leagues with him.
And it was that cohesiveness which saw Bournemouth achieve the unthinkable.
Bournemouth Reaches The EPL
https://youtu.be/iOBv4flgWQ4?t=3m37s
As the final whistle blew on the penultimate fixture of last season, fans poured onto the pitch.
AFC Bournemouth had won the Championship and with it gained promotion to the Premier League.
Although recent investment by a Russian owner has played some part in their rise, the club still had to fight against the odds.
The past seven years have been like a dream for the club, the players, the town and fans like me.
I wondered if Mostyn ever worried he might wake up and discover it hadn't really happened.
"I think I've had to pinch myself a few times," he said. "Somehow we did achieve the impossible. Somehow the journey has ended at the very top level of English football."
Wherever the team finishes this season, it will be the highest league position the club has ever recorded.
For them, and me, the "Impossible Dream" has been achieved.
This segment aired on September 12, 2015.