'Club Soccer 101' Highlights Sports' Best Stories
08:06
Play
This article is more than 6 years old.
Since the United States' showing at the World Cup two months ago, soccer fever has yet again gripped the country. But if you're looking to know more about the game beyond Major League Soccer, you have quite a task ahead of you.
Thankfully, Luke Dempsey's new book Club Soccer 101: The Essential Guide to the Stars, Stats, and Stories of 101 of the Greatest Teams in the World goes straight for the biggest fixtures in soccer. It starts with AC Milan and ends with Wolverhampton Wanderers, because, well, none of the world's most illustrious soccer teams begins with X, Y or Z. Manchester United is in the book of course, as are Real Madrid, Barcelona and 96 others. Luke Dempsey joined Bill Littlefield to talk about the book.
---
Highlights from Bill's Conversation With Luke Dempsey
BL: Let's begin with Leeds United, led to glory by Don Revie – who was afraid of ornamental elephants. I wonder how one acquires a fear of ornamental elephants?
LD: Well, it's a terrific question. It's probably the last question I thought you'd ask me so I'm very happy to hear it. Look, Don Revie was an extremely strange man – he was a brilliant soccer manager. Leeds is an interesting place. Leeds has a very large population from the Indian subcontinent. It could be that he went and had wonderful curries in Leeds, as you can, and it may be that there were lots of ornamental elephants in those restaurants. And that's my only idea, unless he was once attacked by an ornamental elephant, which, knowing Don Revie, is very probable.
The story of Leeds United is a tragic one. They massively overspent in the late 1990s to make themselves the biggest team in the world, and unfortunately they now languish two levels below the top in England.
And this is one of the things about Club Soccer 101. I've tried to talk about, money in soccer. There's just been a massive spend again in the European leagues to buy players, players move around like cattle. And you know died-hard, old Man United fans like me look at it and wonder. United used to be a team of wonderful youth players, and now it's got multimillion pound players from all over the world. So one of the things I want to do in the book was talk about the long and illustrious histories of all these teams, really to show that when you watch a game on a Saturday morning on NBC or on a Saturday afternoon on beIN Sports or whatever you do, you can go to the book and find out more about people like Don Revie, if you really want to. I mean, he is one of the crazier people in the book, but there's plenty of other crazy people.
BL: A bit closer to the front of Club Soccer 101, we encounter the Los Angeles Galaxy of which Alexi Lalas, their general manager back in 2007 said, "I would put our teams up against some Premiership teams in a second." You have written that the problem would come in the ensuing 89 minutes and 59 seconds.
LD: Yeah, Alexi loves to talk, as everybody knows, and I don't really mind him bigging up the MLS. I mean, I'm a huge MLS fan too. But he is absolutely wrong that any MLS team would ever keep up with a Premier League team or a La Liga team or Bundesliga team from Germany. And I don't think those kind of comments particularly help the MLS, because if a soccer fan goes and sees the standard in the MLS, they'll think, "Well this isn't like watching Manchester United play Liverpool, or Bayern Munich playing Borussia Mönchengladbach – I just always want to say Mönchengladbach as many times as I can. So I understand why he said it – he said it when he'd just rented David Beckham, which was a wonderful move for the MLS – but I think it would be a bit of a mismatch still.
BL: Some of the places where these clubs play have become as important to soccer fans as Wrigley Field or Fenway Park are to baseball fans. Tell us about the stadium called "La Bombonera" in Buenos Aires.
LD: Oh yeah, the candy box. The chocolate box is an extraordinary stadium. It is on three sides, a regular sporting stadium. And then the problem with the place is they only got the rights to the ground in a D shape, I guess you'd call it. And so where the straight line of a D is, [the seats] go straight up, rather like an opera house. It's the most extraordinary place – when a goal is scored, apparently it shakes so hard that people weep. It's an incredible place. And there are wonderful videos if you ever want to go onto YouTube and watch what happens when the goals is scored, because streamers come down, [Diego] Maradona is often there screaming and jumping up and down. And he's a pretty big guy these days, so he probably makes the stadium bounce even more than the fans – but it's a wonderful place.
BL: I know the bookhasn't been out for very long. But have you heard from lots of fans who are angry because you didn't include their favorite teams among the 101?
LD: Yes. And I love that kind of anger. It makes me think I did something right.
---
Bill's Thoughts On Club Soccer 101: The Essential Guide To The Stars, Stats, And Stories Of 101 Of The Greatest Teams in the World: 
[sidebar title="An Excerpt From 'Club Soccer 101'" width="330" align="right"]Read about the history of Ajax in an excerpt from Luke Dempsey's Club Soccer 101: The Essential Guide to the Stars, Stats, and Stories of 101 of the Greatest Teams in the World.[/sidebar]
Luke Dempsey's collection of profiles of 101 soccer clubs is great fun. Dempsey celebrates some of the game's most accomplished players and tells stories of championship runs and improbable comebacks, of course, but the great strength of the book in his point of view. What other writer would have concluded a tale about a game between Real Madrid and F.C. Barcelona during the Franco era with this sentence: "This writer refuses to give credence to the final score of that game - and thereby the dictatorship that dictated it - by reporting it here."
Among Luke Dempsey's 101 Greatest Teams are clubs from England, Spain, Italy, the Netherlands, Germany, Turkey, and China. The Seattle Sounders also make the cut, as do the L.A. Galaxy, D.C. United, and the New York Red Bulls. Dempsey is an exceptionally knowledgeable student of club soccer and his book reads as if he had a wonderful time writing it.
This segment aired on September 6, 2014.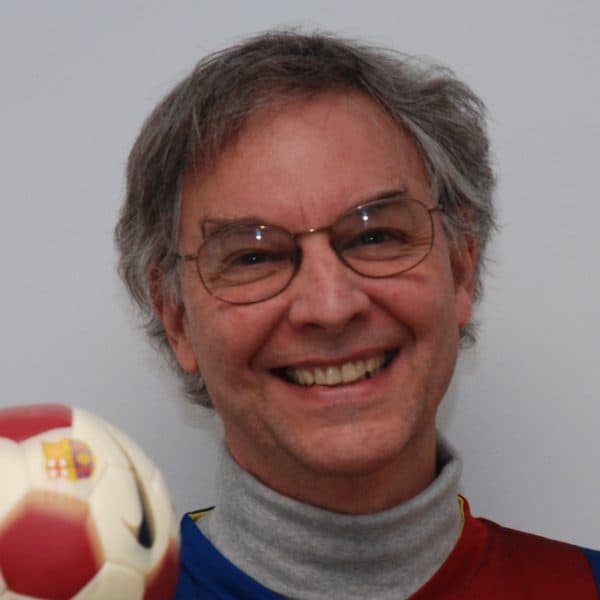 Bill Littlefield Host, Only A Game
Bill Littlefield was the host of Only A Game from 1993 until 2018.