Remembering Yogi Berra: The Fork In The Road
03:04
Play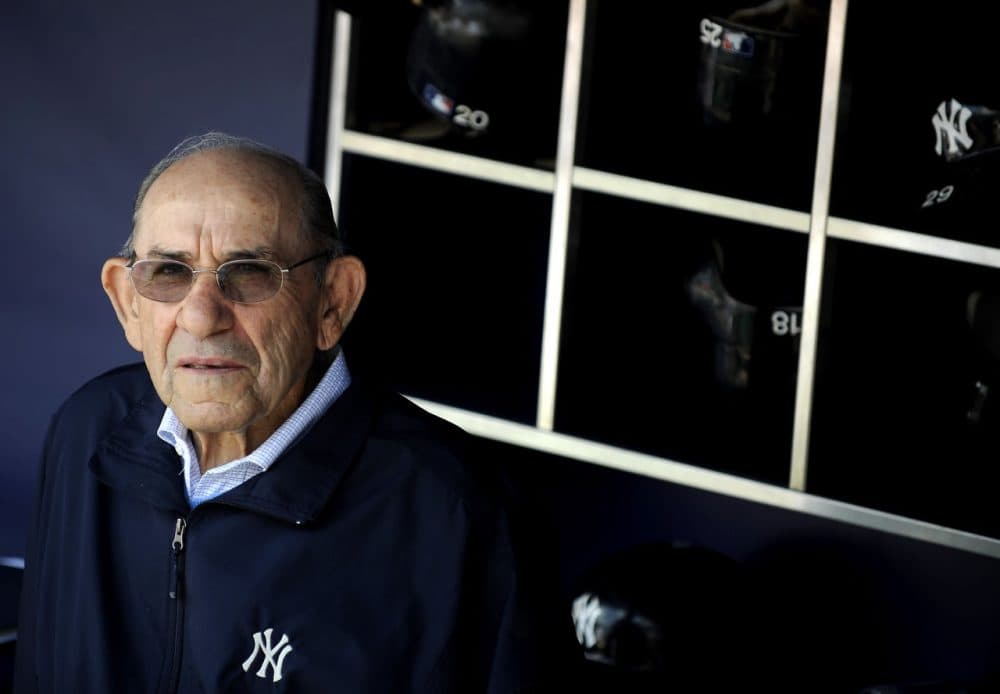 This article is more than 5 years old.
Yogi Berra died on Tuesday. He was 90 years old. The winner of three MVPs, Berra played on 10 World Series winners. And he's even better known for his Yogisms.
You know the thing he said about, "When you come to a fork in the road, take it?"
You may think that fork is metaphorical.
It isn't.
"You say you're from Montclair," Berra asked me during a conversation we had in 1998. "You know Highland Avenue?"
"Sure," I said.
"You know the fork in the road going down...there's a fork there. Both of them lead up to Highland Avenue," Berra said.
"So take it!" I said.
"Take it!" Berra said.
For a considerable time, Yogi Berra and I both lived in Montclair, New Jersey, which is why we could discuss that particular fork in the road.
My dad didn't believe in baseball. He'd come from the old country, he didn't know what baseball was.

Yogi Berra
Throughout that conversation he called me Jim. I never corrected him because I'd no more have interrupted Yogi Berra than I'd have interrupted Casey Stengel. Instead, I introduced the interview by announcing that I was changing my name.
Anyway, Yogi was in Boston to talk about a book of Yogisms that had just come out, and he was typically self-deprecating with regards to their origins.
"I don't know why I say these things, though Jim," Berra said. "That's the funny part about it. I wish I knew. You know, we could be sitting at the table at home with the kids and having dinner and one of them will pop up and say, 'Dad you said another one.' I didn't even know what I said, to tell you the truth."
"Well that's a good thing someone was their to record them," I pointed out.
"I know...my wife, she's probably got 150 of them that's not in the book. She knows a lot of them," Berra said.
I had the opportunity to speak with Yogi Berra in several other contexts. In only one of them did he appear to be tired of being Yogi Berra. That was in the visitor's dugout at Fenway Park in 1984, when he was managing the Yankees. It was a position he would not hold for long. At that point in Yankees-owner George Steinbrenner's career, very few managers held that position for long. Anyway, a dozen writers had gathered around Berra in the dugout, each hoping for some magnificently twisted gem of syntax that nobody'd heard before. To their dismay, Yogi answered their questions with rumbly mumbles, none of them memorable.
But in the studio that day in 1998, he couldn't have been more accommodating. He seemed to especially enjoy talking about his family, and the way his sons, two of whom became pro-athletes, did it without the help of their illustrious father.
"I said, 'You want to play that bat, play with your brothers,'" Berra told me. "That's what we had to do when we were kids. My dad didn't believe in baseball, he'd come from the old country. He didn't know what baseball was. And, I had three other brothers that could've gone and played. My oldest brother was the best one of us all, and he didn't get a chance to go out and play. I used to kid my dad, I'd say, 'Dad, you know, if you'd let all of your three sons play, you'd been a millionaire.' He said, 'Oh, blame your mother.'"
Yogi Berra: family-man, Hall-of-Famer, sometime-inadvertent contributor to the vernacular. We will not look upon his like again.
This segment aired on September 26, 2015.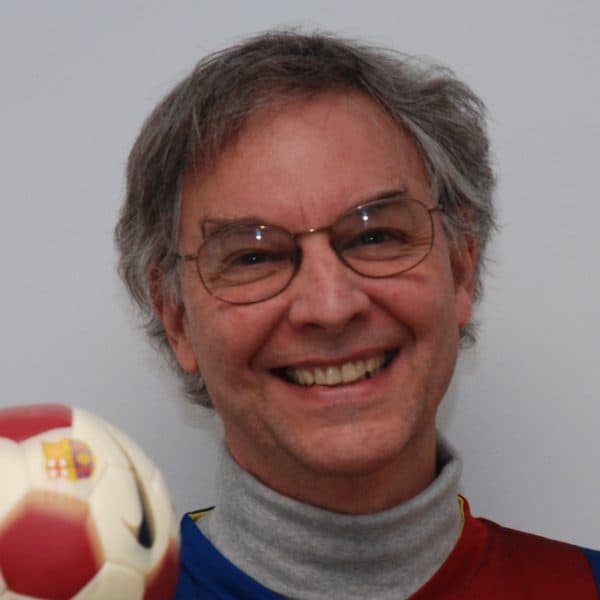 Bill Littlefield Host, Only A Game
Bill Littlefield was the host of Only A Game from 1993 until 2018.