Doc Adams: 19th Century Ballplayer, 21st Century Hall of Famer?
Resume
In baseball, there are rules. The distance between bases is 90 feet. Nine players on the field. Nine-inning games. And everyone knows: three strikes and you're out.
But there was a time when those rules hadn't been established, and into that time came a guy named Doc Adams. This week, the baseball Hall of Fame announced that Adams will have his first chance for induction under the Pre-Integration Era Committee ballot. His great-granddaughter Marjorie Adams has spent the past four years working toward this day and she joined Bill Littlefield.
BL: I know you could probably spend the next hour on just this question, but why do you feel Doc Adams should be in the Hall of Fame?
MA: History is very important to me. Doc Adams is important to me. And the part that he played in our national pastime has long been overlooked. And it is time because this year, 2015, is the 170th anniversary of the founding of his team, the New York Knickerbocker Base Ball Club.
BL: Your great-grandfather has been credited with establishing all the rules that I mentioned above. I understand he's also been credited with creating the position of shortstop which he played for the New York Knickerbocker Base Ball Club back in the 1840s?
I'm going to see it through to the end and I will live to see Doc Adams get in the Hall of Fame. I'm just hoping it's next year.

Marjorie Adams
BL: Your great-grandfather's full name was Daniel Lucius Adams, but "Doc" wasn't just a baseball nickname, as I understand it. He earned that nickname.
MA: Yes, he did. He graduated from Yale in 1835 and then went onto Harvard Medical School. He then went to New York City in 1839 and set up his medical practice. He also was a volunteer physician working with the poor in the city of New York and was often called upon to help out during the various cholera epidemics.
BL: This is a busy guy! I wonder that he had time to play baseball and invent the rules?
MA: Well, I think, in those days, the pace was slower. Most people of a certain position in the world were pretty much done with their business day by three in the afternoon, and then they had a little time on their hands.
He got into baseball for exercise, and that's what the baseball club was all about. This was not a highly competitive group. It was really a gentleman's club. They would usually take a ferry boat from Barclay Street on Manhattan Island over to Hoboken, New Jersey. And, in an 1896 interview of the Sporting News that they did of Doc, he has this wonderful line about getting to Hoboken, and they were free from all restraint and throwing off their coats. They would play until it got too dark. And I think that paints the most wonderful image.
BL: That's pretty much the way things are today, if you want to be free of all restraint you just go to New Jersey.
MA: Well, that's certainly my first choice.
BL: When you were growing up, did you know that your great-grandfather was so important to the game of baseball.
MA: Not at all. Not at all. We knew the basic facts, but that was pretty much it. Boasting is not in our family DNA. That's considered unseemly. But I have learned more in four years than I'm sure my father or grandfather ever knew.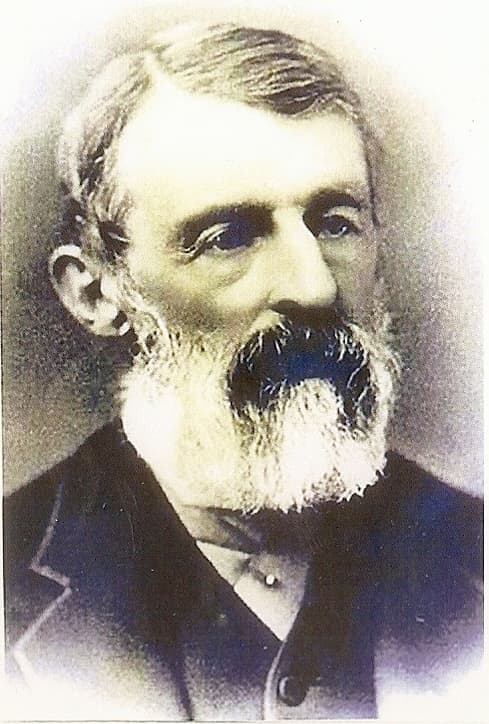 BL: Well, how did that happen? How did you go about acquiring that knowledge?
MA: I had a lot of help. Back four years ago, a man by the name of John Thorn, who is the official historian for Major League Baseball, published a book by the name of "Baseball in the Garden of Eden." And I looked in the fly leaf on the inside jacket, and the first name I saw there was Doc Adams. I couldn't believe it. So I absorbed that book. I just drank it all in.
About three weeks later, I was at a lecture on vintage baseball in Simsbury, Connecticut. And I was going to ask the lecturer at the end if he ever had heard of Doc Adams. Well, the second picture on the screen was Doc Adams. I almost keeled over, I had absolutely no idea. But I have loved every minute of it and I'm going to see it through to the end and I will live to see Doc Adams get in the Hall of Fame. I'm just hoping it's next year.
BL: If it isn't next year, because there are other candidates on this list with Doc Adams, will you continue your efforts?
MA: Oh, absolutely, absolutely. I'm not giving this up. I've come too far. Oh no, no, no, no. I want to make sure everybody knows there's no way I'm quitting this. I'm like a dog with a bone, and we're going to get this done.
I would just like to point out, since you referenced the other candidates: there is a very famous 19th century ballplayer on the ballot, a man named Bill Dahlen, who should certainly someday be in the Hall of Fame. However, he was a shortstop...and therefore I think Doc should go first.
BL: I love your reasoning!
MA: Thank you. I've got more. Look at what we have today because of the efforts of the early pioneers of the game, and Doc is just one of them. This is Doc's turn. Doc is on the ballot, and I think he should get in.
This segment aired on October 10, 2015.