Why You Should Embrace The Rugby World Cup
04:21
Play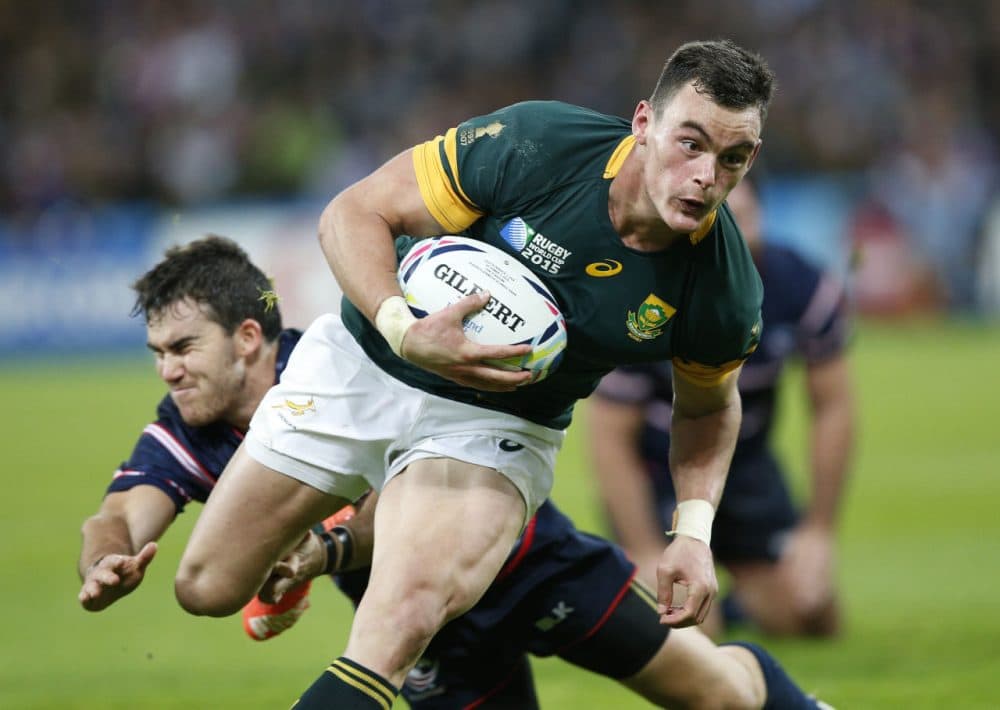 This article is more than 4 years old.
England is going crazy over the Rugby World Cup, underway now in London, Leicester and Manchester among other places. The U.S. has been paying considerably less attention to that event. Matthew Futterman of the Wall Street Journal thinks that's a big mistake.
He's written a story titled "Why The U.S. Should Care About Rugby," and he joined Bill Littlefield.
BL: You write that rugby is "right in the U.S. wheelhouse." How so?
If you were to, say, have Calvin Johnson of the Detroit Lions playing on the wing or something like that, and you could get the ball out to him, it would be sort of unstoppable.

Matthew Futterman, Wall Street Journal
BL: The U.S. lost its first three games at the World Cup by a total of 96 points. That can't be good. Is it even possible for the U.S. to succeed at this sport in our lifetimes, given where they are now?
MF: The U.S. Rugby Federation is really putting a lot of effort into this these days. It's really come a long way in the last 10 years. Now the trick is getting more people to play and getting more people to be able to play professionally because, I mean, the big problem with the U.S. team right now is about two-thirds of the roster are amateurs. So they just don't have the game experience that the rest of the world has. But getting into the top 10 is not impossible. There aren't that many countries that play rugby. The U.S. is currently ranked about 15th.
BL: Of course, there is a theory that in the United States the operative way to go is, "If I can't be first, I don't want to play. Why would I want to be in this if I can only be in the top four?"
MF: Yeah, I kind of think, what's the fun in that? I mean, it's neat to see problems that we can't solve, I think. And in rugby it's so fascinating because you have these tiny island nations like Fiji and Samoa that are really pretty good. So I think it's one of those puzzles that is both hard and complicated but really interesting to try and solve.
BL: It's interesting to me that you make an argument for rugby based on safety. Is this along the lines of less equipment and no helmet means people just don't put themselves in crazy-dangerous situations?
BL: All right, final question: which comes first — a U.S. win at soccer's World Cup or at the Rugby World Cup?
MF: I would probably bet on the rugby sevens World Cup. How's that for hedging my bets? There are two versions of this game. There's the 15s version, which is played in this World Cup, and then there's the sevens version, which is more wide open — only seven-on-seven — and the U.S. has really gotten quite good at that. And next year when rugby is back at the Olympics for the first time in 90 years, they'll have a shot at getting a medal in rugby sevens. I think 15s rugby and World Cup soccer are gonna be really hard. But, you know, you don't have to be at the top. Just being in it can be pretty thrilling.
BL: Where did you move to America from?
MF: I guess it was in that strange island nation called Manhattan.
This segment aired on October 10, 2015.