#MuteBuck: A World Series Broadcast Without Joe Buck
05:10
Play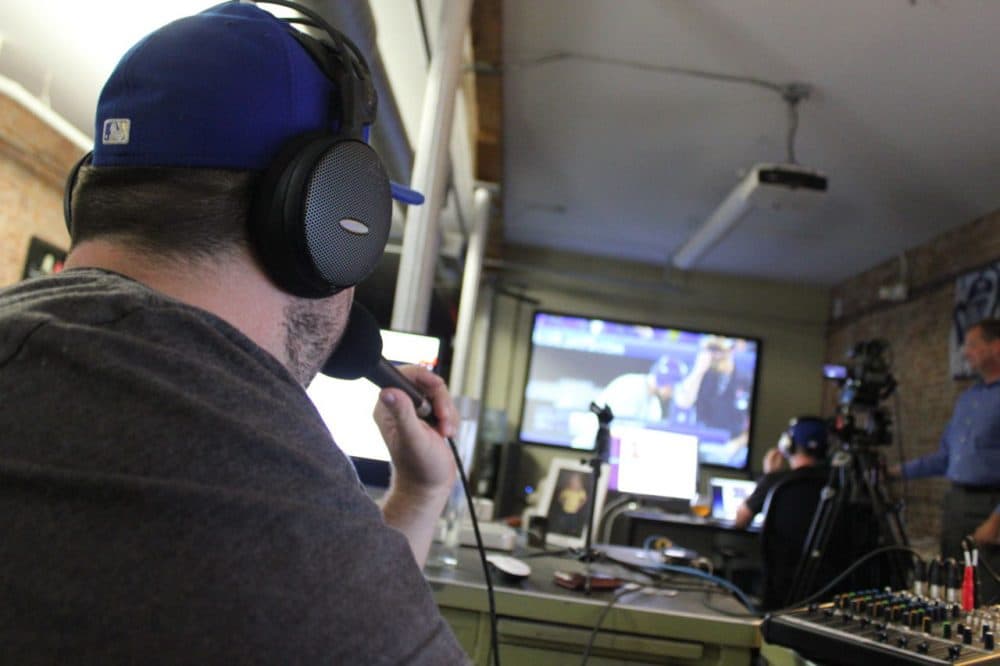 This article is more than 3 years old.
It's nearly impossible to go into a sports bar in Kansas City this October and not hear the voice of Joe Buck.
Which brings back bitter memories for Royals fans like Adam Jones.
"We weren't happy about it," Jones said. "We especially thought his call in Game 7 last year was not, like, down the middle."
That would be Game 7 of the 2014 World Series, a taut affair won, 3-2, by the San Francisco Giants.
Many Royals fans still think Buck showed favoritism toward the winners, especially pitcher Madison Bumgarner, and didn't give enough love to their Royals, who were playing in their first postseason since the Reagan era.
"This cry about 'Oh, those national announcers are favoring the other team!' — gosh, I've been hearing that for most of my career," said Max Ustler, who teaches journalism at the University of Kansas.
He said national announcers like Buck have always gotten heat from hometown fans who think their team deserves more attention.
"The new element that's introduced in this," Ustler said, "is that they actually have an outlet to try to do something about it."
"They" being fans, like Jones. Remember, he didn't like Buck's Game 7 call? Well, he and three friends began an online petition this October that attempted to get FOX to take Buck off the call for Royals' games. They gave it the quixotic hashtag #MuteBuck.
We usually do the watch parties and we're usually, you know, saying these things anyway, so, it's fun to kind of have an audience out there.

Mike Farless
Jones thought it was funny but never imagined what it would lead to.
Jones's petition got more than 12,000 signatures, got tweeted by a few celebrities and then got noticed by a new media streaming site called rabble.TV. Officials with the site emailed Jones, asking him if instead of kicking Buck off the broadcast, he and his friends would like to do their own.
"I actually used to pretend I was doing exactly what we're doing here, like on the radio, all the time," Jones said. "And to finally have a legitimate reason to do it, it's a lot of fun."
So, for the past two weeks, Jones's Kansas City loft, where he normally runs his IT business, has been transformed into a radio studio.
Jones bought professional mics and a mixing board to stream over rabble.TV's free site. He's the de facto producer of the broadcast. Patrick Marriot styles himself the color commentator.
Chris Mullins has been assigned the play-by-play duties, and Mike Farless calls himself the "community engagement guy."
So, picture this: four guys sitting around, each with a mic in hand, watching a big-screen projection of the actual FOX broadcast. On mute, of course.
"They are some of my best friends," Farless said. "And, we usually do the watch parties and we're usually saying these things anyway, so it's fun to kind of have an audience out there."
For broadcasts during the ALCS versus Toronto, more than 1,200 people listened online at rabble.TV's site. For the World Series games this week, that number jumped to 5,000.
"It's a new platform," Jones said. "It's a new way for people to kind of connect. It's kind of a social network in and of itself."
Rabble.TV also streams fan-produced broadcasts of NFL games, college football games and European soccer matches. Site officials say fans crave direct, DIY interaction with other fans. Another way, in essence, to "cut the cord" with network behemoths, who have — as of yet — not challenged Rabble.tv's legality. Beyond that, media experts like Ustler say the site could have other challenges.
"The key thing is can any of these new, niche operations garner enough audience where you can make money," he said. "Can you get past the hobbyist stage?"
The #mutebuck guys don't pretend they'll actually challenge Joe Buck's place of supremacy in sports broadcasting. (And if they're being honest, they also admit that Buck is actually pretty good at what he does.) All they're really hoping for this year is to finally call the Royals a World Series winner.
This segment aired on October 31, 2015.