Chris Borland's New Life As Football's 'Most Dangerous Man'
Resume
Last November, Chris Borland was earning NFC Rookie of the Month honors playing for the San Francisco 49ers. Earlier this week, he was sitting across from me at a wooden conference table in the headmaster's office at Boston's McKinlely South End Academy, an all-ages school for students with special needs.
"You know, my grandfather didn't know his grandfather," Chris Borland said. "My dad didn't know his grandfather. And I didn't know my dad's dad. So breaking the cycle of Borland men dying young is important to me, and a long career in the NFL might not be part of that equation."
In March, Borland announced that he was retiring from the NFL after just one season, hoping to reduce his risk for long-term consequences of multiple concussions.
I think people believe that college [and] NFL players have an especially acute awareness of these issues. I think the exact opposite. I think they're a vulnerable population.

Chris Borland
When ESPN followed up on Borland's story in August, they called him "the most dangerous man in football."
"You know, I didn't intend on being the most dangerous man in football," Borland said, "or be a face of anything or an advocate of anything. But I don't think that's my choice now. I think I'm kinda in that role, at least in some capacity, for a while."
It all started when Borland got concussed in training camp last fall — something that happens to countless rookies and veterans.
"I didn't tell anybody. I hadn't technically made the team yet, usually third rounders are safe in making the team, they've invested some money in you," said Borland. "But nothing's certain in the NFL. So, kept it to myself but thought, if this is going to be the norm for five, eight, ten years, what may be the consequences?"
The consequences of CTE — a brain condition associated with multiple concussions — can include not being able to list the months of the year in sequence, forgetting the names of family members, personality changes, mood swings, and depression so debilitating that former players from Dave Duerson to Junior Seau have committed suicide by shooting themselves in the chest. Duerson left a note, asking that his brain be preserved for research.
Borland started with a Google search and then began reading articles and scientific studies. Finally he talked to the scientists themselves.
"What I came to discover is that if I were to meet my goals as an NFL linebacker, I would take on too much risk than I was comfortable with later in life," Borland said.
Borland says college players get their information from the NCAA. Pro players rely on the NFL and the NFL Players' Association. All of these organizations have a financial stake in keeping the games going.
"People ask, 'How couldn't you have known?'" Borland said. "And I think people believe that college [and] NFL players have an especially acute awareness of these issues. I think the exact opposite. I think they're a vulnerable population."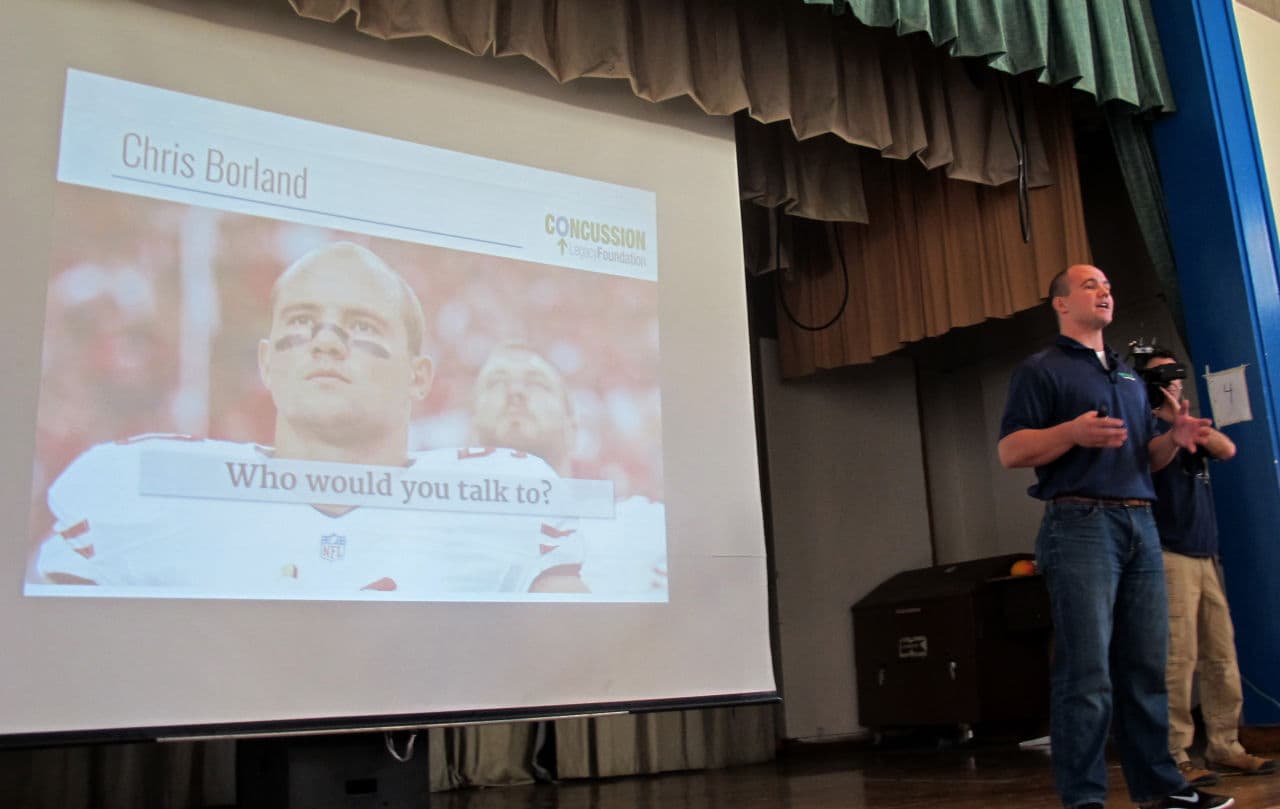 Borland says it's going to take more players looking into the science on their own to really make a difference.
The most dangerous man in football didn't exactly strike fear in the kids at Boston's McKinley Academy. He stands just 5 foot 11. His muscles have shrunk down to non-superhuman size. When the slideshow flashed a picture of him in a helmet, pads and eyeblack, one of the kids yelled, "That's not you." But Borland kept going, helping the kids to understand who they should turn to if they think they have a concussion.
This clinic is put on by the Concussion Legacy Foundation — they also presented Borland with an "Impact" award this week. The organization's founder, Christopher Nowinski, a former college football player and WWE wrestler, has been in this fight since 2006. He's happy to have a new ally.
"What amazes me about Chris is he's the first guy I know that actually dug into the research, and maybe the only guy that made a decision with informed consent," Nowinski said. "And the decision he made is profound. So I'm curious to see what happens if other players start learning what he learned."
Nearly nine months after Borland's retirement, there are still questions that leave him conflicted. Don't ask what the future of the NFL should be. Don't ask whether his friends and the people he loves should keep playing football. But…
"You don't have to play tackle football when you're young," Borland said. "Even if you love football and you want to play in the NFL someday, there's countless stories — I didn't play until high school. And you can play flag and you can play a bunch of other sports, and you can develop athleticism without hitting your head 1000 times every fall. And then play football if it's worth it to you later in life, but you don't have to have little tykes bashing into one another. I think knowing what we know now, it's irresponsible."
Sometime in the next couple of years, Borland will have to find a job — he's not finished paying off the $463,000 he owes the 49ers for his signing bonus. He says has some ideas about what he would like to do next.
"I've narrowed it down and I need to decide before the New Year," Borland said, "my mom's getting on my nerves. So, uh, figure out my next move."
This segment aired on November 7, 2015.