Shane Battier Remembers Life On 'Kobe Island'
05:08
Play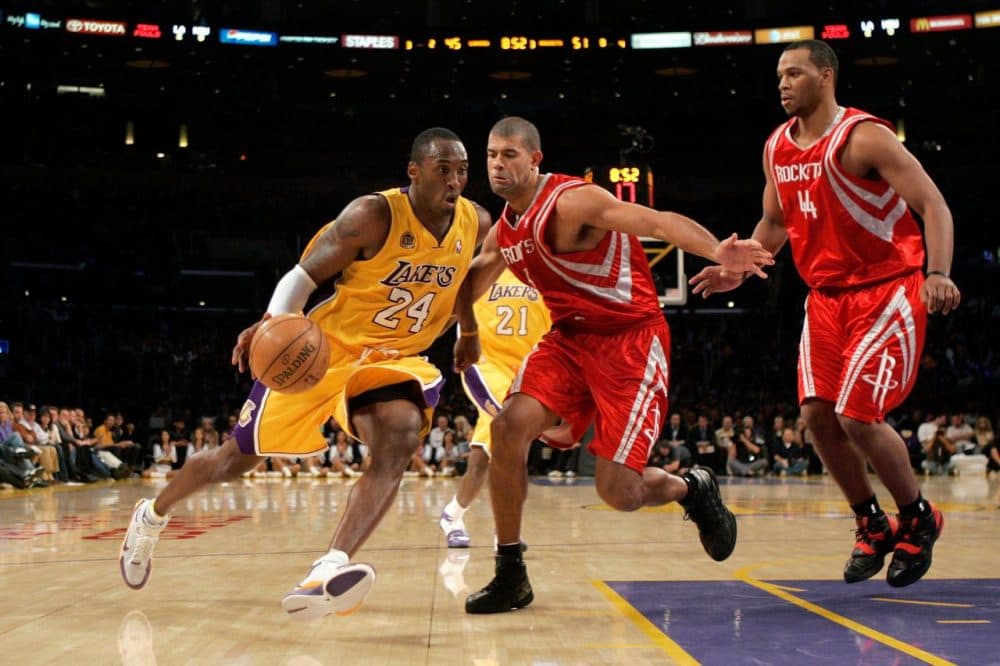 This article is more than 5 years old.
Kobe Bryant's career is coming to an end. Last Sunday, the Los Angles Lakers star announced via a poem posted online that this will be his final NBA season. The 37-year-old Bryant is the winner of five championships, and he's a 17-time All-Star.
Throughout his 13-year career, retired NBA forward Shane Battier was often tasked with defending Bryant. He joined Bill Littlefield.
BL: You recently tweeted about a game that you had played against Kobe Bryant back in your rookie season. Tell me a little bit about that game.
SB: It's a game that I'll never forget. I was a cocksure rookie out of Duke University, Player of the Year, sixth pick in the NBA Draft. And he proceeded to score 56 points on me in three quarters. And, you know, I was introduced to the term "Kobe Island." Kobe Island is a very lonely place, and what Kobe Island is is when you're guarding Kobe Bryant, or a great player like him, you turn around and none of your teammates are anywhere to be seen. They offer no help — you are by yourself, mano y mano. And, it was — every time I see Phil Jackson, I say, "You know what, thank you for not playing Kobe in the fourth quarter."


KB scored 56 on me in 3(!) qtrs my rookie year. Pushed me to be better more than any player I've faced. He has my ultimate hoops respect.
— Shane Battier (@ShaneBattier) November 30, 2015

I was on a really bad Memphis Grizzlies team — we were a bottom-dweller — and they sat Shaq and Kobe in the fourth quarter or else it would have gone up a lot uglier.

BL: He might have scored 100!

SB: He might have. He might have. Thankfully he didn't. Thankfully the 81-point game he had against Toronto a few years back was still his personal high and not my game.

BL: Can you remember anything else about that game? Or is everything in the shadow of how many points Kobe scored against you?
SB: Well, you know, I'll never forget the butterflies that I got driving to the Staples Center getting ready to play Kobe. For my money, Kobe was the greatest competitor that I ever played against, and it was a nerve-wracking experience. It made you feel alive, though. It made you feel alive that, "I get the chance to play against one of the greatest of all time."
BL: You have said that Kobe Bryant pushed you to be better more than any player you'd ever faced. Now, given what you've said about that particular game in which he scored 56, it wasn't by just reaching down and saying, "Come on, kid. You can do better than that." Was it?
SB: No, by no means. Kobe didn't offer me any help, and that's what made him awesome to play against. I took it as a personal challenge, that, look, here's the greatest scorer on the planet, and I'm going to figure him out. I'm going to drill down and try to figure out what makes Kobe...Kobe. And I'm going to try to take away his strengths. I'm going to try to accentuate his weaknesses. It was really the ultimate chess game in my career. In many regards, he was my Moby Dick and I thought I was Ahab, and I was always, always hunting how to solve this puzzle.
BL: Did you ever feel through your career that you got any sort of revenge on Kobe Bryant by holding him to a bad shooting night?
He was my Moby Dick and I thought I was Ahab, and I was always always hunting how to solve this puzzle.

Shane Battier
And, there were a few games — one in particular. My Houston Rockets team were on a 21-game winning streak, and we were playing the Lakers. And I knew Kobe was coming in for bear. He was coming in to end our streak personally. And, you know, armed with the knowledge that, "You know what, just send him left. Do not let him get to the rim," I forced him into 11 of 33 shooting, about 20, 24, 25 points. I rendered him pretty inefficient, by his standards, and we won the game. And so, for me, that was like as big as it got.
BL: You know, everybody retires, obviously, but not everybody retires by writing a poem. What did you think about that?
SB: Well, I think it shows Kobe is a very introspective person. He definitely has one persona in the media and a different persona that I saw on the court. But you don't get to the levels that he's reached in his career without having a different side, a different way of looking at it. And there's no question that the basketball has consumed him for well over 30 years of his life. I think it's a pure expression of his love for the game. For all of us who play, you can strip away the television commercials and the shoe contracts, it's a game that we love. And even if there was no NBA, guess where we'd be after work? 5:00 p.m., we'd be at the YMCA playing basketball, and I thought Kobe captured that essence in his poem.
This segment aired on December 5, 2015.