Béisbol En Cuba: A Tool For Diplomacy?
Play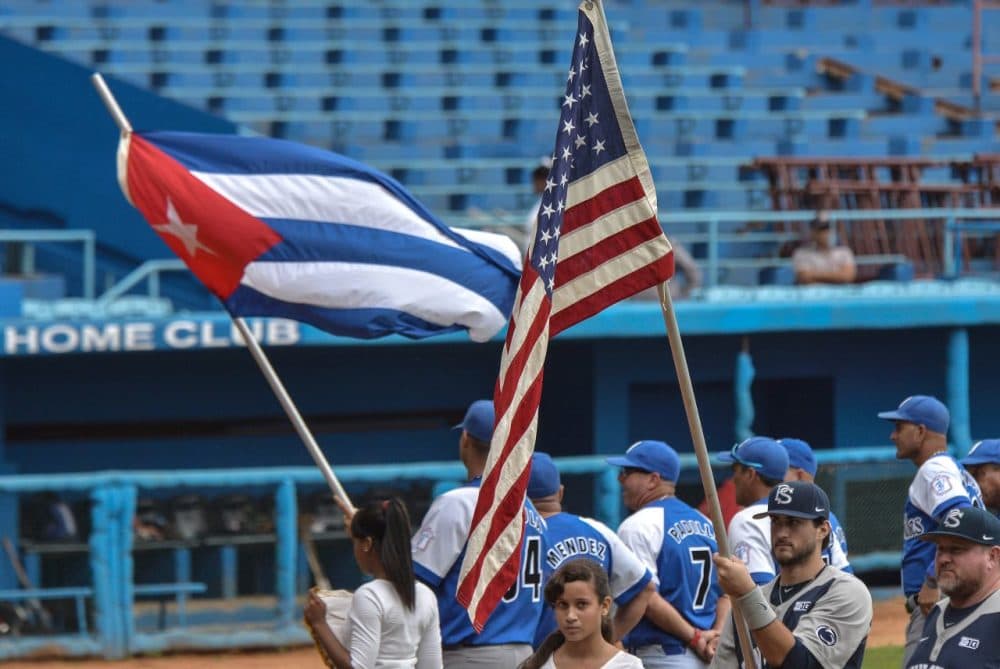 This article is more than 7 years old.
This week, Major League ballplayers including L.A. Dodgers star Yasiel Puig and White Sox first baseman Jose Abreu returned home…to Cuba. Both men are part of a goodwill tour made up of Major League Baseball officials and Cuban defectors. But this isn't the first time baseball has been used as a diplomatic tool between the U.S. and Cuba.
John Affleck runs the sports journalism program at Penn State, and he traveled to Cuba over Thanksgiving with the Penn State baseball team. He joined Bill Littlefield.
BL: What did you expect to find when you stepped off the plane?
JA: We pretty much expected what we found, which was a country that loves its baseball. Penn State played four games. Our group got to see three of them. They played the Industriales, who are commonly referred to as the Yankees of Cuba. They're sort of the team with the most tradition and the most titles as well as the defending champs. Then the third game, Penn State went out to a little bit outside the city. It was a charming little ballpark where there were people wandering the stands selling homemade treats: pastries, popcorn that was popped at home. There was literally a dog, got a nice spot in the sun near the Penn State dugout on the first base side and took a nap. It was great.
The other great thing about Cuban baseball, the tradition that I really came to like a lot, there's no seventh-inning stretch, of course. That's an American tradition. But there is a fifth-inning coffee break. So at the end of the fifth, they bring little cups of Cuban coffee to you, and you're all ready to go for the second half of the game.
BL: So, it's kill the umpire and, by the way, here's your coffee!
JA: Yeah, exactly. Exactly.
BL: How about the fans? Did Penn State have any fans down there? Or are Cuban fans more likely to root for their own national teams?
JA: You know, what we found is that the Cubans root for good play, in the way that if you're at a golf tournament in this country you never want to see a golfer hit a bad shot. If somebody hit a shot that was a long ball to the warning track, people applauded. People applauded a good defensive play. I think in their hearts they would like to see the Cubans win, but they were both polite and appreciative of good play.
BL: Over the years, of course, the official policy on ballplayers who left Cuba for the opportunity to play in the U.S. has been that they disappeared. They got erased. Did the subject of defectors come up while you were there?
JA: Almost immediately, our very first full day. Talk about how things have changed. Rodolfo Puente, who's the vice president of the Cuban baseball federation, was asked about the defection issue, and in the past you might have expected a Cuban official to sort of say, 'These are people who have done something wrong.' But his attitude was very much, 'They got their start in Cuba. They're a product of Cuba, and we're proud of them.' I think if there's anything that sort of points to the new direction of the two countries, it's that kind of attitude.
BL: You suggest that this week's visit is only the most recent proof that diplomacy with Cuba might be best achieved through baseball. How so?
JA: Well, I think sports is an agent of social change. In terms of international relations, the thing that really jumps to mind is ping pong diplomacy in the early '70s. Ping pong players played in China for the United States before Nixon went to visit China. In some ways baseball is at that kind of a moment right now.
If baseball can work out a way that Cubans can play in the Major Leagues and return home, then what else can we work out in terms of economic cooperation? What else can we do to ease out of the longstanding embargo situation that has held sway since the '60s?
BL: It's a little different though isn't it because the easing has already begun to some extent. Baseball might accelerate it, I guess.
JA: Yes, I think so. That's really its role. The issue becomes — to lift the embargo, Congress has a lot of control over that. It has most of the control over that. And so it's really, in some ways, a lobbying tool that people who are in favor of lifting the embargo can use if baseball can work it out.
This segment aired on December 19, 2015.