Stephen Curry, Under Armour And The Fall Of The Dunk
Resume
As the sound of a jet taking off plays in the background, a man dribbles down a blacktop in slow motion, then elevates for a dunk. "Who says man was not meant to fly?" a voice asks.
That's the scene in a 1985 commercial for Nike's new basketball shoe: the Air Jordan.
That's Jordan, as in Michael Jordan. Last week, Nike released preview photos of the 30th Air Jordan sneaker. In the three decades in between, the company has sold billions of dollars worth of Jordan shoes.
Part of Michael Jordan's appeal comes from his success on the court — he won six championships with the Bulls — and his charm off it — he starred alongside the world's most famous rabbit in the movie "Space Jam," after all — but there's always been something else.
Jumpman
"He won dunk contests in Air Jordans. Those were iconic moments," says Ben Osborne, editor-in-chief of the basketball magazine SLAM. "I don't think Air Jordans would ever have reached the level they did if Michael, on top of being a winner and a great shooter and a great all-around player, wasn't a dunker."
From 2010 through the end of the 2015 regular season, James had the NBA's top-selling jersey. That run ended last June.
Jordan retired from the NBA for the final time at the end of the 2003 season and was replaced by another dunker. The Cleveland Cavaliers selected 18-year-old LeBron James, Jordan's heir apparent, with the first pick in the 2003 draft. Before he played his first pro game, Nike bestowed on him a $90 million contract. Production of Air Jordan sneakers continued — but now the company also made LeBrons.
James has been the NBA's top attraction ever since. And from 2010 through the end of the 2015 regular season, James had the NBA's top-selling jersey.
That run ended last June.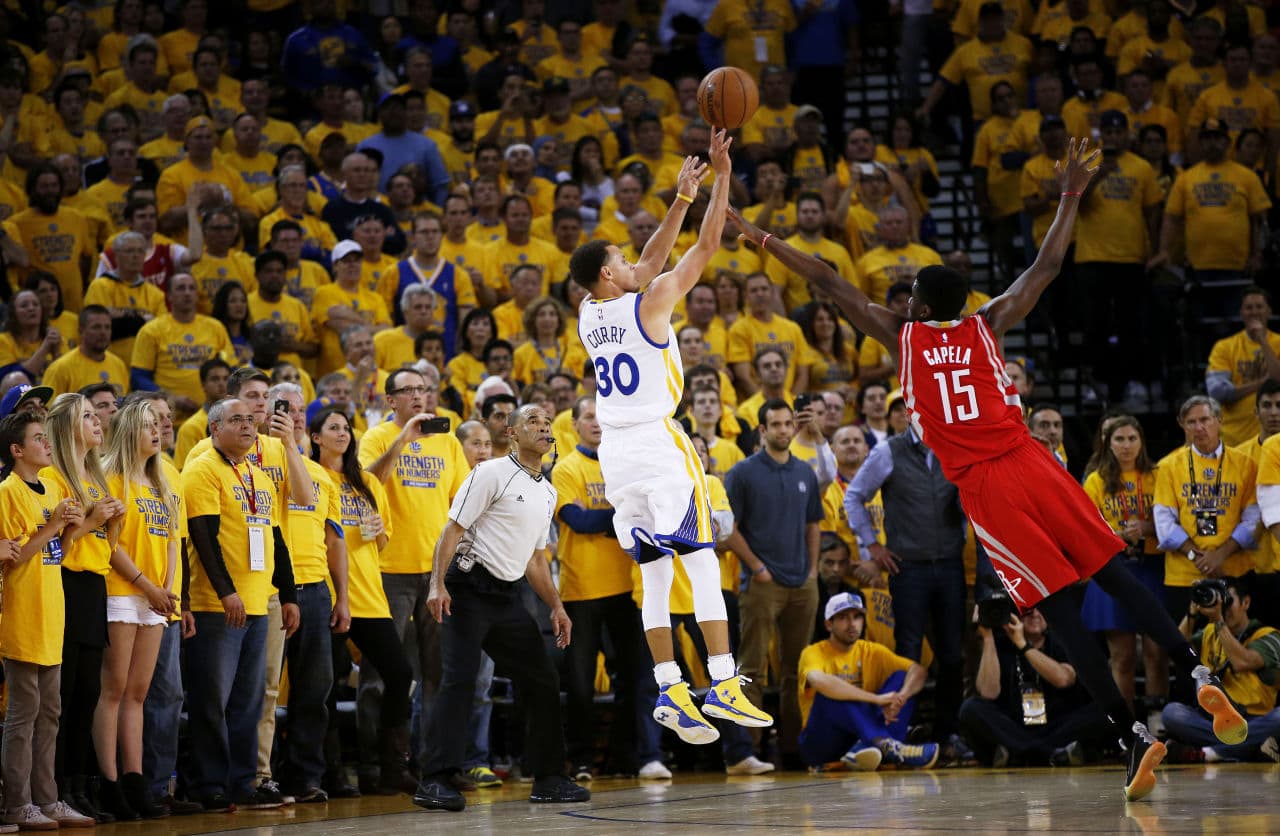 Coast-To-Coast 
At halftime of a recent Golden State Warriors game, 15-year-old Matt Callahan walked down the concourse wearing a royal blue T-shirt with the same number as dozens of other fans — 30, for Warrior Stephen Curry.
"I've liked him for like a couple years now, so I just got the shirt," he said.
Tonight it's calm. And it used to be really crazy when LeBron came into town.

Harry Ogden, Celtics season ticket holder
But Callahan and the rest of the fans in Curry gear that night were nowhere near California. They were at Boston's TD Garden, about 3,000 miles from the Warriors arena in Oakland.
This year, all Warriors games have felt a bit like home games. That's because wherever Golden State plays, fans want to see Curry. The 6-foot-3 guard has just 17 career dunks in seven NBA seasons — but Curry has still managed to become the game's most popular player.
Four nights after that visit from Curry and the Warriors, LeBron James and his Cleveland Cavaliers came to Boston's TD Garden.
To be fair, this game was on Tuesday night, not a Friday. Even so, Celtics season ticket holder Harry Ogden felt the energy in the building was noticeably low.
"Friday was insane. Like a whole different buzz," he said. "And tonight it's calm. And it used to be really crazy when LeBron came into town."
After the game, I tried to ask LeBron about Curry and his sneaker provider, a company called Under Armour. It recently released an ad saying the three-point shot had overtaken the dunk as the game's top play.
"Under Armour recently released a commercial…" I began.
"Who?" LeBron asked.
"Under Armour," I repeated.
"Who is that?" LeBron said. "I don't know who Under Armour is. ... I only know Nike. That's it."
(A video of the exchange now has more than 46,000 views on YouTube.)
LeBron might have been joking, but it's not a bad question: who is Under Amour? And how did the company land the guy who'd become the NBA's most popular player?
Started From The Bottom
Nike was founded in 1964. Under Armour in 1996. And at first, the company wasn't thinking about basketball.
Founded by a former University of Maryland football player, Under Armour made its name selling synthetic fabric workout shirts.
It wasn't until 2010 that the company released its first basketball shoe.
During the end of last season, sales of Under Armour's basketball shoes jumped 754 percent.
The previous year, Stephen Curry, then a sweet-shooting but skinny junior from little-known Davidson College, declared for the NBA draft. Golden State took him with the seventh overall pick. Curry didn't sign with Under Armour right away. His first sneaker contract was with Nike.
Analysts called Curry the best shooter in the draft, but he was hardly a sure bet. Could he transition to the point guard position? Was he strong enough?
In 2013, after his fourth pro season, Curry's deal with Nike expired.
By that time, Under Armour held just 0.35 percent of the basketball retail market in the U.S. The company decided to take a shot on Curry, offering him about $4 million a year.
But the deal could have been blocked. ESPN sports business reporter Darren Rovell says that Nike's initial contract with Curry gave them the right to match to keep him with the brand.
"That's one of the reasons that Nike's been able to do what they've done because they also play a game of keepaway," he said.
But this time they didn't.
"Someone really messed up there," Rovell said.
That mistake became obvious last season.
The Catch Up
Playing in his first signature Under Armour sneaker, Curry set the record for most three-pointers in an NBA season with 286. He won the MVP award. And in the NBA Finals, he and the Warriors beat the Cavs and LeBron James.
I still want to dunk. So I've still got some work to do, I guess.

Stephen Curry
According to Business Insider, during the end of the season, sales of Under Armour's basketball shoes jumped 754 percent.
But Rovell points out that Under Armour, which did not make anyone available for this story, has a long way to go to catch LeBron and Nike — which still controls about 90 percent of the U.S. basketball sneaker market.
"LeBron's selling 10 times more shoes than Curry right now," he said. "So while everyone's lauding Under Armour, Under Armour's gotta make the business happen."
Now, 30 years after Nike's first Air Jordan commercial hit the air, Under Armour is trying to use the signature move of its own star to make the business happen.
"How long does it take to change the game of basketball?" begins a recent commercial for Under Armour's Curry Two sneaker. It's the one I tried to ask LeBron about.
"All of a sudden, big ain't so big no more," the narrator says as Curry drills three-pointer after three-pointer. "Small ain't so small. And with the flick of the wrist, the step-back three is the new dunk."
In September, Curry and Under Armour extended their contract through 2024.
But while Under Armour has built an ad campaign saying the dunk is on its way down, Stephen Curry still wants to take flight.
"I still want to dunk," he says. "So I've still got some work to do, I guess."
This segment aired on January 23, 2016.