Final Four Fun Facts: Breaking Down This Year's Schools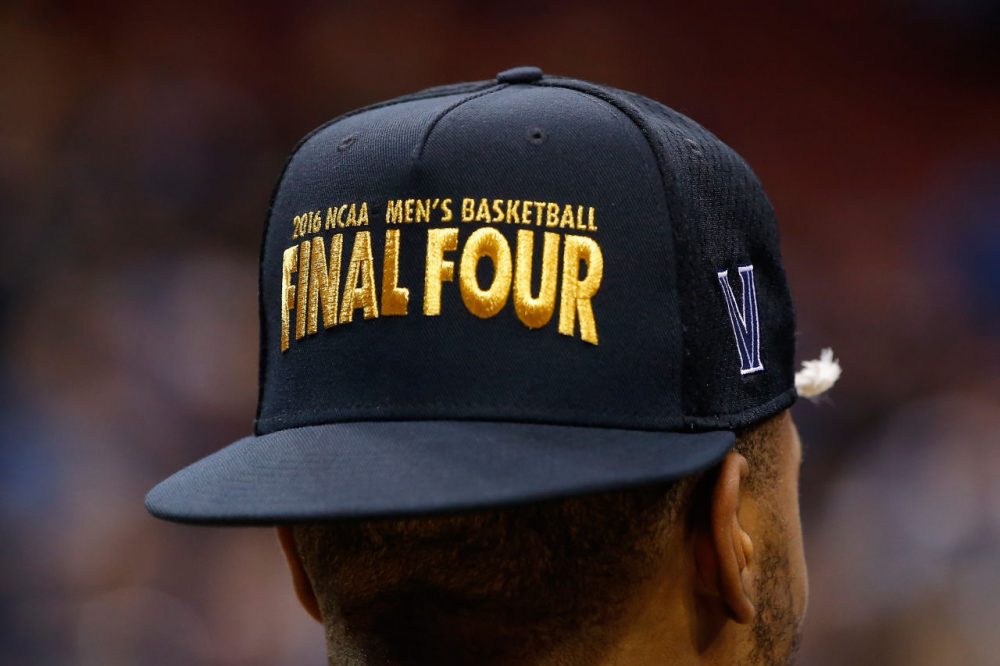 This article is more than 5 years old.
At long last, the Final Four is upon us. Out of 351 Div. I men's basketball teams, just Syracuse, Villanova, Oklahoma and UNC have survived and advanced long enough to remain in national championship contention. Here's everything you need to know about the schools whose teams will take the floor in Houston this weekend.
---
Syracuse University
Location: Syracuse, New York
U.S. News & World Report Ranking: No. 61 among National Universities
Fun Facts:
Syracuse comes in at No. 5 on The Princeton Review's rankings of "top party schools."
In 2008, over 200,000 vinyl records were donated to the university at the request of a late Manhattan record store owner. Thanks to the reported $1 million donation, Syracuse now boasts the country's second-largest 78-rpm record collection. Only the U.S. Library of Congress has more.
With an average yearly snowfall of 126.3 inches, Weather.com lists Syracuse as the country's snowiest major city.
Syracuse's football, basketball and lacrosse teams play in the 49,262 seat Carrier Dome, the only domed stadium in the Northeast.
What's in a mascot?: Syracuse's original mascot was a Saltine Warrior, a Native American figure named Big Chief Bill Orange. In 1978, a Native American student organization successfully lobbied for a mascot change. After years of debate and indecision, The Orange — now known as Otto — beat out candidates like the Dome Ranger, Dome Eddie and Beast From The East to become Syracuse's official mascot in 1995.
Coach Notes: Jim Boeheim made his acting debut alongside Nick Nolte and Shaq in the 1994 movie, "Blue Chips," playing himself. Boeheim also played himself in Spike Lee's 1998 movie "He Got Game."
NBA All-Star Alumni: 
---
Villanova University
Location: Villanova, Pennsylvania
U.S. News And World Report Ranking: No. 1 among Regional Universities - North
Coach Notes: Jay Wright is known for his meticulously tailored suits and is a multiple-time winner of GQ's Fashionable Four, given to college basketball's best-dressed coach. Even the NCAA has taken notice of Wright's impeccable style. Check out #SuitWatch from SB Nation's Villanova blog for ratings and rankings of Wright's best looks.
Fun Facts
Some of Villanova's older dorms are said to be haunted, with students reporting flickering lights, moving trashcans and ghosts playing organs.
Villanova has an exclusive Vatican internship program, and Villanova students helped launch the Pope's Twitter account. No word on if they're involved with his jump to Instagram, though.
NBA All-Star Alumni
---
University of Oklahoma
Location: Norman, Oklahoma
U.S. News & World Report Ranking: No. 108 among National Universities
Fun Facts
The Fred Jones Jr. Museum of Art, located on OU's campus, features works by artists including Claude Monet, Georgia O'Keeffe, Vincent van Gogh, Camille Pissarro and Pierre-Auguste Renoir.
The school's Bizzell Memorial Library is a U.S. National Historic Landmark, paying tribute to G.W. McLaurin, an African-American man who was denied admission to OU's graduate school in 1948. His case against the school was brought to the U.S. Supreme Court and overturned the school's policy for segregation at the graduate school level, serving as a precedent for Brown v. Board of Education.
Between 1953 to 1957, the OU football program won 47 consecutive games, still an NCAA Div. I record.  
What's in a mascot?: OU's nickname derives from the Land Run of 1889. Settlers who sneaked into the newly offered territory to stake claims before they were officially open to settlement were called "Sooners."
Coach Notes: Lon Kruger cites Chicago as his favorite band.
NBA All-Star Alumni
University of North Carolina - Chapel Hill
Location: Chapel Hill, North Carolina
U.S. News & World Report Ranking: No. 30 among National Universities
Fun Facts
What's in a mascot?: From UNC's website:
"One story hails back to the Revolutionary War and the troops of British General Cornwallis. After fording a river in eastern North Carolina, the British troops discovered their feet covered with tar, a product of North Carolina's abundant pine trees and one of the state's most important exports at the time. Some say the clever North Carolinians dumped it in the river to slow down the invading army. The British were said to have observed that if you waded in North Carolina rivers, you would get tar on your heels.

Another story comes from the Civil War. A group of North Carolina soldiers scolded their comrades for leaving the battlefield when things got tough. The soldiers threatened to stick tar on the heels of the retreating soldiers to help them stay in the battle. General Robert E. Lee is said to have commented 'God bless the Tar Heel boys!'"
Coach Notes:  When Roy Williams was a UNC assistant under Dean Smith in the 1970s, he made extra money by selling team calendars around the state out of his car.
NBA/ABA All-Star Alumni