3 Stories You Should Know: NFL Draft Silliness, Painkillers, #MoreThanMean
08:39
Play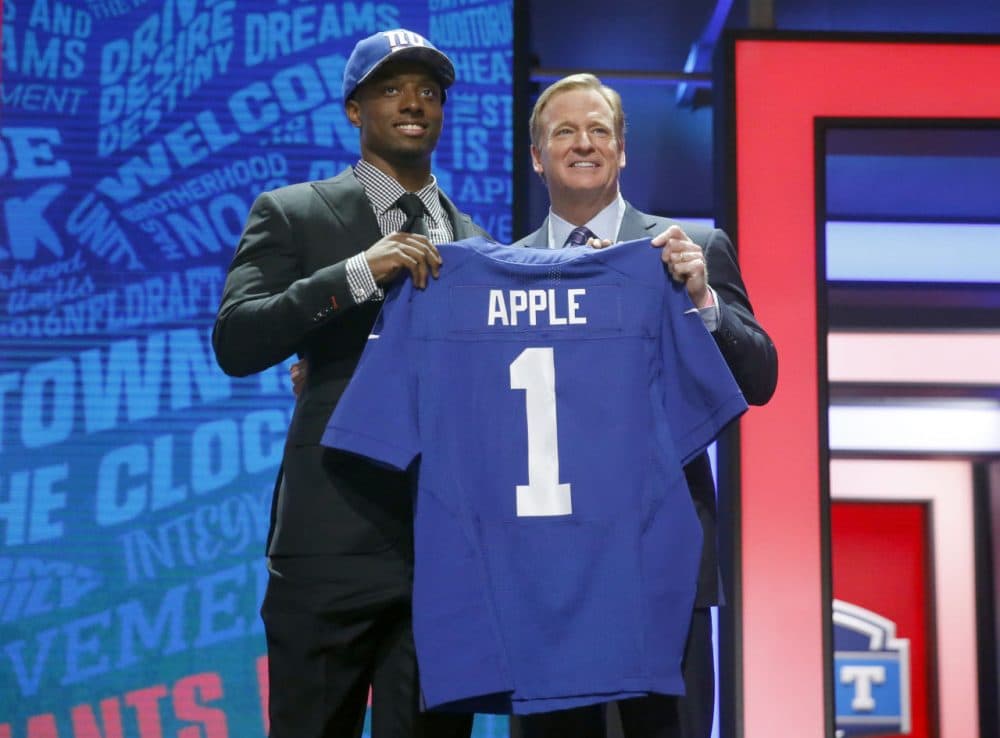 This article is more than 5 years old.
Ahead of Thursday's NFL Draft, one anonymous scout warned against former Ohio State cornerback Eli Apple because, as the scout said, the young man "had no life skills. Can't cook." Apple says he was shocked to learn of that evaluation. He says he's a pretty fair cook. His specialties include waffles, burgers, and hash brown potatoes. Should an NFL prospect's cooking skills factor into their draft stock? That's first up on this week's "3 Stories You Should Know."
The Boston Globe's Shira Springer and David Steele of Sporting News join Bill Littlefield.
1. NFL Draft Silliness 
Ultimately, Apple's cooking skills — or lack thereof — didn't deter the New York Giants, who selected him with the 10th overall pick. But it's incidents like these that make Bill Littlefield decry the spectacle that the NFL Draft has become.
BL: Nobody knows which of these players will actually help an NFL team or when that might happen. Though, Eli Apple does know that, whether or not he has a football career, he still can cook a little bit. Wouldn't it be better for everybody if the NFL and the people who talk and write about it just let the players try to play their way onto teams and see whether they were going to have careers or not?
2. Prince And Painkillers
Legendary musician Prince passed away just over a week ago at the age of 57. In the days after Prince's death, there has been speculation that prescription painkillers may have been involved. The news caught the attention of at least one active NFL player. Baltimore's Eugene Monroe says he is concerned because has taken opioids numerous times to get back on the field. 
Like Monroe, David Steele hopes that Prince's death will cause the NFL to take another look at its drug policy.
DS: The fact that Prince is now in the news because of this, Eugene Monroe and a lot of NFL players are thinking, "Maybe this will open a lot of people's eyes to the dangers of these things and what we're asked to do." And I think he's right and I hope it wakes everybody else up as well.
3. #MoreThanMean
This week, Just Not Sports produced a video highlighting the type of online harassment women in sports face daily. In it, journalists Sarah Spain and Julie DiCaro sit while men read actual, vitriolic tweets that DiCaro and Spain have received. The video has been viewed almost 3 million times. Shira Springer wonders what it will take to change this culture of hate — or if it is just entrenched in sports.
SS: There's no debate that this type of harassment is beyond, beyond atrocious. But, speaking from personal experience, it's nothing new. Julie and Sarah brought attention to the issue, but I wonder what, if anything, can be done about it and I think that's where the conversation needs to go — to Twitter, or leagues, or teams, or athletes step up and say something. Will that help? Or is sexism so entrenched in some corners of the sports world that it's impossible to route out?
More Stories You Should Know:
This segment aired on April 30, 2016.