3 Stories: ESPYs Activism, Celebration In Portugal, Pokemon Fitness Plan
07:17
Play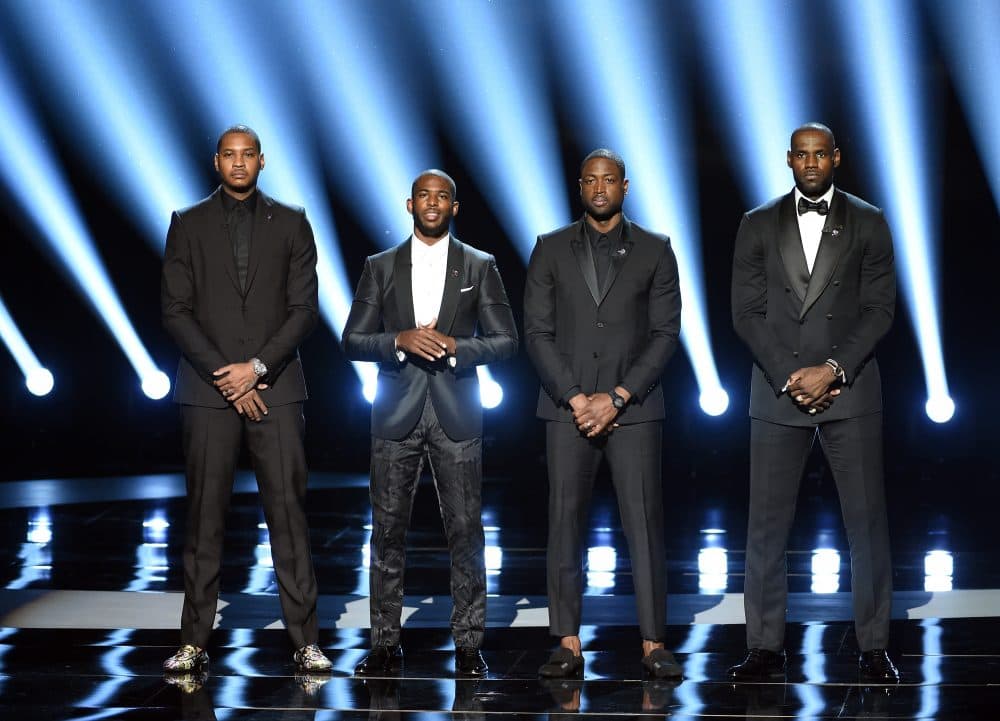 This article is more than 5 years old.
NBA stars LeBron James, Carmelo Anthony, Dwyane Wade and Chris Paul spoke out about social justice this week. They used the stage at the ESPY awards to encourage all athletes to be more active in promoting social change. Is a call to action enough? Is there more that could — or should — be done ? That's first on this week's 3 Stories You Should Know.
Michael Lee of Yahoo! Sports and Only A Game's Karen Given join Bill Littlefield.
1. Social Justice In Sports
On Wednesday night at the ESPYs, four NBA All-Stars took the stage to advocate for social and political change. They appealed to their fellow athletes to lend their voices and their time to the effort. Bill Littlefield commended the action, but he wonders if the pros might go even further.
All four NBA players suggested that today's pro athletes have to take greater responsibility for improving the circumstances in their communities. And these are welcome words, and maybe that's all there should be, but I want to pose a question about whether the call to speak up should provoke specific policy suggestions?
2. Euro Final Festivities
Portugal shocked the soccer world with their 1-0 victory over France in the European Championship last Sunday. Michael Lee was on vacation during the Euro final, looking to get a break from sports. But his trip to Lisbon landed him right back in the middle of Portugal's triumphant celebration. Lee was inspired by scene.
To go to Portugal, and to be in Lisbon, and to go down to the Commercial Square, right by the river, and just to see the people gathering there, draped in the Portuguese flag. Have you ever witnessed just the power of sports in uplifting people? I've known what it can do for a city, but to see an entire country, just to see people waving the flags and hugging and embracing. It was just a unique experience.
3. Getting Active With Pokemon Go
The latest mobile app to take the world by storm is "Pokemon Go," an augmented reality game that lets you search for and catch little creatures all over the world on your phone. Whether or not you have a nostalgic connection to the Pokemon franchise, one thing's for certain when it comes to playing the game: it's practically a fitness app. Karen Given is a proponent of this unforeseen fitness craze, but also urges users to be careful while trying to "Catch 'Em All."
Jawbone, that's one of the step trackers, says users with Pokemon Go have logged 62.5 percent more steps than usual. So, this is annoying. I don't care about Pokemons. I don't want to catch them all. I don't want to see them everywhere I go. But, I am gonna push that aside and say, just be careful out there.
More Stories You Should Know:
This segment aired on July 16, 2016.