No 'Girlie' Here: How Amy Trask Became The First Female CEO In The NFL
Play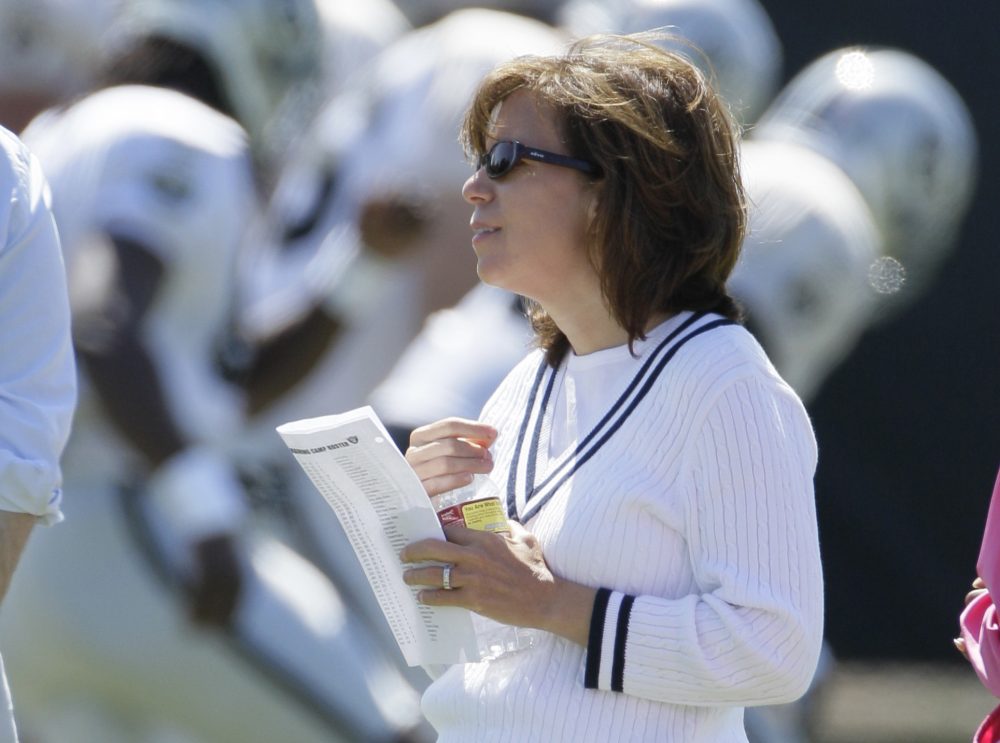 This article is more than 6 years old.
The first time former Oakland Raiders CEO Amy Trask attended an NFL owners meeting, one of the owners asked her to fetch him a cup of coffee.
It was an honest mistake, she thinks. No woman who was not an owner herself had ever attended one of those meetings — at least as far as anybody could remember. And, come to think of it, no one could remember a woman who was an owner attending either.
Amy Trask and the man who mistook her for waitstaff later became friends. The same could not be said of Trask and many of the other owners and executives.
Consider this incident — it happened years later when Raiders owner Al Davis sent Trask to a league meeting in his stead.
By that time, no one was going to ask Trask to get coffee, but that doesn't mean everybody in attendance respected her right to be there.
"There was a fairly heated discussion going on on the floor of the meeting," Trask recalls, "and I stood up to make a point and when I was done, the owner of another team, and I have never shared which owner, nor will I ever, he stood up and said, 'Listen, girlie.'"
"Listen, girlie." Trask was shocked. It's not like she'd never faced gender bias. It's just that no one had ever called her "girlie" before.
All the eyes in the room were on Trask. Everybody wondered how she would handle it. She surprised them.
"I just laughed. I laughed aloud, loudly. At the silliness that a man in the then-20th century just called an executive from another club 'girlie,'" Trask says. "Many women and men I respect have said to me that I should have chastised him for that. Well, you know what? I know that I would rather be yelled at, scolded, hollered at than I would be ignored or dismissed with laughter. And, frankly, I think laughing at him was far more effective than any speech I could have made."
So, did it work?
"He certainly sat down very, very rapidly, and there was no more out of him," Trask says.
Finding Her Team, The 'Renegade' Raiders
So how did this come to be, that a woman would find herself in a room full rich, powerful men who make other "old boy" networks seem young, diverse and radical by comparison?
Well, it all started in kindergarten.
"I — how was this phrased when we were children — I talked back," Trask says. "I like to think of it as questioning authority. Perhaps kindergarten teachers don't appreciate that."
Trask continued to talk back to her teachers as she was growing up in LA, but she eventually became a good student, despite all that questioning of authority. Or perhaps because of it. She says she fell in love with football in junior high. The Rams were the local team, and they were all right. But she didn't really find her team until college.
"When I was a student at Cal Berkeley, the Raiders were down the road in Oakland. And at that time, I fell in love with the Raider organization for about a zillion reasons," Trask says.
The Raiders were owned by Al Davis — widely regarded around the league as a renegade who would employ the so-called "troubled" players dismissed elsewhere as risky, as long as they won football games for him.
"He stopped me at one point on the staircase and said to me, 'How are ticket sales for this week's game?' That was his way of encouraging me. It certainly was not a message that I needed to stop."
Trask didn't see the team that way.
"Everything about the organization resonated with me," she says. "Owned by someone who stood up for the courage of his convictions, even when not popular to do so. Owned by someone who gave people second and third and fourth chances. And you know what, this was a team that others looked at as a band of behavioral problems, and I just loved the team and I loved the style of football being played — as Al Davis would have said, 'Just win, baby.'"
By happenstance, when Trask moved back home in 1982 to attend law school at USC, the Raiders moved with her, settling in at the Los Angeles Coliseum.
"So I thought that was propitious, and I called the organization. The receptionist answered, and I said, I'd like to talk to someone about doing an internship," Trask says. "She put me through to someone, and he said, 'What's an internship?' And I said, 'Well, I work for you, and you don't pay me.' And he said, 'Great, come on down.' I understood from the moment I stepped in that it was the opportunity of a lifetime."
"And did everybody welcome you with open arms when you came to work?" I ask.
"No," Trask says. "How's that for a succinct answer? No."
Trask says she was at least a little bit to blame. She was young. She made a lot of mistakes. And sometimes she didn't know how to stay in her place. Or, more to the point, she thought her "place" was everywhere.
"And I walked through the building and I wanted to know absolutely everything about the organization, so I asked questions, I volunteered to help," she says. "What I realized later — it just simply never occurred to me at the time — but what I realized later is that people took offense at it, they felt territorial, they felt that I was intruding. They just didn't like it."
But there was one person who was fine with a legal affairs intern running around the building, sticking her nose into everyone else's business. And that person was Al Davis.
"Clearly someone had told him — and I'm sure it wasn't shared with him in a complementary manner -- but he stopped me at one point on the staircase and said to me, 'How are ticket sales for this week's game?'" Trask recalls. "And I knew the answer. That was his way of encouraging me. It certainly was not a message that I needed to stop."
"If other people wanted to spend their time, their effort, waste their energy worried about my gender -- fine. Let them. I wasn't going to waste mine."
Handling Negotiations In Her Own Way
In fact, the message, stated or not, was that Trask should keep going. That's what she did. Eventually, against the tide of precedent and grumbling from many of those employees obsessed with protecting their turf, she became a decision-maker in the Raiders organization, and she handled negotiations in her own way.
"Al had named Art Shell our new head coach, it was a mid-season coaching change. And some in our merchandising and promotional department created hats and shirts which said, 'Shell's Angels,'" Trask explains. "The logo resembled very, very, very closely that of the Hells Angels. Well, not too long later, I receive a letter from one of the most prestigious, prominent, respected law firms in the United States. My first reaction was, 'Wow. The Hells Angels do not mess around when it comes to legal counsel.'"
Nobody had checked with Trask before ordering the hats and t-shirts. If anybody had, she would have told them to stop.
"So I picked up the phone and I called him. And I said, 'Got your letter, and you're right.' And he was silent for what seemed like a very, very long time," Trask says. "And he finally said, 'Well, thank you, and, let me talk to my client and determine what it is the Hells Angels wish to do.'"
Before long, word came back from the legal counsel of the Hells Angels. Sell the stuff you've got on hand, but don't make any more of it.
"And I was stunned," Trask says. "Because it was well within the rights of the Hells Angels to order us to destroy everything we had made. And the lawyer went on to explain that they appreciated that I simply acknowledged that they were right. And that's a lesson I learned as I grew and grew up on the job, which is: often just admitting when you're in the wrong and offering to do that which is right resonates very loudly."

In 1997, Trask became the first female CEO in the NFL. It didn't bother her that some men were uncomfortable with that.
"What did it matter, to me? Would I have comported myself differently if I thought that the resistance was gender based? No, I would have comported myself in the same manner," she says. "If other people wanted to spend their time, their effort, waste their energy worried about my gender — fine. Let them. I wasn't going to waste mine."
Trask worked for Al Davis and the Raiders for 30 years. Davis died in 2011. In 2013, after she'd threatened to quit and been fired several times without ever leaving, Trask actually left. But she won't say why.
"I have never shared my reasons publicly, and I don't believe I ever will share that publicly," she says. "It was the hardest decision I have ever made. I agonized over it for well over a year. But it was the right decision."
Amy Trask now works for CBS Sports — she calls it an "exciting, exciting new adventure." There are things she'll miss about her old job, things like showing up at the stadium hours before anyone else on game day and hanging out with the Raiders' fans in the parking lot. But there's one thing she doesn't miss.
"I don't miss NFL owners meetings," she says. "Nope, nope, nope."
Amy Trask's new book is called "You Negotiate Like A Girl: Reflections on a Career in the National Football League."
This segment aired on October 15, 2016.