26 Straight Losses: Two Seasons With The '76-'77 Tampa Bay Bucs
Resume
"The Buccaneers had to find anyone and everyone they could find," historian Jason Vuic says.
Vuic is talking about the 1976 Tampa Bay Buccaneers, an NFL expansion team, as they prepared for their inaugural season. The Buccaneers had reason for some optimism, having selected the highly regarded defensive end Lee Roy Selmon with the No. 1 pick in that year's draft. But how to fill out the rest the roster?
The Beginning Of Buccaneers Football
"They found one guy off the streets of Watts. He'd been out of football for three years. Guys who were cut by the Canadian League were on the Buccaneers' roster. They found guys from the defunct World Football League," Vuic says. "I know for a fact that the Buccaneers actually tried out a Coca Cola delivery man at one point."
"You kinda hate to be linked with one of the worst football teams in history. But, at the same time, you know, if it didn't happen, we wouldn't be talking about anything."

Dave Green
Tampa Bay owner Hugh Culverhouse had made a fortune as a tax lawyer. But, according to Vuic, much of his money was tied up in real estate, so he didn't have a lot to spend on players. Or on refreshments.
"He had a Coke machine in the locker room. So there were no free drinks," Vuic says. "You know, the great Lee Roy Selmon would say, 'Hey, you got a quarter?' in the middle of an interview, because he wanted a Coke."
Culverhouse also refused to cover players' phone calls when they were at hotels during away games.
"There were two roommates on the road. Someone made a 75-cent phone call, and he billed each roommate 38 cents," Vuic says. "One time a player separated his shoulder, and he couldn't get his arms up. So they cut his jersey off and billed him for the jersey."
"The whole scene when we arrived in Tampa was not that good, for so many reasons," says Dewey Selmon, the brother of Leroy (the star defensive end who asked a reporter for a quarter).
"I said, 'Lee Roy, are we sure we're supposed to be here?'" Dewey recalls. "There is this orange-colored little uniform, and I said, 'Well, I don't know what to call it, but who is this swashbuckler on these helmets?' And he was — he was so cute looking!"
The Bucs eventually did cobble together an NFL roster.
And on Aug. 21, 1976, at Tampa's first preseason game at their home stadium, Hugh Culverhouse, wearing what looked like a very inexpensive plaid polyester suit, expressed optimism.
"May I say that we're here for one reason and one reason only, and that's to bring the fans great professional football," he told the crowd.
Veteran defensive end Pat Toomay, who'd won the Super Bowl with the Dallas Cowboys, was picked up in the 1976 expansion draft. He said it felt like being "exiled to Siberia."
"Pat Toomay, very early on, saw the train wreck that was developing," Vuic says. "And he comes out of a film room one day with Larry Ball, a linebacker who had played on the perfect Miami Dolphins team. And Ball goes, 'What do you think?' And Toomay says, '0-14.'"
The Bucs began their first season by racking up losses against Houston, San Diego, Buffalo and Baltimore while being outscored 99-26. The defense, behind the Selmon brothers, performed reasonably well, but the offense was inept. Bucs punter Dave Green was a busy man. And that brought him closer -- literally and figuratively — to the fans in the wheelchair section near the end zone at Tampa Stadium.
"I was having one of those games. And of course, when I was punting, it was always 4th and 80 every time I went in," Green says. "I was always on that end line. We were just always so backed up. I heard one of the guys in the wheelchair yell out at me. He says, 'Green, if you shank this one, I'm jumping out of this chair and kicking your ass.' And I'm starting to go — but it kinda woke me up. I'm going, 'Here's a guy in a wheelchair, and he's got a better attitude than I got.'"
Pat Toomay's Prediction Comes True
The Bucs dropped their next four games to Cincinnati, the previously winless Seattle Seahawks, Miami and Kansas City. The losing began to wear on Dave Green and Dewey Selmon.
"After you lose eight straight games, well, at that point you're hurting inside pretty bad," Dewey says. "Coaches, players, the fans. But then you kinda grow up. You say, 'Well, we can't beat ourselves up after every loss, 'cause we're going to lose a few more.' You start reading between the lines. You say, 'We're not very good.'"
"You didn't like losing. You hated it," Green says. "I remember one morning, getting up Monday morning, and it was a bad game. I wanted to get up that morning and run through the neighborhood and pick up all the newspapers. I knew the press was gonna be all over us."
"The '76 season, Lee Roy and I did not go into restaurants and sit down to eat. We always went through the drive-through. He said, 'Last time I'm going in and taking all them questions. Let's get our drive-through and head home."

Dewey Selmon
"The '76 season, Lee Roy and I did not go into restaurants and sit down to eat," Dewey says. "We always went through the drive-through. He said, 'Last time I'm going in and taking all them questions. Let's get our drive-through and head home.'"
Jason Vuic says all across the country, people noticed the struggles of the Bucs.
"There was something farcical about it," Vuic says. "Like the '62 Mets. There were signs on the 10 yard line, this guy would hold up a sign every game that said, 'The Bucs stop here.' People wore bags on their heads. And Johnny Carson would make a joke, and it would be in newspapers and it would be water cooler talk in the morning. And other comedians followed, other TV shows followed. Chuck Barris on The Gong Show would give Buccaneer tickets to the losers. And it became a national punch line."
"Some of those jokes, even I would completely crack up," Dewey says, laughing. "And I'd say, 'Catherine,' to my wife, 'did you hear that? Buccaneers played like Samsonite luggage, and we lost.' I'd say, 'That's pretty good.'
"Before the last game that season, everybody, for that game, everybody drove up in their U-Hauls," Dewey continues, "everything's already packed up, and, soon as that game's over with, we're hitting the road, getting out of there. And we needed to get out and take a break. You just wanna get out of Dodge."
Pat Toomay's prediction had come true: 0-14. But Dewey Selmon and many of his 1976 teammates returned after a long offseason with a new mindset. Sort of ...
"Hey, we're a few players away from winning one game," Dewey remembers thinking. "We're OK. We're not good at all, but we're OK."
In fact, the 1977 Bucs were bad. And Dave Green says that means Tampa Bay now had a new challenge.
"Nobody wanted to get beat by us. And they were putting a little extra effort in there," he says. "I mean they were doing everything they can, because nobody wanted to be that first team to get beat by us."
The Franchise's First Win
The Bucs lost 12 straight, and there were predictions of back-to-back winless seasons.
But on Dec. 11, 1977, the Bucs accomplished the almost unimaginable: They won. They beat the Saints 33-14 in New Orleans.
"It was crazy. We didn't know how to act," Dewey says. "You know, you've lost 26 straight games, so you're used to walking into a room and put your helmet up and let's see what's in your lunch box. And, for once, we had a reason to walk into there and we're going to be celebrating and happy, and it was a big contrast of emotions for us. It made our season."
"The wildest thing was the flight home from New Orleans. We started partying right after the game," says Jack Harris, the Bucs' pregame and halftime television host. "And it's the only time I've ever seen the plane land where nobody was sitting down. And the pilot kept saying, 'Please, you'll have to take your seats and fasten your seat belts before we can land the plane.' There were people dancing in the aisles. And we were just saying, 'Well, don't land. We don't care.'"
Jason Vuic says the Bucs' party went on and on.
"They arrived at Tampa International Airport, and there were 8,000 fans who then reassembled at One Buc Place for a party into the wee hours of the night. They opened the ticket window — Culverhouse was smart. They opened up the ticket window at midnight, and people were lined up. And the next game, almost 50,000 fans came to Tampa Stadium — the last game of the season — and the Bucs just beat the tar out of the Cardinals. And the fans ran out on the field after the game and tore down the goalpost. A 2-26 team just beat a mediocre team that didn't make the playoffs, and the fans tore down the goalpost. They were that thrilled with the victory."
'Those Two Years Are Gonna Be Mine Forever'
Dave Green retired in 1978, before the team's first winning season. Too early? Maybe not.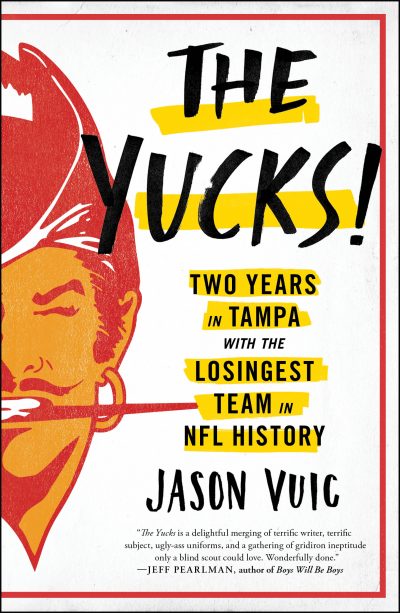 "You kinda hate to be linked with one of the worst football teams in history. But, at the same time, if it didn't happen, we wouldn't be talking about anything," he says. "We're not proud of it, but it kinda keeps us out there."
Dewey Selmon likes talking about those years, too. But for different reasons. He came to the Bucs after two championship seasons with the University of Oklahoma.
"Someone asked me, 'Dewey, would you ever want to endure those two years of Tampa losing again?' I said, 'Well, if I had a choice, I would keep those two losing years and give up two of my winning years at OU.' Because during the losing years, I learned so much. I grew so much, as a person and as a player, in my personal faith, how I look upon other people. You start thinking about your fellow person, your fellow teammate. So, I would never trade those two years away. Those two years are gonna be mine forever."
You can learn more about the 1976-77 Tampa Bay Buccaneers by reading Jason Vuic's new book "The Yucks: Two Years in Tampa With The Losingest Team in NFL History."
This segment aired on November 12, 2016.