Jack Harrison And 'Mum' Leave Man. Utd. System And Find Success In U.S.
09:51
Play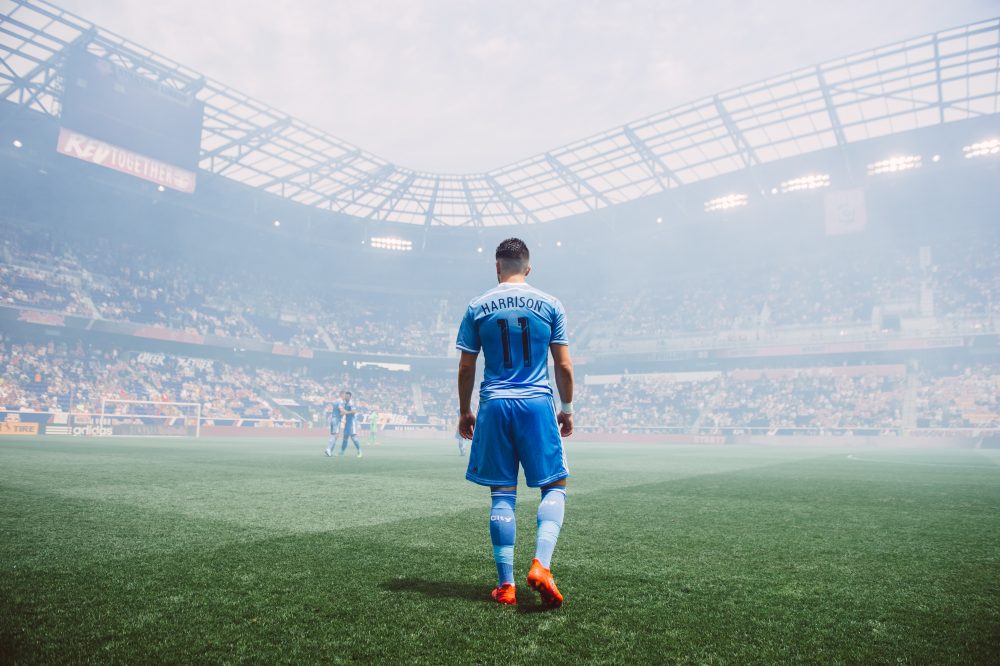 This article is more than 4 years old.
We begin this story in the English town of Bolton. You may know of it. It's rather near Wigan, not far from Ashton-under-Lyne…
"It's just a very simple, semi-rural, working town about 20 miles north of Manchester," says Debbie Harrison, herself a former Bolton resident. "And it's a big leap. It feels a very big leap."
Now, Debbie's spending considerable time in New York City with her son, Jack. He's the reason for the big leap, which started as a couple of little baby steps nearly 19 years ago, when Jack demonstrated an affinity for soccer.
"He was walking at 9 months old, and so he — by the time he was 18 months to two years — he used to walk around with this little ball," Debbie says. "In fact, I've got a photograph of him somewhere with the ball in his mouth. He was just hilarious. And then he even used to go to bed with his ball, and he used to sleepwalk all the time. He's still quite a big sleepwalker. But I used to find him, wandering about, looking for his ball during the night. And as soon as he got up, he would dribble to the bathroom with his ball at his feet."
Life At The Manchester United Academy
Such talent does not go unnoted in England. The local pro team, Bolton Wanderers, caught on to Jack when he was about 5. By the time he was 8, Manchester United had scooped him into their youth academy, which was, not surprisingly, fine with Jack, who was too young for skepticism. The same couldn't be said for Debbie.
"So many people said, when he was little, that there was something there, but I always feel becoming a professional soccer player is a bit like winning the lottery, I suppose," she says. "I always felt that education came first."
It wasn't that there was any danger of Jack's education off the pitch ending when he was 8. The players in the academy still attended school. But mostly, as Jack recalls, they were obsessed with the game they call football.
"I remember I'd play football on the weekends," Jack says. "I'd have a game, and then I'd go out to play with my friends afterward as well on the park. So I just loved to play. And I think I just kinda left it in the hands of my mom to try and figure out what was best for me."
"A lot of them, again, were dropped at the age of 14. And when you're dropped, it's where do you go from there? What else do they have?"
Mom could see that motivation wasn't an issue. But numbers were. Or so Debbie concluded when she saw how the system worked.
"As he progressed through the academy, I could see that there were boys that – they come in there, and they just think that football is the be-all and end-all, and that's their focus and that's the drive," Debbie says. "But a lot of them, again, were dropped at the age of 14. And when you're dropped, it's where do you go from there? What else do they have?"
Mom decided there ought to be a "Plan B," just in case ascending to the first team at Manchester United didn't work out.
"I just heard – and I did a lot of research, a lot of reading – about what you could achieve in the U.S. academically," she says. "And so, that's the line that I pursued and tried to educate Jack on that along the way."
Which can't have been easy. I mean, here's a fellow who's been hearing since he was 5 that he could play pro soccer in one of the countries where it's played best. Why would he want to go to the U.S., where "football" means something else entirely?
"I was really apprehensive when she first kinda introduced the idea," Jack says. "Like every other kid in the academy, they just want to make it to the first team, and no kids really think about anything else."
But Debbie persisted…gently. She'd found that the Berkshire School in Massachusetts would provide 14-year-old Jack with the opportunity to play soccer and prepare for a college education. She told him that if he didn't like the place after he'd visited for a few days, he could stay home, and they'd work out another plan. Happily for Debbie, the first visit five years ago went well.
From Bolton To The Berkshire School
It's perhaps useful to pause for a moment here to consider just how preposterous this plot line has become. According to what Jack and his Mom were able to learn, he was the second boy ever to have bailed out on the academy at Manchester United of his own accord. Ever. It simply wasn't done. This accounted for the response Jack got when he told his mates where he was going.
"There was a lot of encouragement, but at the same time there was a lot of questioning as well," he says. "A lot of my friends would say, 'Why would I go to America to play football?'"
So at 14, Jack left home to actually enroll at the Berkshire School.
"I remember when I took him to the airport, and these two beautiful, glamorous air hostesses from Virgin came to him and whisked him away, because he was traveling as an unaccompanied minor," Debbie says. "And I was walking behind him and these ladies and I just felt bedraggled, because we'd driven as well for about five hours through the night. And he turned around, and he looked at me and he went, 'What you doing, Mum?' And I said, 'Oh, you don't want me to come?' And he said, 'No.' He said, 'I'm fine.'
"And off he toddled with these two women. And he went up the escalator and he turned around and looked at me. And then he sent me a text message when he got to the top of the escalator, and he said, 'Are you crying, Mum?' I said, 'No, no. I'm not. No. I'm not.' And then he just waved at me, and off he went.'"
When he arrived in the U.S., Jack was a bit surprised to find an opportunity to play a game quite different from the one he played at the academy in Manchester.
"Everything was so regimented," he recalls. "It's almost a lot of structured football, and I felt like, when I came to America, everything just kind of opened up. And I was able to just have more confidence and just express myself a little bit more."
Jack Harrison expressed himself well enough at Berkshire to earn an athletic scholarship to Wake Forest. In his first year there, he impressed Major League Soccer scouts enough to become the first pick in the league's 2016 draft. It was an opportunity he – and his mother – felt he couldn't turn down. He ended up on the roster of NYCFC, where he joined fellow Brit Frank Lampard. Lampard had starred for Chelsea, one of the Premiership's wealthiest and most successful clubs. He'd played for England as well, and to lots of boys Jack's age, he was a hero.
Jack was recovering from an injury when he joined the NYCFC…and soon he had some company in that regard: Lampard, himself.
"I've always said that soccer brings guys together, and with me not being able to play soccer, just being sat on the sidelines, it was much harder than what I expected," Jack says. "And he really helped out a lot with that, because only after preseason, he picked up an injury, and the next thing we were doing rehab together at the same time.
"So I just remember at the start of the year, just being on the bikes next to each other, and I was just star-struck by it, really. I wasn't sure whether to start a conversation with him or anything. I was just looking at him and comparing my thighs to his thighs, which are much, much bigger, but he gave me some advice on things here and there. He didn't know I was a Liverpool fan. Maybe that's why he was nice to me as well."
A Run At MLS Rookie Of The Year 
This season, Harrison and Lampard played alongside each other…the latter toward the end of his career, the former just getting started.
NYCFC enjoyed a fine run, finishing second in the Eastern Conference before being bounced from the playoffs. Jack scored four times and logged seven assists. He finished third in the voting for Rookie of the Year. So you have to wonder if Manchester United, currently sitting a disappointing sixth in the Premiership, wishes he'd stayed put. If Jack still has any second thoughts, he's not letting on.
"I mean, it was a tough decision for us both, but I think, at the end of the day, I can say I'm happy we made the decision to even come to the U.S. in the first place," Jack says. "And if you'd asked me a couple of years ago, I would've — I kept pondering the fact — what would have happened if I'd stayed at United? But I think now I can happily say that I'm happy to be where I am."
"Sometimes I think to myself — and I have thought to myself — what's going on? And what am I doing?" Debbie says. "But it's a dream come true. You know, it's just so – I have to pinch myself sometimes."
"Especially when she's walking around New York," Jack says. "I find herself just kinda gazing up and not really looking where she's going."
"The New Yorkers shouting at me for not looking where I'm going, and I get told off a lot," Debbie says.
"Yeah, and you're famous now, as well," Jack says. "Everyone knows her as — everyone knows her as 'Mumsie.' For the games, I usually get her a ticket to go in the family section and she can just have a nice, calm evening watching a game of soccer and stuff. But she wanders off into the fan section, and she's on the drums and everything. And she really enjoys the games. So I'm happy she's able to do that."
As I listened to all that dream-come-true sort of stuff, I almost forgot to ask about the other part of Debbie Harrison's original motivation to look for opportunities in the U.S.: the education. She didn't forget. She made sure there was a clause in Jack's contract obliging the club to pay for the remainder of the time it'll take him to earn a degree from Wake Forest, no matter when that time may come. He could be 26 when he goes back to school, she told me. He could be 56.
"Jack, forget the soccer," I tell him, "You lucked out and got the perfect Mom."
"Yeah," he says.
"He won't agree with you, I don't think," Debbie says with a laugh.
Yeah, but Debbie, I think he just did.
This segment aired on November 26, 2016.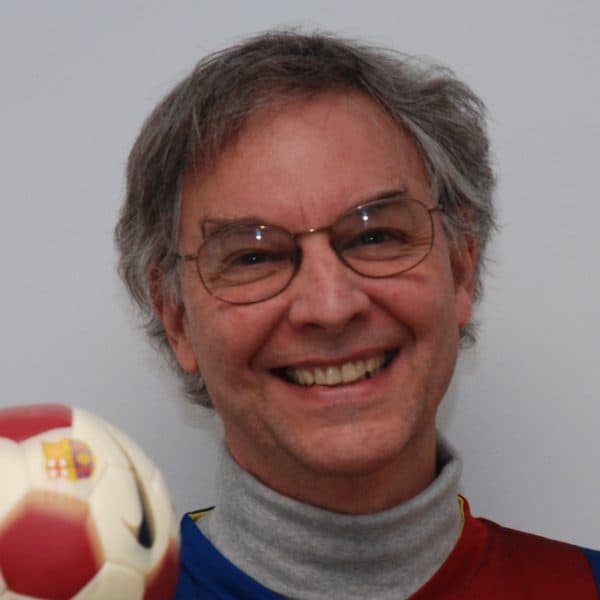 Bill Littlefield Host, Only A Game
Bill Littlefield was the host of Only A Game from 1993 until 2018.