Theismann, As In Heisman...Or Was It?
Play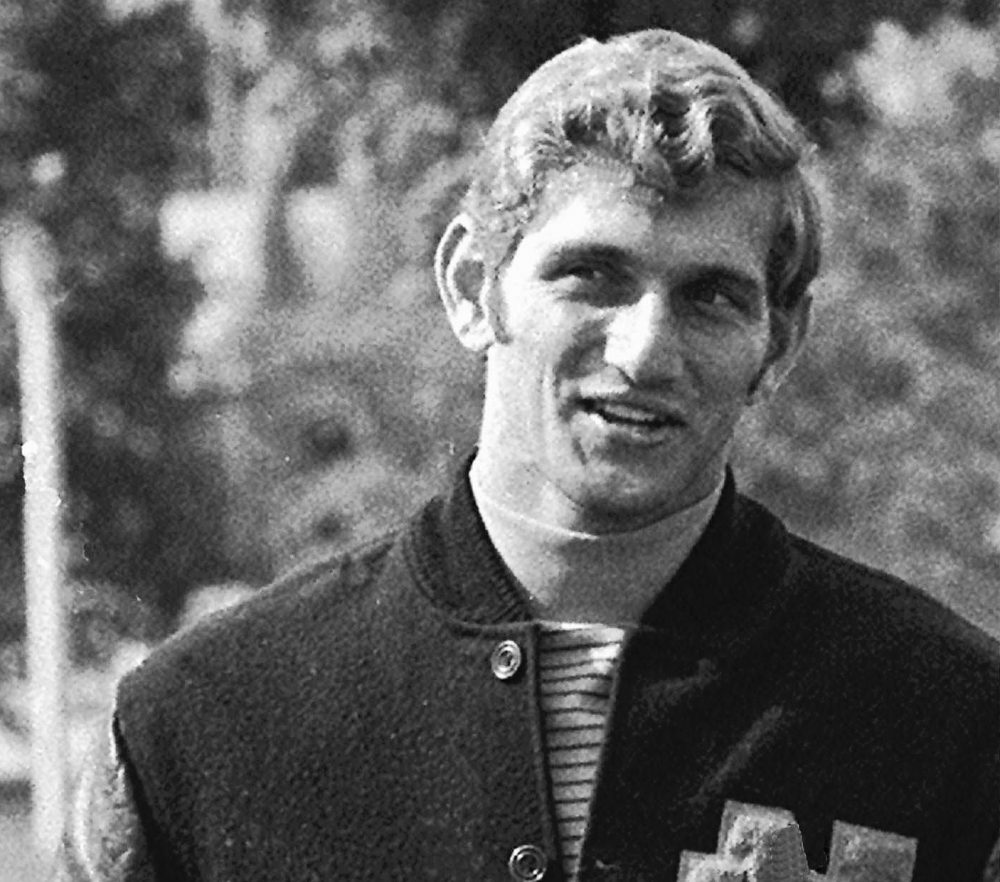 This article is more than 6 years old.
It's Heisman Trophy Weekend.
The best Heisman Trophy story I know involves the run-up to the 1970 edition of the award given annually to the nation's best college football player. One of the top contenders then was the quarterback at Notre Dame, Joe Theismann.
"When I went to the University of Notre Dame in 1967," Theismann says, "I was Joe THEES-mann from South River, New Jersey. That's how my name was pronounced."
Two years later, certainly to the surprise of the Theismanns Joe had left behind in New Jersey, their name was changed. Or at least his was. Confused? Maybe Joe can untangle the mystery. Apparently, it all began when a football writer wondered aloud in the presence of Notre Dame sports information director Roger Valdiserri if it was Theismann, as in Heisman…
'How Do You Pronounce Our Last Name?'
"Everybody laughed. And Roger, being the type of person who just sort of puts things away, he sort of put it in his, I guess, in his memory bank," Theismann says. "And then in 1970, before we started the season, he called me in the office. He said, 'How do you pronounce your last name?' I said, 'It's THEES-mann.' He said, 'No, it's not. It's THIGHS-mann.' I said, 'No, it's not. It's actually THEES-mann.' He said, 'No, it's not, Joe. It's THIGHS-mann.' I said, 'Please, can I have the phone?'
"I said, 'It's THEES-mann.' He said, 'No, it's not. It's THIGHS-mann.'"
"So I call my dad back home in Jersey. I said, 'Dad, you know, I got a question for you.' And he said, 'Fire away, Joey.' I said, 'How do you pronounce our last name?' And there was like this pregnant pause on the phone. And all of a sudden, my dad says, 'Are you OK? You're having trouble pronouncing your last name? I mean, you've been there three years. Are you all right?' I said, 'Yeah, I'm fine. I'll explain later. Just how do you pronounce our last name?' And he said 'THEES-mann.'

"So I hung the phone up. I turned to Roger. I said, 'Roger, look, my last name is THEES-mann. I know. I just got off the phone with my dad.' He said, 'Joe, I want to tell you something. There's a trophy out there called the Heisman Trophy. It goes to the best college football player in the country. We think you have a chance to win that trophy. But we're not just going to count on your athletic ability, nor the reputation of the University of Notre Dame. But we think by just simply changing the pronunciation of your last name from THEES-mann to THIGHS-mann to rhyme with Heisman, we can get you that trophy.'"
'Theismann For Heisman'
It would be great to be able to say that the "Theismann For Heisman" marketing campaign worked, but it didn't. Another quarterback, Jim Plunkett, won it. Theismann came in second. And he remained Theismann, into his days as an NFL standout, during which he was named the league's MVP and won a Super Bowl. That he did all that as Theismann rather than as "Theesmann" was OK with everybody. Or almost everybody.
"So we play the Giants in New York, many years ago," Theismann recalls. "And old Giants stadium, the fans were maybe 10 yards right behind the visiting bench. So I'm sitting there, and some guy's yelling at me, 'Ayyyy, Joey THEES-mann. You changed your name. You don't even like where you came from. I can't believe you've done this!' I turn around and said, 'Dad, look, I'm really sorry. I swear I am. I didn't mean to do that.' No, it actually wasn't my dad. But there was some guy up there just giving me a hard time. He was from South River, where I grew up."
If Theismann had been so inclined, he could have told that leather-lunged New Jersey heckler that the name change wasn't quite as unreasonable as it might appear to be. Joe knew that, because back when the change was still in dispute, he went over his father's head to a higher authority.
"I did call my grandmother, who was the matriarch of our family. She was from Germany. I said, 'Granny, look. The University wants to change the pronunciation of my last name from THEES-mann to THIGHS-mann. What do you think?' And she said, 'Vell, I tell you what. The correct pronunciation is actually 'TICE-mann', and that is a bit closer, so it's OK.'"
"You had your grandmother's approval. You were home free!" I say.
"I got my grandmother's approval."
Forty-six years after the Heisman Trophy voting that saw the former Joe Theismann come in second to Jim Plunkett, as in "who'd a thunk it" – it's all good. Or almost all good. Except when Joe goes home.
"I get a lot of friends of mine from New Jersey, you know, and we'll go do something, and they'll say, 'Hey, how you doin' Joe? Are you still Thees-mann or Thighs – mann? Who are you?'"
He's Joe Theismann. As in Heismann, almost. And he doesn't seem to have any regrets.
This segment aired on December 10, 2016.