Former NBA Player Leon Powe Has Home In Celtics Front Office
Resume
"Well, I'm from Oakland, California. You know, grew up right there in the hood where a lot of kids don't make it. Sometimes they don't make it because they think they know it all — like I did at first. Or they don't make it because they get involved with the wrong crowd. And my situation was a little bit of both. I was involved with the wrong crowd — and I thought I knew it all." — Former NBA player Leon Powe
 Staying 'On The Right Track'
Leading up to the robbery, Leon Powe's friends didn't tell him much.
"They just said, 'We gotta handle some business. It's involving somebody else, and we're gonna rob this dude.' And so on, and so on," Powe recalls.
Powe was just a teenager. He had never robbed anyone before. But, now, his friends were pressuring him to come along.
"And I said OK. And as we got closer, just in my gut, it wasn't a good feeling for me," Powe says. "So got a block, two blocks down. Still didn't have a good feeling. And then at the third block, I heard a voice in my head, a little bit, telling me to turn back. So I stopped and I asked my friends, 'Did you hear it?' And they were like, 'Nah, hear what?' I was like, 'Man, never mind. Just keep going.' So we keep walking. We're almost there, and then the second time I heard it loud as day. I heard it — like the voice in my head told me to turn back now. So what I did was, I turned back, but I said, 'I gotta go help my moms cook some dinner.'"
That excuse probably wouldn't have worked for most kids. But Leon Powe's friends knew that — even among people living in inner-city Oakland — Leon and his mom had it rough.
When Powe was 2 years old, his father walked out on the family.
When Powe was 7, his family home burned down — his little brother had been playing with matches.
And for the next few years, Powe, his mom and his younger siblings, lived in homeless shelters, motels and cars. Food was sometimes scarce — and Powe's mother was once arrested for stealing groceries.
So on the way to the robbery, when Leon Powe told his friends he needed to go help his mom, he could guess how his friends would react.
"When I say anything about my moms," Powe says, "I know they don't question me on that, and I went home.
"The next day, everybody ran on my door, banging on my door, and said, 'You heard what happened?' And I was like, 'No.' They was like, 'They got arrested 'cause they tried to rob somebody.' And then I was just thinking, like, 'Man, I was right there. I could've been in that whole situation.' And that was one of the moves I made that showed that, OK, I'm trying to veer off on the right track. I don't wanna do bad."
'Don't Shy Away From The Big Moment'
Leon Powe was tall, strong, talented — and a hard worker. He became one of the top-ranked high school basketball players in the nation.
But his hardships didn't end. In 2002, when Pow e was a junior in high school, his mother died from a heart condition.
Looking back on that moment in an interview with the New York Daily News, Powe said he thought about quitting basketball then. His dream of someday buying a house for his mom had been lost.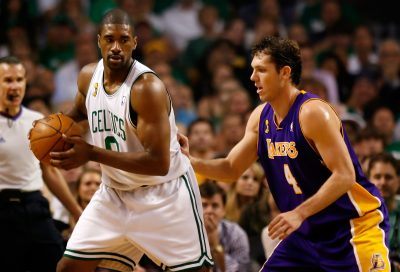 But Powe stuck with the sport. He was recruited to play at Cal Berkeley and became the Pac-10 Freshman of the Year. By his final year at Cal, he was one of the best players in the nation.
But NBA execs had some concerns: Powe was big and strong for college, but not necessarily for the NBA. And he had already had two major knee surgeries.
Powe didn't get drafted until the late second round. The Boston Celtics signed him to a three-year contract that wasn't worth much more than the NBA minimum.
During his first season, Powe didn't play much. But one year later, the backup big man played a critical role. Because that year, the Celtics reached the NBA Finals for the first time in 21 years.
Before the 7-game series against the Lakers began, Powe gave himself a pep talk.
"I talk to myself at times, which is not a bad thing," Powe says. "People out there should talk to themselves sometimes — if it helps. Now if you talk to yourself for other reasons, I would advise not to. But it helps pump me up a little bit. So I told myself, 'Man, look, you come from Oakland, one of the toughest cities in America. This ain't nothing. So all you gotta do is go out there and play your game. And don't shy away from the big moment.'"
In Game 1 of the 2008 NBA Finals, Powe played nine minutes and scored four points. Then came Game 2.
Powe had a solid start. He got to the free throw line a couple times. His first basket came 7:43 before the end of the first half.
But in the third quarter, he exploded. In one 81-second stretch, Powe scored three straight baskets. In the final quarter, he added seven more points.
When the buzzer sounded to end Boston's six-point win, Powe had scored 21 points in just 15 minutes of play. The Celtics went on to win the championship.
Life After The NBA Finals
Leon Powe, who had spent his childhood living in homeless shelters, motels and cars, was one year away from a chance to sign a new contract for far more money than his rookie deal.
"Yeah, I knew I could get a big contract. I knew this and that. But I knew I had to keep working, I had to keep playing. Anything can happen," Powe says. "And as history shows, you know, sometimes stuff go wrong, sometimes stuff go right."
For much of the next season, things went right.
Powe earned more playing time with the Celtics, and the team once again reached the playoffs.
In a first round matchup against the Bulls, Powe was on the floor, trying to help the Celtics even the series at one game apiece.
"Did a spin move. I was falling. And I tried to push myself up off that leg and I heard a pop," Powe says. "When I heard that pop, I knew it was doomsday for me."
Powe kept playing — but the next day, doctors confirmed what he had suspected: He'd torn his ACL. Now with a third major knee surgery in his future, Powe's chances of signing a big contract were gone.
"Broke down. I was upset, pissed off, mad and just feeling like, man, I worked extremely hard to get to this point. And now this happened," Powe says. "I was upset for a while. Put it like that. It hurt — and didn't want things to end in Boston that way."
In 2009, Powe signed a deal with the Cleveland Cavaliers for the veteran minimum. But after the injury, he was never the same player.
He last played in the NBA in May 2011.
Powe eventually moved back to California. He started looking into getting an investment group together to buy an NBA team.
Then in 2014, he got a call from the Celtics. The Red Sox were celebrating their recent World Series title. They wanted Powe to represent the '08 Celtics and bring the Larry O'Brien trophy to the ceremony at Fenway Park.
Powe agreed.
"And I came out rolling with my trophy. And then when they seen me roll out, the crowd went crazy and everything," Powe says. "So I still had that Boston love here, and people really treat me with respect."
Back In Boston
After the ceremony, Celtics President Rich Gotham told Powe he should move back to Boston and work for the franchise.
"Did you know what, like, the role was gonna be right away?" I ask.
"Nah, we didn't haven't no role. It was just about, 'You come here, we'll figure it out,'" Powe says, laughing.
Powe spent time thinking about the idea — his young son lives in California. But he couldn't pass up a chance to get his foot in the door in an NBA front office.
"I told myself, 'Man, look, you come from Oakland, one of the toughest cities in America. This ain't nothing. So all you gotta do is go out there and play your game.'"
He's now in his third year back with the Celtics.
Powe spends time going out in the community, telling his story and talking to kids.
This year he says he's been taking on more responsibilities around the Celtics organization. Sometimes he fills in as a radio analyst.
But Powe hasn't forgotten about the injury.
"Did I get over it? I'm, like, never over it. Because, you know, I was on my way. I was coming into my own as a player, and no telling what was the limit from that point was gonna be because of how hard I work. And so I'm never over it," Powe says. "But I understand that's life. And that's why I made it this far thus far because I understand life happens. But it's not what you do when you down. It's what you do to get yourself and pick yourself back up."
Leon Powe never did sign that big contract. But he still might get to have a long career working in the NBA: His new dream is to become a general manager.
This segment aired on December 10, 2016.