ESPN's Darren Rovell Recalls His Hall Of Fame Bar Mitzvah Guest
07:47
Play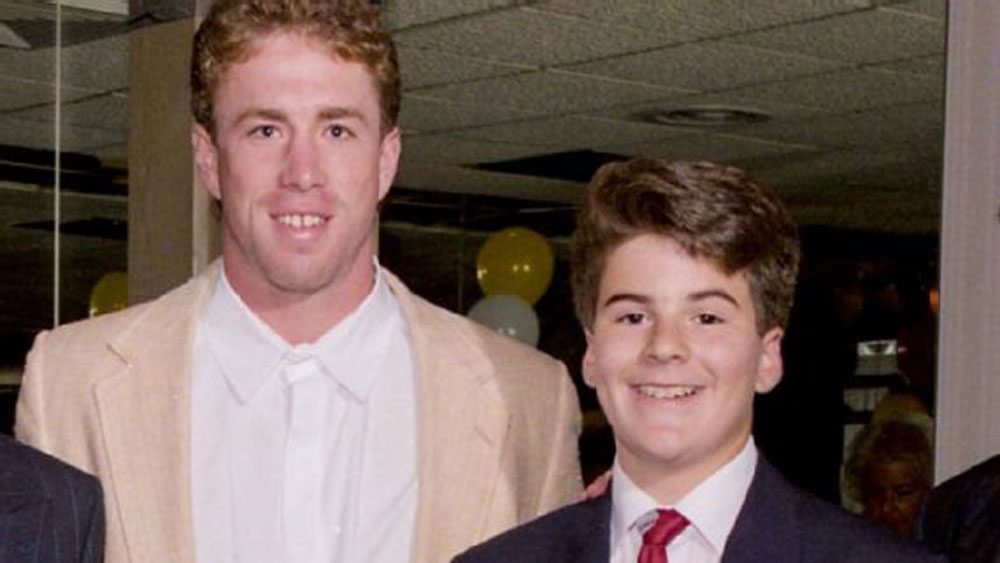 This article is more than 3 years old.
Darren Rovell, a sports business reporter at ESPN, remembers a lot of things about his bar mitzvah in 1991.
"My name was spelled in baseball cards. Where the hors d'oeuvres were, it said, 'Darren's Dugout.' I can close my eyes and tell you exactly how it looked," Rovell says. "There was like a barbershop quartet singing baseball songs when you entered. It was pretty over the top."
"Really?" I ask.
"Yeah — yeah, it was, believe it or not," Rovell jokes. "A Long Island bar mitzvah — it's like people were competing."
Sometimes the competition was fierce. Mickey Mantle was the celebrity guest at the bar mitzvah of one of Rovell's friends.
Like that friend, young Rovell was a baseball fan. But he figured, correctly, that Mantle would have blown the top off the Rovell Family bar mitzvah budget. Beyond that, Rovell felt that if he hosted a baseball legend, he'd be pretending to be somebody he wasn't.
"I had followed minor league players, I had followed scouting reports and player development departments — and that was like a geeky thing that I did," Rovell says. "So if I brought a player who was already great to my bar mitzvah, well, that wasn't fun."
Recruiting The Prospect
Accordingly, young Darren suggested two minor league prospects, both of them in the Mets organization, and two young major leaguers, each of whom might need the extra few hundred dollars he could earn by schlepping out to a bar mitzvah in Long Island.
Now, it wasn't as if failure on Mr. Rovell's part would mean Darren's bar mitzvah would be utterly lacking in baseball celebrity. A neighbor knew Bud Harrelson, who had played for the Mets, Phillies, and Rangers, and was managing the Mets in '91. Harrelson had agreed to show up.
Still, the player is the thing, so Darren Rovell's dad went to work on that list.
"And when you go back in 1990, 1991, we didn't have google to easily find things, and so he, I know, looked at this as a challenge that, one, he wanted to pull it off, two, he thought he could pull it off. And then he began the process," Rovell says.
As it turned out, the minor leaguers were too far away. The major leaguers were otherwise engaged. But...
"The Astros were playing the Mets on the night of my bar mitzvah," Rovell says. "Craig Biggio was one of the guys on my list. He was playing for the Astros and the venue was 13 miles from Shea Stadium, so this was technically doable to get one of the players on my list. He called the Astros, and they said, 'Probably not something that Craig Biggio would do, but we have a young player who we think might be game to do this — not that he's done so many things, but that he's a prospect, he's doing really well. You might want him.' And they mentioned the name Jeff Bagwell."
An Unlikely Star Guest
At this point, Darren's dad went above and beyond. He not only got in touch with Astros rookie Jeff Bagwell, he arranged to meet Bagwell at a hotel in New York so he could pay Bagwell's $500 fee. Bagwell even agreed to buy a sport coat for the celebration. He hadn't brought one on the road trip.
"You know, I've done my home work on this and I've looked at some of the photographs of the occasion," I say to Rovell. "And Jeff Bagwell doesn't look a whole lot older than you do. Did anybody mistake him for just another guest?"
"I'm sure," Rovell says with a laugh. "He also doesn't look much like — no offense to Jeff, and I don't think he cares right now — but it's not like he was some guy who looked like an athlete. And I'm sure he walked around and I'm sure he had his mini hot dog and his coke and no one looked twice — until he was sitting in the corner with a sharpie."
And so Rovell's guests lined up for signatures.
"The kids were a little bit confused as to why the manager was there, but I didn't get a star like Dwight Gooden or Darryl Strawberry or Gary Carter, or, like, any random Met," Rovell says. "Why did I have an Astros player? So although he was signing autographs — and although I was enthralled and starstruck — I think the kids who were at the party were less than thrilled that this is who was signing an autograph. And I don't have any faith that any of those kids kept that beyond the week or two."
And as a rookie, Jeff Bagwell might have kind of wondered why anybody outside of Houston would hold on to his autographed card.
Happily, Bud Harrelson was there to provide references.
"He got up there," Rovell recalls, "and he said, 'Hey, I just wanna let you guys know, we're playing the Astros, and the young man sitting in the corner over there is a great young player. And he just hit the longest home run in Three Rivers Stadium history.'"
A Hall Of Fame Story
That home run was no fluke. Bagwell hit 14 more of them during his first season and was named the National League's Rookie of the Year. Over the next 14 years he hit another 435 home runs and was once named the league's MVP. Last week, it was announced that Bagwell will be inducted into the Hall of Fame in July ... which is reason No. 1 why those kids at Darren Rovell's bar mitzvah should have held on to those autographed cards.
"It's not like he was some guy who looked like an athlete. And I'm sure he walked around, and I'm sure he had his mini hot dog and his coke and no one looked twice until he was sitting the corner with a sharpie."

Darren Rovell
Needless to say, Darren Rovell enjoyed each of the achievements that led, eventually, to Jeff Bagwell's election to the Hall.
"It definitely did become fun," Rovell says. " I would say over the years there were 50 calls between me and my dad and my brother and my mom: 'Can you believe we had him?' And there was always a call when something crazy happened, for something as little as he had four RBIs in a night. So there was some sort of connection that we felt to him."
So whereas lots of kids can say they've met a Major Leaguer, Darren Rovell can say he hosted a future Hall-of-Famer at his bar mitzvah. His only regret is that as a kid, he never followed up on the connection that bar mitzvah visit might have begun. As that anonymous young man with the mini hot dog in one hand and a coke in the other metamorphosed into a Major League star, Rovell never looked for Bagwell outside the players' gate at Shea Stadium to remind him of the great afternoon they'd had together.
Renewing The Memory
About a decade ago, at least 15 years after that big day on Long Island, Rovell did run into Jeff Bagwell in the Astros locker room shortly before a game. He asked if Bagwell remembered Rovell as the kid whose bar mitzvah he'd attended. Bagwell said he sort of recalled going to one. It wasn't exactly a great reunion.
But it's never too late, right?
"I intend to go to Cooperstown and go to the induction and maybe get an autographed ball that says, 'From your bar mitzvah to Cooperstown, Jeff Bagwell,'" Rovell says.
And you've got to be rooting for it to happen. It's going to be a big day in Jeff Bagwell's life, sure, but wouldn't it kind of be a bigger day if he at least pretended that, "Oh, yeah, I do remember that bar mitzvah, and it was a great day, kid, and here we both are today, successful beyond our wildest dreams, having made careers doing just what we'd wanted to do … "
Or something like that. And then he'd sign Darren Rovell's baseball and hand it back to him with a big, Hall-of-Famer's smile.
This segment aired on January 28, 2017.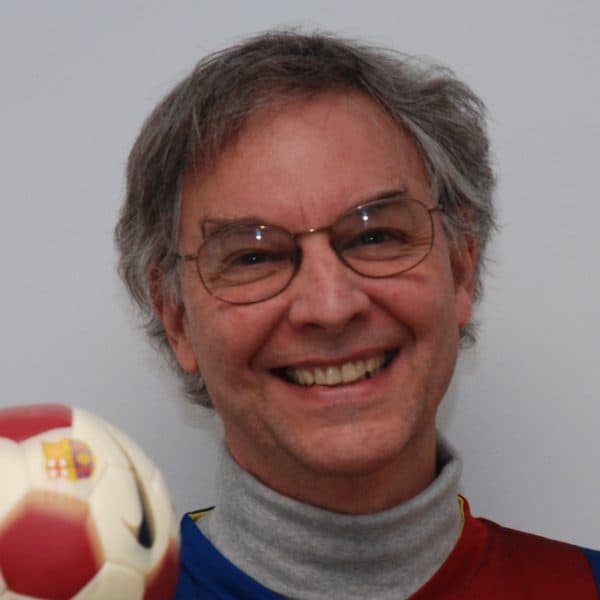 Bill Littlefield Host, Only A Game
Bill Littlefield was the host of Only A Game from 1993 until 2018.