The 'Tuck Rule' Game That Started A Dynasty ... And A Backlash
Play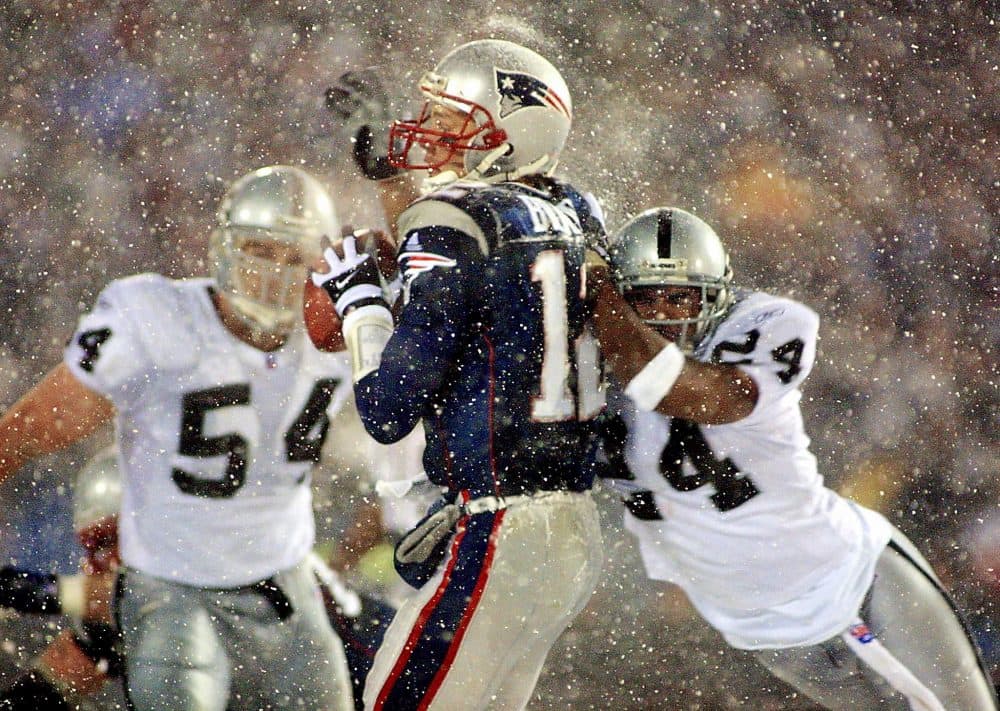 This article is more than 5 years old.
Randy Pierce opens the door and invites me into his large living room. The walls, floor to ceiling, are covered in framed jerseys, signed photos and life-sized decals of Patriots players. The couches are arranged around a big screen TV.
Randy's dog, Autumn, sits patiently, a respectable distance from the door.
Back in December of 2001, Randy was named New England Patriots fan of the year.
The team was different then. They'd been to a couple Super Bowls but had never won. In September, their veteran quarterback, Drew Bledsoe, had been injured on a hit that had sheared an artery behind his ribs and could have killed him. He was replaced by an unknown, second-year backup named Tom Brady.
Randy says the team was so sure that the season wasn't going anywhere that they had scheduled old Foxboro Stadium for demolition the day after the regular season ended.
"We are so caught up in this mindset of negativity, that we'd already made plans to have our stadium destroyed because, of course, there's no chance we could have another game. There really was a culture and a mindset of defeat and loss," Randy says.
But to almost everyone's surprise, Foxboro Stadium was pressed into service one more time, for a divisional playoff game on Jan. 19, 2002.
The Game That Began It All
No one could have known then that this game, and in particular a controversial call in the fourth quarter, would be the beginning of a Patriots' dynasty — and that it would set the stage for a series of controversies that would turn the Patriots into the most hated team in the NFL.
Randy Pierce and his friends arrived at their favorite tailgating spot across the street from the stadium at 2 p.m. that day. Nobody gave Tom Brady and the Patriots much of a shot in that game against the Oakland Raiders — not even Randy. But that was before the weather changed.
"As 4 p.m. rolled around, I remember watching this snow fall," Randy says. "And when you live in New England, snow just has this magical quality for the team. And our record in the snow is amazing. That started making people think a little more, 'You know this isn't the way bad things happen for us. This is the way good things happen for us.' "
By kickoff, the grounds crew was already using leaf blowers to try to keep the yard lines visible. Randy hoped the weather would encourage the running game, which might benefit the Patriots. But nobody could get any traction to run in the snow, and the Raiders were throwing the ball really well.
"And they're wearing white jerseys, and the guy sitting next to me says, 'You know, I can't even see their receivers because the white of their jersey.' And they had kinda silvery numbers, I guess — just got lost. He said, 'I sure hope our defenders can see them better than I can,'" Randy recalls.
The Patriots managed to keep the game within reach until late in the third quarter, when the Raiders kicked a 45-yard field goal to increase their lead to 13-3.
For some Patriots fans, infected by that culture of defeat and loss, a late-game, 10-point deficit — and the rising snow drifts — were just too much to take.
"Spirits are low. And that makes you start to feel it a little bit. It wasn't really cold, but you're wet. So it starts to get a little unpleasant," Randy says. "Some people are even leaving although, you know there's 60,000 people there, and 180,000 will tell you they never left that day, right? They did leave — not a lot, but there were some people who were leaving."
But in the fourth quarter, Brady scrambled for six yards and a touchdown, and the Patriots were within three again. A couple of possessions later, the Raiders switched to their running game to eat up time, and the Patriots stopped them.
"So now they punt the ball back, and we've got the ball back with very little time left. Ultimately Tom's got it with 2:06 when we take over," Randy says.
The Tuck
Brady threw a 7-yard pass and then scrambled for five yards. The Patriots had just under two minutes to get within field goal range and tie the game.
"But there's a fumble," Randy says. "And I'll tell you the truth, all of us thought it was a fumble. And if I watched that play and could see it, I'd tell you it's a fumble/"
I should probably mention that Randy Pierce has been completely blind since Sept. 14, 2000. He watches games by listening to the radio call to get a mental picture and sits next to a friend who fills in the blanks.
And you might be wondering why I've asked a blind man to describe what would become one of the most controversial calls in NFL history. But here's the deal: Everyone who watches that play sees the same thing. It looks like a fumble – at least at first.
Former Patriot's lineman and current ESPN analyst Damien Woody had a pretty good view. He was on the field.
"I saw Charles Woodson in my periphery and I'm like, 'Oh boy. This is not gonna, this is not gonna end well,'" Woody says. "And when the ball came out, I thought the game was over."
Re-watching the play in slow motion from the broadcast booth, Greg Gumbel agreed. "Biekert picks himself up, falls on the football and has pretty much sealed an Oakland Raiders victory in New England," Gumbel said.
But with less than two minutes left in the game, the call was subject to an automatic review. Head referee Walt Coleman went under the hood to watch the replay. And Damien Woody began to have reason to hope.
"Then I looked at the sideline and you could just hear whispers from the sideline. You start hearing about the Tuck Rule," Woody says.
The Tuck Rule was so new -- it had only been invoked once -- that Phil Simms was having trouble remembering its name. But Simms and Gumbel were pretty sure that what they were seeing on replay didn't apply.
"He had control of it, Charles Woodson hits him, and the hit causes the fumble," Simms said.
"That ball did not look like it was slipping out of his hands — it was forced out by Woodson," Gumbel agreed.
"Once Walt was taking so much time with the review, we knew that, 'OK, something is gonna change, something's gonna happen right here,'" Woody says.
Meanwhile, more than 3,000 miles away in Southern California, syndicated sports columnist Norman Chad was watching the game from his couch — enjoying a glass of Cabernet or maybe a really perky Pinot Grigio.
And this is where we get back to all those football fans who hate the Patriots today. Because Chad began that day actually rooting for New England. Or, more accurately, he was rooting against the Raiders and their owner Al Davis. So he wasn't happy with Tom Brady's fumble in Foxborough. But he wasn't questioning it either.
"There was 100 percent certainty that he had fumbled and that the game was over, and we were all moving on with our lives," Chad says.
Finally, referee Walt Coleman walked out onto the field to issue his ruling.
Coleman had invoked the Tuck Rule. Randy Pierce was thrilled, though 15 years later he says, "Right call. Bad rule." Norman Chad has stronger words for it.
"It's easier to explain NATO than to explain the Tuck Rule, but essentially Tom Brady had brought the ball back in to his body and he was in a throwing motion, so he had not fumbled," Chad says.
Chad had never been a fan of replay, but this one call forever changed the way he looked at the Patriots too.
"I was so upset, even though I was rooting for the Patriots that day, I was so upset that replay had done this. And the moment that happened, and then the moment the Patriots particularly won the Super Bowl that year, it's like my whole life's mission was rooting against the Patriots. It's a very small life, I'll admit, but that's ... that's the way it works," Chad says.
The Pats March Forward
Now you might say, "What's the big deal?" Controversial calls happen all the time. And the Patriots were still behind. They had to go on and win that game, and the game after that, and the Super Bowl after that. But Norman Chad says:
"Actually, it changed the course of National Football League history, probably. If the Patriots don't win that game, obviously they don't win the Super Bowl that year. They don't win the Super Bowl that year, you have no idea how things unfold. It's almost like a butterfly effect. They might not become the dynasty they've become over the last 15 years."
And if the Patriots didn't become a dynasty, Chad says, they probably wouldn't be hated so much right now. And no, he's not discounting all the other reasons why NFL fans hate the Patriots.
"I call it Tuckgate, so besides Tuckgate, you know, we've had Spygate, we've had Deflategate. Any given hour of the day you have Belichickgate — you know, I wouldn't even trust him to give me change at a toll booth. So all these things add up, and you just end up rooting against the Patriots most of the time that you're awake," Chad says.
"The moment that happened, and then the moment the Patriots particularly won the Super Bowl that year, it's like my whole life's mission was rooting against the Patriots."

Norman Chad
It took a while for the Patriots to accumulate all those "gates." And the Tuck Rule doesn't even exist anymore. The owners voted it out back in 2013. But, since 2002, whenever New England has appeared in the Super Bowl, Norman Chad hasn't had to think too hard about who he'll be rooting for. And this year is no exception.
"Even if could not name a single player for the Atlanta Falcons, I would be rooting for the Falcons. I would root for a cold sore before I would root for the Patriots," Chad says.
Randy's View
I want to go back to Randy Pierce's living room for a moment – with those walls covered in framed memories from four decades as a Patriots fan.
Randy's feelings about the team and the league have gotten more complicated in recent years. He doesn't like how the game has become all about the money, or the NFL's record on domestic violence and player safety.
Almost all of New England's success has come since the Tuck Rule game, which means that Randy Pierce has never actually seen the most important photographs hanging on his walls.
"So, if I ever get sight back, and I don't bet on it, but we do so many advances, who knows, right? I'd love to be able to see all that," Randy says. "That'll be fun in this room to go through and find all the treasures."
And despite everything, Randy Pierce is hoping the Patriots give him one more moment worthy of wall space this weekend in Houston.
This segment aired on February 4, 2017.