Reimagining The 2017 NBA All-Stars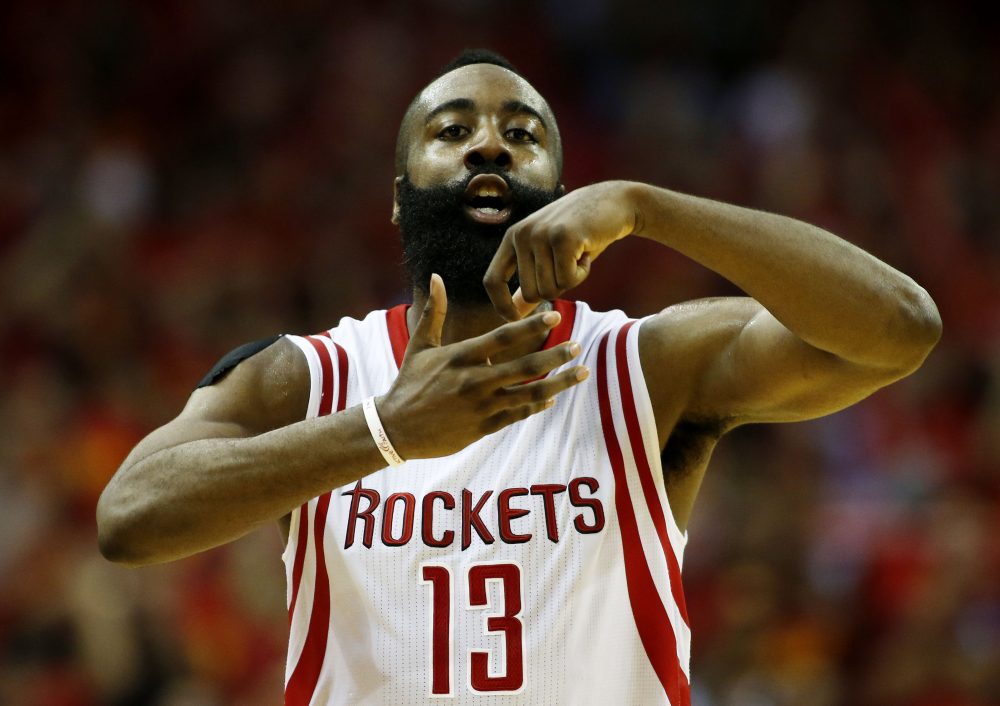 This article is more than 5 years old.
Ever wonder what athletes would do if they weren't athletes? We may have an answer for 10 of this year's NBA All-Stars.
Let's explain. The 2017 NBA Celebrity All-Star Game will be held on Friday night in New Orleans to kick off the annual All-Star Weekend. Among those chosen to play this year are actor Nick Cannon, radio DJ Peter Rosenberg and rapper/actor Master P.
This got us thinking about what professions the 2017 NBA All-Stars could have taken up if they hadn't made it to the league. Based on their personalities and talents, we developed a hardly-scientific list.
Kawhi Leonard — Film Actor

Leonard is known for showing little emotion on the court, and he usually avoids attention from the media. This demeanor could have made him a natural fit for one of Hollywood's biggest roles in the superhero universe: Batman. Since earning Finals MVP honors at 22 years old, Leonard has continued to star as San Antonio's silent assassin who swoops in right when his team (or city) needs him the most.
James Harden And Stephen Curry — Chefs

Curry already has the nickname "Chef Curry" thanks to hip-hop artist Drake, and Curry's wife Ayesha has her own cooking show on Food Network. Harden is known for his "stirring the pot" celebration when he gets going in a game. Sounds like both men could have made it as chefs or hosts of their own cooking show.
Russell Westbrook -- Fashion Designer

The Thunder point guard has been featured on the cover of GQ magazine thanks to his "fashion-forward" outfits. Maybe he could have made it as a designer if he wasn't so often busy recording triple-doubles.
DeMarcus Cousins And Isaiah Thomas — TV Actors

These two were former friendly teammates on the Kings. With Cousins standing at 6-foot-11 and nearly 270 pounds, he could play big brother to the 5-foot-9, 185-pound Thomas in a television comedy series.
Kyrie Irving — TV Actor
Irving has already acted in Pepsi commercials as "Uncle Drew," an elderly man who shows up to play pickup basketball and stuns everyone by proving he can still ball. Maybe an Uncle Drew television series could have worked?
Kevin Love — Comedian
Love accompanied Irving on the second installment of the Uncle Drew commercial series and is a known prankster among his former and current teammates. This could have made him a candidate for stand-up comedy.
Paul George — Professional Fisherman

Fishing is one of George's strong interests, and the Indiana Pacer actually once won a fishing tournament. If basketball didn't pan out, professional fishing might have been the next choice.
John Wall — Dancer/Performer
While at Kentucky, Wall invented his own dance move that was even turned into a song titled, "Do The John Wall." He's also been seen dancing on the court during his pro career. A position as a backup dancer or performer might have worked.
It's fun to come up with hypotheticals, but these All-Stars most likely won't be leaving their day jobs anytime soon.
Have some ideas of your own about where this year's NBA All-Stars would thrive if they weren't on the court? Leave them in the comments below, tweet them our way or post them to Facebook.