Piazza's 8 Days, 5 Games With Marlins Leads To Decades-Long Obsession
Resume
Jerry Dworkin is a corporate attorney living in Southern California. But it's his hobby that's made him comfortable sitting in radio studios, talking to people like me. Or, maybe not.
"Ah, no, this is the first radio interview," Jerry says. "I did film a segment of ESPN's — 'Mint Condition' was the show. I stared in the wrong place for half the interview, but the rest of it went well."
Jerry Dworkin is a collector. And his collection is so vast and so strange ... well, I'll let him say it.
"I think you could say, arguably, this is the most unusual collection of any Hall of Famer, probably ever to be, given that the trading card company industry is not what it was way back when," Jerry says.
8 Days, 5 Games With The Marlins
It began in May of 1998. That's when the Dodgers traded future Hall of Famer Mike Piazza to the then-Florida Marlins.
Eight days and five games later, Piazza was shipped north to the New York Mets.
Jerry Dworkin wasn't aware of any of this when it happened. See, he's not actually a baseball fan, and in 1998 he didn't set out to collect anything.
But when one of Jerry's friends mentioned that a trading card had been issued to commemorate Piazza's eight days, five games in Miami…
"I was just struck by the oddity of the situation and that a card had been produced," Jerry says. "And it would probably become valuable someday. So I did buy it."
Jerry couldn't describe that card for me. He doesn't remember exactly which card in his collection was first. That's because there were a lot more Piazza Marlins cards issued, and eventually Jerry would set out to collect them all.
But I'm getting ahead of myself.
'I Never Stopped Looking'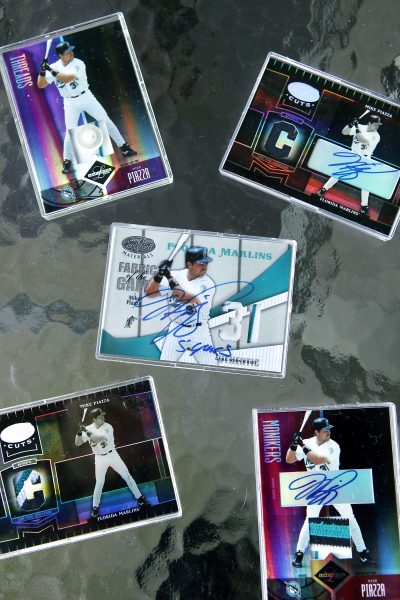 "Quite honestly, I thought at the time it would be the only card ever issued, but in fact a number of additional cards were issued in the year of the trade, 1998," Jerry says.
Jerry acquired those cards, too. And, again, he figured that would be the end of it. It wasn't.
"It was to my great surprise that in 2002 things started to show up again," Jerry says. "Once I knew there were more being produced, I never stopped looking."
You might be wondering what the trading card industry was thinking issuing all these cards commemorating Piazza's time with the Marlins, years after those eight days, five games were up. Jerry never got a direct answer to that question.
But what we do know is that the trading card industry was in a bit of a funk, and in order to drum up excitement, they were releasing all sorts of ultra-limited edition cards. Some were unique. They're called "one-of-ones." Some had patches of uniforms or other memorabilia attached.
The strategy backfired, flooding the market, reducing card values and turning off collectors.
But not Jerry. Jerry saw the opportunity to do something special.
"Always joking that the cards would one day end up in the Hall of Fame, but never really believing it probably in my heart of hearts," he says.
Every morning, Jerry would check eBay — he always had at least a couple of searches running. He also placed a general alert on the Craigslist sites all around the country. And then there were the inquiries and comments he left on all of the sports forums and trading card sites.
It was a little obsessive.
"I don't necessarily put the label on it, but it certainly was a morning ritual," Jerry says. "And, believe it or not, my collection at least stands at 117 different cards of Mike Piazza as a Marlin or containing a piece of his Marlins uniform. They're all different cards. These are not duplicates."
Yep, Jerry owns 117 different cards commemorating those eight days, five games. Which is not, exactly, all of the cards that were produced.
"If you go by the records, and the records are not necessarily complete, there were about 124 pure Piazza Marlins cards where he was clearly labeled as a Marlin," Jerry says.
Fourteen of the cards in Jerry's collection are one-of-ones. Jerry chanced upon some of them. Others took a bit more work.
"I actually located one card held by a gentleman in Taiwan, and it took some negotiation over a period of months, but I did finally get him to sell me that card," he says.
Jerry doesn't remember exactly which card that one was, either. For him and, he believes, for most collectors, the thrill of the hunt is a big part of the appeal. He says he's spent somewhere in the low five figures on his collection, and while he cherishes his cards, he really seems to have gotten the most joy from that daily ritual, checking his internet searches over a cup of coffee every morning, and dreaming of one day making it into the Hall of Fame.
So, he doesn't spend too much time looking at his cards. Except for one.
"The one that I'm fondest of, for whatever reason, is card that contains a button from Mike's Marlin uniform," he says. "That just struck me as unusual. Obviously there were just so many jerseys worn and so many buttons on each jersey. And there were three cards produced containing a Marlins button, and I do have one of those cards."
Meeting Mike
Over the years, Jerry has struck up friendships with other collectors. He says that's a big part of what he's gotten out of this. But he's also made a friend of another sort — sort of.
When Piazza released his autobiography, he came to Southern California for a book signing.
"I was the second or third person. And when I got up to Mike, I introduced myself as the Marlins guy. And it was clear that he recognized who I was through the glint in his eye," Jerry says. "As I handed Mike the books, I said, 'Mike, sign 'em "Go Marlins."' And the two gentlemen standing by the side of him said, 'No, no, no. Gotta keep the line moving. Autographs only.'
"And when I returned to the car, it wasn't until then that I realized, against the advice of his handlers, he had in fact signed one of the books 'Go Marlins' for me. I kinda saw that as his personal wink and nod to my collecting efforts on his behalf."
In November of 2012, several months before Mike Piazza was eligible for election into the Hall of Fame, Jerry decided it was time for his collection to go public.
"For so many years, I had been saying these cards were going to make it into the Hall of Fame. And there was no way that was going to happen unless I did something to make it happen," he says.
So, Jerry wrote to newspapers and magazines and told them about his collection. When Piazza didn't get elected right away, Jerry pumped up the publicity the next year, and the year after that.
"Each of those times I was writing to the librarian at the Baseball Hall of Fame, Jim Gates," Jerry says.
Jerry says Gates never gave him any reason to believe his collection would ever make it to the Hall.
But then one day in 2015, he got the call.
"In the day and age of phones where you see who's calling, up on my screen popped the name 'Cooperstown,'" Jerry says. "So you can imagine my heart skipped a beat at that moment. I had no idea what the purpose of the call was, but it was clear who was calling. And that was, in fact, Jim Gates."
On Display At Cooperstown
The Hall of Fame was putting together a new exhibit that would aim to capture "the complete baseball experience in modern times." They wanted to display 24 of Jerry Dworkin's Piazza Marlins cards.
Jerry said yes.
"Had you ever been to the Hall of Fame before you were in the Hall of Fame?" I ask.
"No, and it was probably the highlight of my life," Jerry says. "We were invited, my wife and I, as VIPs — a rare experience for us, for sure — for the opening of the exhibit. And it was an absolute thrill to stand by this display of my cards. And I had just the best time of my life, pointing to these cards and telling people, 'These cards are mine!'"
"When I returned to the car, it wasn't until then that I realized ... he had in fact signed one of the books 'Go Marlins' for me. I kinda saw that as his personal wink and nod to my collecting efforts on his behalf."

Jerry Dworkin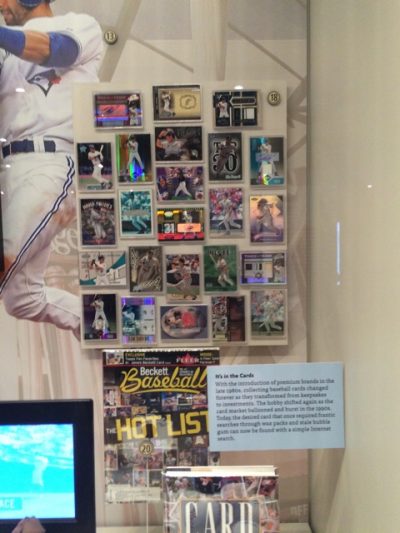 Last winter, after Mike Piazza was finally elected, but before he was inducted, he took a tour of the Hall of Fame. The tour guide told Jerry that both Piazza and his wife took cell phone pictures of his collection.
"Do you feel completed, or is there still more work to do with this collection?" I ask.
"In fact, I do feel completed," Jerry says. "I have accumulated the largest collection in the world of its kind. It can't be duplicated or replicated, given I have too many of the one-of-ones for anyone to have anything larger. So I really do feel like I've accomplished my mission."
Jerry has very recently finalized an arrangement with Goldin Auctions to put his cards up for sale.
Except for one.
"I will say, I am retaining the button card," Jerry says. "I'm not letting the button card go. I'll have that on my dining room or kitchen table to remind me of my glory days."
Jerry Dworkin isn't sure he'll find a buyer, but he says what he's most excited about is the fact that his collection will be displayed at the National Sports Collectors Convention at the end of July.
"Assuming that it finds a new home and the right home, there will be no reason for you to go on eBay every morning and look for more cards," I say. "What will you do with your time?"
"That is a very good question," Jerry says. "I will tell you that I was on eBay this morning, looking for cards, even though I've reached this agreement with the Goldin organization. I suspect it's going to be a habit that's going to take a little breaking. But like all habits, in time, I'm sure it can be broken."
This segment aired on March 18, 2017.