From Prison Treadmill To Boston Marathon: Former Inmate Runs On
Resume
This story originally aired on March 18, 2017. This web feature has been updated accordingly.
We're driving through the foothills of the Berkshires in Western Massachusetts, passing rundown houses and the abandoned Strathmore paper mill. We're headed to Turners Falls for a run.
This is the place where Keith Giroux grew up and got into trouble. Now, it's where he's trying to stay out of trouble.
"The contrast between how I live today and how I lived 10 years ago is just so drastic," Giroux says. "I started drinking and smoking cigarettes before I was 11. I became quite the alcoholic and got into heavier drugs."
By 17, Giroux was a dad. By 18, he was on his own. Sometimes he went to work high or with a hangover. Sometimes he didn't bother showing up at all. He lost his factory job. He couldn't pay the rent for his room in a boarding house. And he started breaking into bars and liquor stores for cash and alcohol.
"I didn't start getting incarcerated until I was 18," Giroux says. "Since then, I've accumulated eight years of incarceration. Every bit of trouble I've ever gotten into was due to alcohol. Everything I've ever been incarcerated for was addiction-related."
His crimes ranged from breaking and entering to larceny, to assault and battery.
'I'd Never Been A Runner Before That'
Back in August 2015, Giroux was 29-years-old and locked up at the West Tennessee State Penitentiary. That's when he started to change his life.
"Running actually was born out of boredom," Giroux says. "I was sitting in prison. I needed something different. There's a lot of card playing and TV watching. And everybody works out. But we didn't have much access to the gym, and I — push-ups, pull-ups, dips and all that was not my thing. So I needed something new, and I decided to try running.
"I'd never been a runner before that. I'd smoked cigarettes all my life. I used to hate having to run in gym class. But, getting out in that prison yard, every time I would get out there, I'd try to run a little further and maybe a little faster. And it felt pretty good."
Giroux followed a grass path along the prison yard's perimeter, running beside an electrified, razor wire fence. One lap around was about half a mile.
"What did you think about when you were running around the prison yard?" I ask.
"Probably everything I wanted to do when I got out," Giroux says. "All the dreams I've had through all the years I spent incarcerated. All I wanted to do with my life that I hadn't been able to yet. Really just building a life."
Sometimes his thoughts drifted toward family. He hadn't been a part of his son's life for years, but he dreamed of building a relationship.
Six weeks after he began running, Giroux was transferred to the Franklin County Jail in Greenfield, Massachusetts. But in Greenfield, there was no yard, just a treadmill.
"I started jumping on that every day. And before you know it, it kind of became an obsession," Giroux says.
"This time I come out with this big goal of running a marathon. And all I have to do is run toward it."

Keith Giroux
He set small goals, always trying to run farther and faster. He talked to the jail staff about training and racing. And soon he set one big goal: He would run a marathon in prison.
Since he'd heard about the history and prestige of the Boston Marathon, he would make his attempt on the same day as the big race.
Running Boston ... In Prison
The monotony of running 26.2 miles on a treadmill is mind-boggling. But for Giroux, that was just the start.
"The shoes I had been running in were absolutely horrible," he says. "Plain white Velcro strap orthopedic shoes that were probably a bit small for me, too. I knew I couldn't run that far in those. So, I was running around, frantically looking for shoes. But we're very limited in there because you can only have shoes that are approved through their medical department, that don't have shoelaces. And they're not built for running. So, at the last second, before we locked in for the night, a fellow inmate lent me his shoes. They were some old classic Reeboks. They were crap. They were beat up. No support. No nothing. Not made for running, either."
Another issue: Prisoners have to be in their cells at certain times. So, he needed a  four-hour window without any scheduled headcounts. That meant he'd have to start his marathon when everyone else was at breakfast.
And the prison treadmill was set to shut off after an hour. So, Giroux planned to break his marathon into six segments. He would run a segment, then record his distance and time, then restart the treadmill, then do it all over again.
At 7:30 a.m., on Monday, April 18, 2016…
"I'm in green cotton polyester jail issue pants and a plain white cotton T-shirt and my crappy shoes," Giroux says. "I have a portable Walkman radio. It's just a cheap little FM/AM radio. I have a towel to wipe the sweat off and all that good stuff. I have a small cup of salt, a handful of Jolly Ranchers and a piece of paper and a pen to mark my times down on.
"A few minutes into that second segment, somebody brought me a water bottle, which was something huge because we weren't allowed to have those. We didn't have them ourselves. They had to get approved through security and somebody had to bring it to me. So, that was cool. And we called up to the kitchen and had some ice sent down, so I was able to have some ice water in a nice little fancy water bottle as I ran."
Giroux felt good as he passed the halfway mark, even though it was the farthest he'd ever run. But …
"By the time I got to about 22 miles, I was tuckered out," he says.
He slowed to a fast walk for a couple minutes, then refocused and sped up as much as he could. He wanted to run across the finish line.
"As the last mile approached, everybody started gathering around," Giroux says. "I had quite the little crowd of inmates and staff. My last half-mile I felt a little burst of energy coming on. So, my last quarter-mile, I cranked it up to 10 and sprinted to the end."
'All I Have To Do Is Run Toward It'
Giroux's prison version of the Boston Marathon took 4 hours and 14 minutes. He'd hoped to run faster. But his disappointment faded as he set a new goal: He wanted to run a real marathon when he got out of jail.
Giroux says he's been released from jail more times than he can count. But when he got out in fall of 2016, it was different.
"Every other time I walked out of incarceration, I walked out to not having any idea of what I was going to do with my life," Giroux says. "I still had dreams then, but I had no idea of how to set one foot in front of the other to work toward any of those. But this time, I come out with this big goal of running a marathon. And all I have to do is run toward it."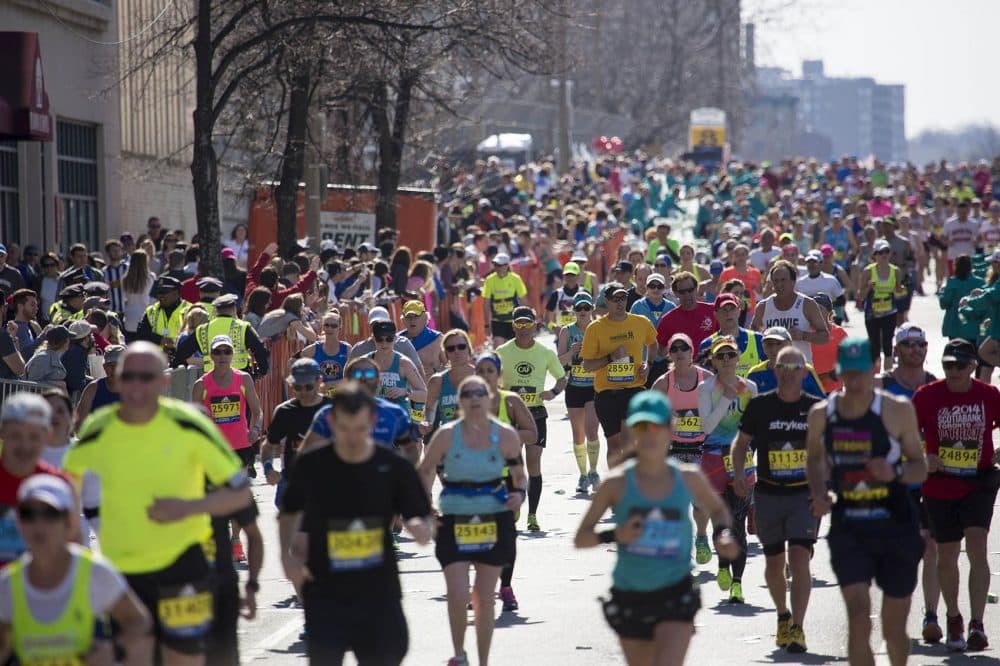 Giroux ran his first real marathon three weeks after he was released. And he's still running.
He gets training advice from running groups on Facebook. What shoes to buy. What workouts to try. What to eat.
"Everybody who runs is always posting their workouts. And I post a lot of my workouts, too," Giroux says. "People are just always very supportive, especially if you're going hard on yourself. Like, 'Man I had a crap workout.' They're like, 'No, you had a great workout.' They always tell you how proud they are of all you're accomplishing and everything. It's a lot of motivation to keep doing good things.
"I've never accomplished anything before. So, I've been out of jail now for about four months. Just the fact that I haven't found something to get myself back in is an accomplishment in itself. I've also been clean for the four months that I've been out, which is another huge accomplishment. Every day is a struggle, but it's what allows me to live a life."
Running Boston, One Year Later
Through his running connections, Giroux secured a charity entry into the 2017 Boston Marathon. He was working 12-hour shifts at a factory job and training mostly on dark, cold winter nights.
One year after he ran Boston on a prison treadmill, Keith Giroux was cheered along the famous course by family and friends.
But one very important person was missing from the crowd: his 13-year-old son.
"Yeah, I've spent so much time away, that he probably doesn't even remember me at all," Giroux says. "And sometimes I worry about the things he might have heard about me growing up. And so I imagine what kind of picture he might hold in his head of what kind of man his dad is. Whatever it is, I want to change all that. I want him to see nothing but a good man."
Shortly after this piece first aired in March of 2017, Keith Giroux reconnected with his son. In fall of 2018, Giroux started drinking again and spent five months in jail for an OUI offense. He was released in April of 2019. He says he's sober now and training for the 2019 New York City Marathon. It will be his third World Major and his seventh marathon overall, including the one he ran while in prison.
This segment aired on March 18, 2017.