A NASCAR Driver, A Basketball Hall Of Famer...And An Ankle
Resume
If you're anywhere near a TV this weekend, you'll probably catch at least a glimpse of March Madness. And when you do, I want to you pay special attention to those guys on the far end of the bench, the ones who don't ever look expectantly at the coach, because they know they'll never get the call.
This story is about one of those guys.
NASCAR's Brendan Gaughan
I want you to type two names into YouTube. The first is Brendan Gaughan.
Go ahead.
You might find a video of Gaughan from a NASCAR Xfinity Series race in October. Gaughan, in No. 62, was involved in a crash.
The cameras caught Gaughan running back to his car as fast as he could. But he's solid — he doesn't have a runner's body — and it wasn't pretty. (The clip has been played over and over on social media. Someone even set it to the theme music from 'Chariots of Fire.')
The next name to type into YouTube: Allen Iverson. There are lots of Allen Iverson videos out there, so just look for the one that's got almost 10 million views.
So what's the connection between a basketball Hall of Famer who hated practice and a journeyman NASCAR driver?
Well, it happened one day. In practice.
Let's back up a bit …
"So, I grew up in Las Vegas," Gaughan says.
Gaughan's grandfather, Jackie Gaughan, was an early Vegas pioneer — his family still owns casinos there.
"Growing up, I played every sport," Gaughan says. "I went to a small Catholic school, and I was on the swim team when I was in, like, seventh and eighth grade. Yes, I swam. I displaced not as much water then. And I raced. Just was another sport we did."
Of all the sports he played, football was Gaughan's favorite. By senior year of high school, he was weighing scholarship offers from big time college programs.
"See, I was a field goal kicker," Gaughan says. "That was what I was very, very good at. But I came from a family of linemen, so I disliked being a field goal kicker. I liked to play other positions. And I was a wide receiver on my football team in high school, I was a running back, I was all sorts of positions. And I got hurt."
It was his ankle. And overnight, those scholarship offers disappeared. Gaughan ended up at Georgetown. They weren't so concerned about a field kicker with a wonky ankle. It was their first year playing Division I football, so they took what they could get. He loved it there.
'I Just Did What I Was Told'
Gaughan had attended basketball camps at Georgetown when he was a kid, so he was familiar with Georgetown basketball coach John Thompson. And Coach Thompson was familiar with him. So, sophomore year, when the team suffered a string of injuries and was having trouble holding scrimmages, Gaughan was asked to fill out the basketball roster. There wasn't much of a conversation.
"He just said, 'Be in the gym,'" Gaughan says. "And I showed up in the gym, 'Here's your playbook, here's your stuff. This is what you're going do. Guard this.' And that's what I did. When he told me to run, I ran. When he told me to guard this person, I did this person. And I just did what I was told."
Which didn't always make Gaughan a popular guy with his teammates.
"On the team, most of the guys really disliked me when I was there," he says. "Even my own roommate, Jerome Williams, he used to get so mad when coach Thompson would call his number for me. Because Jerome was 6-foot-10, leading rebounder in the Big East, and my job was to box him out when the ball went up. So it wasn't to be nice. There's no number of fouls in practice. Jerome would come to the room with ice packs on his knees and his hips and look at me and go, 'Man, why you gotta do that to me?'"
The year was 1994, which dedicated Georgetown fans might remember as the year when a certain highly touted recruit arrived on campus.
"Oh, my god, the stuff he was doing in playground ball was amazing," Gaughan says. "So we knew he was what Allen Iverson was. But in the end, all I cared about was, we had a point guard that was going to make our team even more amazing. And we got ranked as high as third in the country. And I was like, 'Hey, whatever I gotta do, I want to do my part and be here.'"
And 5-foot-9 Gaughan's part in all of this was very specific.
"Allen was my job. That was my primary function for two years, was to get in front of him," he says. "And I'm very unassuming on a basketball court. You're not thinking much about me because of my appearance. So I could sneak up on ya early. But once the game started being played, it was fun."
Iverson's signature move
While at Georgetown, Allen Iverson learned his signature move: the crossover. That's basically when a player switches the ball from one hand to the other, changing directions so quickly that his opponent is left tripping over his own feet.
When a defender really gets crossed up, people sometimes say that he's gotten his ankles broken.
Those people are usually joking.
But one day, during practice, Brendan Gaughan was guarding Iverson when…
"Yes, he did cross me so hard, he broke my ankle," he says. "That is true. I'm not afraid to admit that I had my ankle literally broken by Allen Iverson. There was nothing special about it. Just came down a fast break, came down...he just, 'Pow!' I was like, 'Oh, damn. That really looks stupid. And I'll make sure you'll pay for it later.'"
Gaughan says he chipped the bone and tore a few ligaments. But he didn't know that at the time. Besides, after his football injury, Gaughan says, it's not like he had the world's best ankles. So he taped it up and went back in.
No hard feelings.
"I got two Big East championship rings because of that man, so I knew that it wasn't because what I was doing on game day that got me there," he says.
In Gaughan's three seasons playing Georgetown basketball, he racked up 5 career points. He played in exactly one March Madness game. That was during the first round in 1996. He was on the court for one minute.
"Yes, he did cross me so hard, he broke my ankle. That is true. I'm not afraid to admit that I had my ankle literally broken by Allen Iverson."

Brendan Gaughan
Gaughan graduated from Georgetown in 1997 with a business management degree.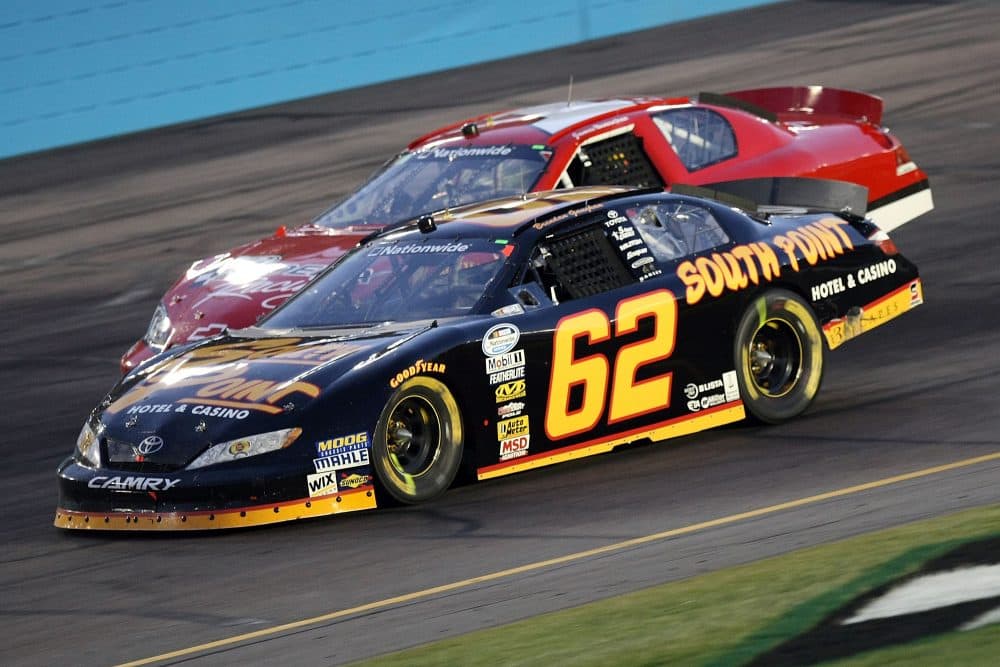 Back To Racing
"But even while I was in college, playing sports, I raced," Gaughan says. "When I graduated college is when I became a race car driver for a living."
But as Gaughan was working his way up the racing circuits, he didn't forget the lessons he learned from Coach Thompson while playing Georgetown basketball. Especially this one.
"'Don't base your life on eight pounds of air.' Which is the air in a basketball," he says. "You never know when that ball is going to be deflated, when you can't play anymore. And so, I've always taken that adage in my life and said, 'I don't base my life off the air in my Goodyear tires.' I've done other jobs, I've done other things, I own other companies, and I've never let racing be the only thing I was gonna be able to do."
Last month, for only the second time in his career, Brendan Gaughan drove in the Daytona 500. He came in 11th. He calls it his Cinderella story. But that's not what people like me want to talk about.
And that's because, just last fall, Allen Iverson was inducted into the Basketball Hall of Fame.
A Hall Of Fame Mention
During his speech, Iverson named his teammates at Georgetown. All of them.
"Yes, I was in there," Gaughan says. "He named us all. And that was very Allen Iverson."
(Scroll to 17:25 to hear Iverson mention Gaughan in his Hall of Fame speech.)
Gaughan says he's happy to talk about his days guarding Allen Iverson. After all, unlike his former teammate, Gaughan isn't retired. Giving interviews is part of a NASCAR drivers' job. But sometimes, it sounds like he's not quite sure why it's all such a big deal.
"For me, it's just life," Gaughan says. "For Allen, it's just life. He had this silly white boy that, you know, was told to guard him. He didn't know that I was going to become a NASCAR driver. He didn't know any of that. We were just friends in college, 18-year-old kids. You know what? Our lives went different ways and we're just middle-aged men now, doing what we do."
This segment aired on March 25, 2017.