7th Grade Girl Fights For Her Right To Play With The Boys
10:44
Play
The men's and women's NCAA basketball tournaments rumble on. But this is a story of a player who's only aspiring to that level of play.
"I really like shooting from the outside," Sydney Phillips says. "I like shooting threes. I have — if I say so myself — I have pretty good handles."
Sydney, who has been playing basketball since she was two and a half, exudes confidence in her game. Until quite recently, the seventh grader starred on the girls' team at St. Theresa's School in Kenilworth, New Jersey. The end of her career with that team coincided with ... the end of that team.
Sydney's dad, Scott Phillips, remembers when they learned that had happened.
"We were actually at a Halloween party over at Mayor Bollwage's house in Elizabeth," he says. "And then my wife and a few of the other moms were there. Everyone's in the kitchen. And one of the mothers got a text that the basketball team was cancelled."
"And what was your immediate reaction?" I ask.
"I said, 'Are you sure?' My wife is the coach, so you would think that she would be the first one to know," Scott says. "But she wasn't. And then once my wife, Theresa, found out, she texted the AD and asked what the story was."
According to Scott Phillips, the athletic director said the girls' applications hadn't come in on time. Theresa and Scott said they'd not been informed of a due date. There had been friction between coach and AD before. Shortly after her parents learned she'd be without a school team, Sydney got the news.
"I was with another teammate of mine — Grace — and we were trick-or-treating and then I came back and then I heard the moms talking about it," Sydney says. "And then we both got really bummed, and we didn't even want to go trick-or-treating anymore. So we just sat in the kitchen just eating candy."
"My wife was texting the athletic director and obviously she wasn't getting anywhere with him," Scott says. "And so she just said, 'Well, if there's not gonna be a girls' team, just let Sidney slide over and play with the boys.'"
"And, Sydney, did you immediately say, 'Well, yeah. That's obvious.' And 'I'm there'?" I ask.
"That's it. That's basically exactly what I said," she says. "I was like, 'I'll do that. Whatever.'"
Scott figured "whatever" would involve a painless adjustment.
"I didn't think it was any type of big deal, but I guess it was a big deal because we were met with a resounding, 'No. No way that's gonna happen,'" he says.
'Sydney Just Wanted To Play For The School'
Whatever the reason for the elimination of the girls' team – a bureaucratic fumble, tension between the coach and those to whom she reported – what was the point in fighting the power? Sydney's dad says the next step was simple.
"Sydney just wanted to play for the school," he says. "It wasn't that she wanted to play basketball. Sydney plays basketball for three other organizations. But she has the school spirit and she wanted to play for her school. And I said they should embrace her spirit instead of trying to break it."
So Sydney's dad and mom appealed to the authorities at St. Theresa's. When that went nowhere, they went up the chain of command and contacted the officials at the archdiocese. At a meeting with Superintendent Dr. Margaret Dames and one of her associates, Scott says Dames established the agenda.
"The first thing that she said was, 'Sydney is not going to play on the boys' team,'" Scott recalls. "And I said, 'Wow, that's a way to open up a meeting.' And then we said, 'Why not?' And they said, 'Policy says she can't.' And I said, 'Show me the policy. Show me the rule.' They didn't have it. And we discussed it for 15, 20 minutes, and then I said, 'Doctor, we're not getting anywhere here.' And then at that point she said, 'You know what? You could have your attorney call ours.' And I said, 'You know what you're saying?' And she says, 'You can have your attorney call ours.' So that's what we did."
Scott and Theresa filed suit in December. Initially a Superior Court judge sided with St. Theresa's and the Archdiocese of Newark. So in mid-January, Scott and Theresa began their appeal.
A Field Trip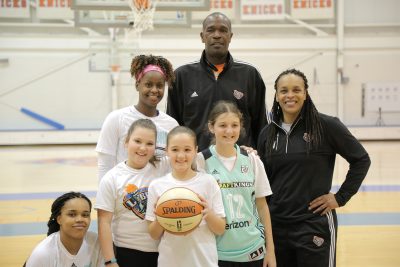 Meanwhile, the story was getting attention from reporters, which is how the New York Liberty of the WNBA heard about Sydney's desire to continue playing basketball for St. Theresa's. The team invited Sydney and a couple of her friends to join them at an early February practice. Cool? Oh, yeah.
"It was so much fun," Sydney says. "When it was over, we just kept taking pictures and pictures and pictures. I think we took about, like, 50 selfies, until we got the perfect one. My friend, Grace, she posted it on her Instagram and Snapchat. It was like the coolest thing, ever. And then we started playing two-on-four against Sugar and Brittany, and it was like the funnest thing ever."
That would be guards Sugar Rodgers and Brittany Boyd. Meanwhile, Sydney's dad was keeping from her some considerably less-than happy news.
"As we were walking into the Liberty — and we were actually at the training camp where the New York Knicks, the Liberty and the New York Rangers all practice — and as I'm walking in I got an email from our attorney," Scott says. "She forwarded an email that she got from the archdiocese's attorney and basically said that you're not to bring the kids to school tomorrow — that they have been expelled. So we're trying to keep a happy face on with the New York Liberty, and my mind and my wife's mind is racing 100 miles an hour about what we're going to do."
'It Was A Horrible Scene'
I should note here that the spokesperson for the Archdiocese of Newark declined to comment for this story — but the email Scott received stated that the school's position was that the children of adults who sued St. Theresa's must be expelled. Theresa and Scott knew they couldn't keep that news from their daughter. But even then, Scott hoped he was seeing a little bit of wiggle room in the language the archdiocese had used.
"'Due to your pending lawsuit, we request that you remove your children from the school.' So, 'request' is like a friendly way of doing something," Scott says. "So we took Sydney and Katie to school and that's when it got a little chaotic. We were met by three police officers standing at the door. The pastor of the church, the associate pastor and the deacon of the school blocking the doorway. And I just spoke to Deacon Joe, and I said, 'Deacon, I have a letter from the archdiocese,' and I quoted it. I said, 'It's requesting that we remove our children from the school. I'm denying the request.' And I said, 'Unless you have a court order to show me, I want them in school. Their tuition is paid and they have every right to go to school.' They didn't know what to say. They started huddling together."
The Phillips family entered the building. But that's as far as they got.
"It was a horrible scene for these girls to go through and it's still etched in my mind," Scott says.
"Sydney, you were in the middle of all this. It must have been scary," I say.
"It was more sad because all my friends were passing me in the hallway, and, my teammates, they're passing me in the hallway and they started crying. And then my sister, she was hysterical when her friends passed her. And she wouldn't stop crying," Sydney says.
Scott had to leave the chaos to take their son to his school, so it was Theresa who was told that if she and her daughters didn't leave St. Theresa's, they'd be arrested for trespassing.
They left. Scott and Theresa went to court to see if they could get their daughters back in school. The very next day, a judge ruled in the Phillips family's favor, and the girls were back in class by Monday.
Sydney Gets Her Chance
Meanwhile, the St. Theresa's basketball season was winding down — the boys' basketball season, because that's the only one there was. So two weeks later, in mid-February, Scott and Theresa went back to court.
"We had a court hearing that we didn't tell Sydney about to hear the final appeal to let her play the last game," Scott says. "And that's when we won, so I drove back to the school to pick them up like I normally do."
"Oh, yeah. Yeah. I got picked up from school, and then he said, 'Oh, give mom a call. She wants to talk to you,'" Sydney recalls. "So I thought I was in trouble, you know, like usual. So I called my mom, and then she's like 'Guess what?' So I was like, 'What?' And then she's like, 'Oh, you get to play on the boys' team.' So I was really excited. She's like, 'Yeah, they ruled it out today.' So then I was like, 'Oh, this is great!' So right away I pulled my phone out of my backpack and started texting all my friends."
"Make sure there'd be a big crowd for the game," I say.
"Oh, of course," she says.
"I really can't even describe what I was feeling on the court. I just remember looking at the boys on the stage just cheering. They were cheering 'Syd-ney, Syd-ney, Syd-ney.'"

Sydney Phillips
Sydney had no doubt that she could hold her own with the boys. She'd been doing that on the playground for years.
So get ready for a happy ending, right?
Yeah. Hold that thought.
Some of the people with children at St. Theresa's started a petition to protest Sydney's inclusion on the boys' team.
"And I think they got 163 signatures," Scott says.
"137," Sydney interjects. "And all the double signatures don't even count."
"Some people signed it twice, that's right," Scott says. "Some people even signed it twice."
"It's like we're signing this for me, my wife, then my son, then my other son, then my daughter and my two dogs," Sydney says.
Jeers Turn To Cheers 
OK, now it's time for the happy ending. The petition fell on deaf ears, or at least on ears attached to heads smart enough to understand that defying a court order would be dumb. Sydney Phillips made her debut on the seventh grade boys' basketball team on Sunday, Feb. 19. The eighth grade boys' team went wild.
"And when I stepped on the court, I've never heard them scream so loud," Sydney says. "And I grew up with all those boys. I really can't even describe what I was feeling on the court. I just remember looking at the boys on the stage just cheering. They were cheering, 'Syd-ney, Syd-ney, Syd-ney.' And then when I made my first basket they were going crazy."
Sydney finished that game with four points. When St. Theresa's took the court for their first playoff game the following week, she scored her team's first points on a layup.
Those triumphant moments — and the bizarre circumstances that preceded them — notwithstanding, Sydney's not sure she'll return to St. Theresa's for eighth grade. She and her parents both hope there will be a girls' team there, whether or not Sydney's on it. Meanwhile, she's currently playing on three other teams, and there will be more to join in the summer, which led me to wonder ...
"I just have one other question," I say. "You're playing for so many different basketball teams. How are you going to squeeze in the tryout with the Liberty when they call?"
"I'll figure it out," Sydney says.
Can there be any doubt that she will?
This segment aired on March 25, 2017.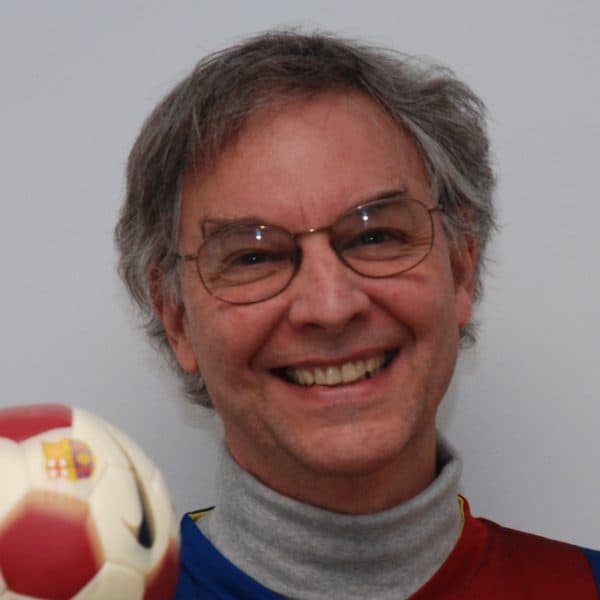 Bill Littlefield Host, Only A Game
Bill Littlefield was the host of Only A Game from 1993 until 2018.