Long After College Ends, Inner Tube Intramural Water Polo Keeps 'Em Coming Back
Resume
I've met plenty of confident athletes in my day. But I've never met an athlete quite as cocky as Sean Jaster.
"I'm pretty much the best there is. Like, there doesn't get any better than this, you know," Sean says laughing. "I'm patting myself on the back right now. I'm really good at this sport."
Sean and his friend, Aaron Harris, are intramural athletes at Colorado State University in Fort Collins. Intramural sports don't offer any of the perks enjoyed by varsity athletes. There are no scholarships, no free food, no coaches, no practices, no uniforms and almost no fans. Often, the winners receive nothing more than championship T-shirts.
"Intramural sports are, like, the lowest level of sports," Sean says. "So it's, like, the bottom of the barrel."
"And this sport specifically is the lowest of the low," Aaron adds, "because no one played inner tube water polo in high school."
Yep, inner tube water polo. It's played on college campuses from Brigham Young to Indiana University to the University of New Hampshire. Sean Jaster and Aaron Harris have been really successful at inner tube intramural water polo, in part due to Aaron's leadership.
"Aaron likes to create plays," Sean says. "And we humor him."
"Occasionally, when things line up just right, we'll say, 'OK, time for the Flying V,'" Aaron says. "We'll pull everybody off and just line up a V like you'd see in the Mighty Ducks."
Wait, why are college athletes talking about a movie that was made in 1992?
"We just aged ourselves, referring to the Mighty Ducks," Sean says.
Not Your Average Intramural Athletes
Sean and Aaron are a bit older than your average college athlete, but they just can't seem to give up the sport they love.
It all started back when they were sophomores ... or maybe they were juniors? No one can quite remember anymore. Aaron Harris was working in the intramural sports office, and he organized a meeting to connect potential inner tube intramural water polo players with potential inner tube intramural water polo teams.
Sean Jaster had just returned to Colorado State after a year away with AmeriCorps. While he was gone, his club water polo — that's real water polo — team had disbanded and most of his friends had graduated. So …
"Sean and this other guy named Steve show up," Aaron says. "They were the only two there, if I recall."
"I walk in the door and there's Aaron," Sean says. "He's like … "
"Yeah, you guys can join my team," Aaron recalls. "Sure, you know, we need a couple extra players."
"He didn't realize that he was getting a real water polo offensive player," Sean says. "So it was kind of a nice pick for him."
"Every year I get a text or a phone call from Aaron, like, 'Hey, you want to play this year?' 'Yep, I wanna play.'"

Sean Jaster
Inner tube water polo doesn't seem to have a whole lot in common with regular water polo, except for the goals on either side of the pool.
"We are all in inner tubes. There's a goalie who's in an inner tube as well," Sean explains. "You put your feet on the side of the wall and they blow the whistle and then everyone does a mad dash for the center of the pool where they the refs throw the ball. And if there's a defender on you, you can only have the ball for five seconds. So the refs will call out, you know, 'five, four, three.' And once you get to one, then you have to pass it or shoot it."
Right from the outset, Aaron and Sean were good. Really good.
"And I remember, we had this pretty heated rivalry with one of the fraternities," Sean says. "What were they called?"
"The Pikes," Aaron answers.
"There was a championship game we played against them the first year. And we were shorthanded, and I remember them just swearing up and down the pool, like, 'How are they beating us? We have more players than they do.' And I was just like, 'I don't know.'"
"Yeah, they would just, like, throw me the ball, and I would score at will," Sean says.
Time To Hang 'Em Up?
When Sean and Aaron graduated, it might have been a logical time for them to hang up their swimming trunks. But they didn't quit. They found out about a little-known rule that allows CSU staff and alumni to participate in intramural sports.
"We're like, 'Well, they'll let us keep playing if we just keep paying our membership,'" Aaron says. "So, we kept playing."
Aaron and Sean play twice a year — with a coed team in the fall and a men's team in the spring. At first, they were joined by friends who were attending the vet school at CSU.
"We were holding on to this idea that, like, 'Oh, well, we still have graduate students on our team,'" Sean says. "That's how we could reconcile in our heads that it was OK for us to be playing undergraduate students in this game. And then, as they started graduating and going off and being actual adults, we decided that we did not want to do that. Like, every year I get a text or a phone call from Aaron, like, 'Hey, you want to play this year?' 'Yep, I wanna play.'"
Sean and Aaron didn't quit when they settled down and started families of their own. When two of their teammates from the coed team fell in love with each other and decided to get married, Aaron officiated the ceremony.
They didn't quit when a friend and teammate died in a car accident late in the season. They won the finals in his honor and brought his championship T-shirt to the funeral.
Now, Aaron and Sean are 36. They've been playing inner tube intramural water polo at Colorado State for 15 years. These days, when they line up in their inner tubes for the start of a game, they don't have much in common with the players floating on the other side of the pool.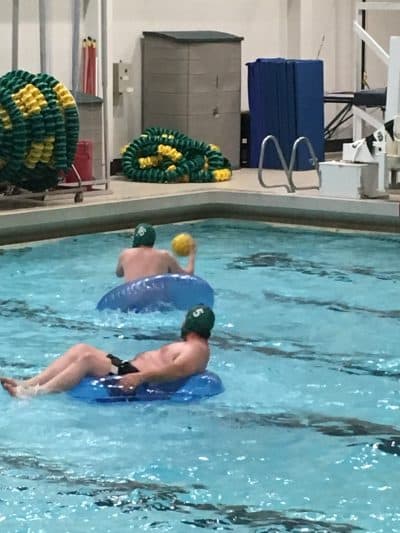 "Last season in the championship game, I looked at the team we were playing: Every single one of them had a six pack," Aaron says. "Every single person on our team had just this huge gut, just the mid-30s dad bod. I'm like, 'Whoa! We are out of shape.'"
"We're playing against these teams — like our body mass index of our team is probably three times that of the teams we're playing," Sean says. "Like our age, we — I mean, I'm 36 years old, and most of the kids we're playing are, like, 19. Most of us have kids. We're, like, married. I'm divorced even, you know. So, like, our life experience is so different, yet we are still signing up every year for inner tube intramural water polo."
"Any idea how many championships you guys have at this point?" I ask.
"Twenty-ish," Aaron responds.
"That's most of them," I say.
"Yeah, like, if there were 30 total championships to be won in the last 15 years, we probably have 20 of them," Sean says.
"Don't you guys feel bad about that?" I ask.
"I kind of do. I really kind of do," Sean says. "And at the same time, I really like it. I don't know it's — it's an ethical dilemma."
Sean Jaster might feel bad about his 15-year inner tube intramural water polo dynasty, but that doesn't mean he's ready to quit. He and Aaron Harris have a moment in mind for when they'll finally walk away from their inner tubes — and it's not coming anytime soon.
"Sean and I have had a joke," Aaron says. "He's got two daughters, and I will soon have two daughters. Maybe we'll keep playing until our daughters are playing with us?"
Let's see ... the youngest hasn't been born yet, so that means they just need to hang on for another 18, 19 years.
This segment aired on April 1, 2017.