A History Of Jackie Robinson's Eight Statues
Play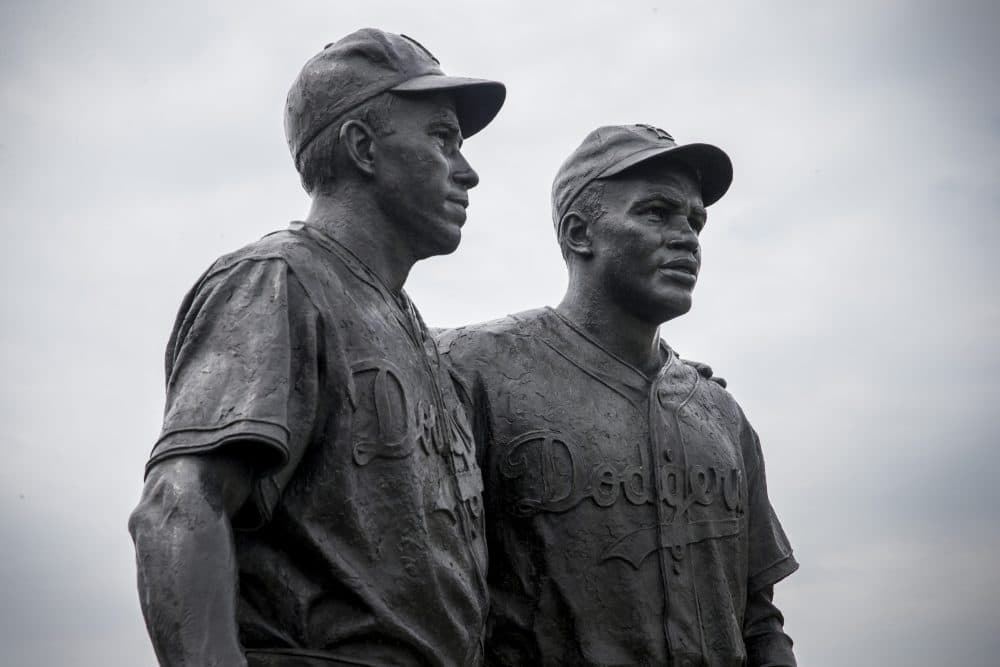 This article is more than 5 years old.
This weekend, a statue of Jackie Robinson outside Dodger Stadium will be dedicated. That will be Robinson statue No. 8. The most recent depicts Robinson sliding. Maybe he's stealing home. He did that from time to time.
Dr. Chris Stride, who studies sport statuary, among other things, at the University of Sheffield Management School, believes there are more statues of Robinson than of any other U.S. athlete. But they didn't all come easily. Dr. Stride told me that agitation for a statue of Robinson first began in 1972 in Pasadena, where Robinson had grown up. Mack Robinson, Jackie's brother, was the agitator.
"Statues are as much about the people who erect them as the people they depict."

Dr. Chris Stride
"It took him quite a long time, both to raise the money and to find somewhere to put it," Dr. Stride says. "Jackie Robinson didn't speak particularly kindly of his time in Pasadena as a child. The city authorities didn't particularly want it there. There wasn't a great clamor for it."
So they didn't get it. Mack Robinson's efforts finally bore statue in 1985, at UCLA, where Jackie had gone to college.
Fourteen years later, another Robinson statue was unveiled in Stamford, Connecticut, where Robinson and his family moved in 1955. According to Dr. Stride, that one, like several of the others, represented a town's attempt to claim a connection to Robinson that may have required a little creative writing…as in creative rewriting of history.
"There was the rumors that the Robinsons weren't shown around possible houses because people did not want a black family moving in there," Stride says. "Forty years on, Stamford was quite keen to celebrate its association with Robinson. I felt that looking at Robinson's seven statues, a lot of the impact that the people who built them were trying to make was to say that we were a community that helped Jackie Robinson. Not in a bad way – I'm not disparaging that. But it reinforced the idea that statues are as much about the people who erect them as the people they depict."
That's perhaps true of the monument that finally did appear in the place where Mack Robinson had first tried to honor his brother.
"Ironically, the city of Pasadena actually did unveil a monument to Jackie Robinson," Dr. Stride says. "It's two giant heads. It's not really a statue. It's two giant busts of him and Mack. The one of Jackie shows him looking away from Pasadena. The artist sort of reflecting the fact that he was quite keen to leave."
This segment aired on April 15, 2017.