3 Stories: Triple-Doubles, MLB Domestic Violence, Friendly Raiders
Play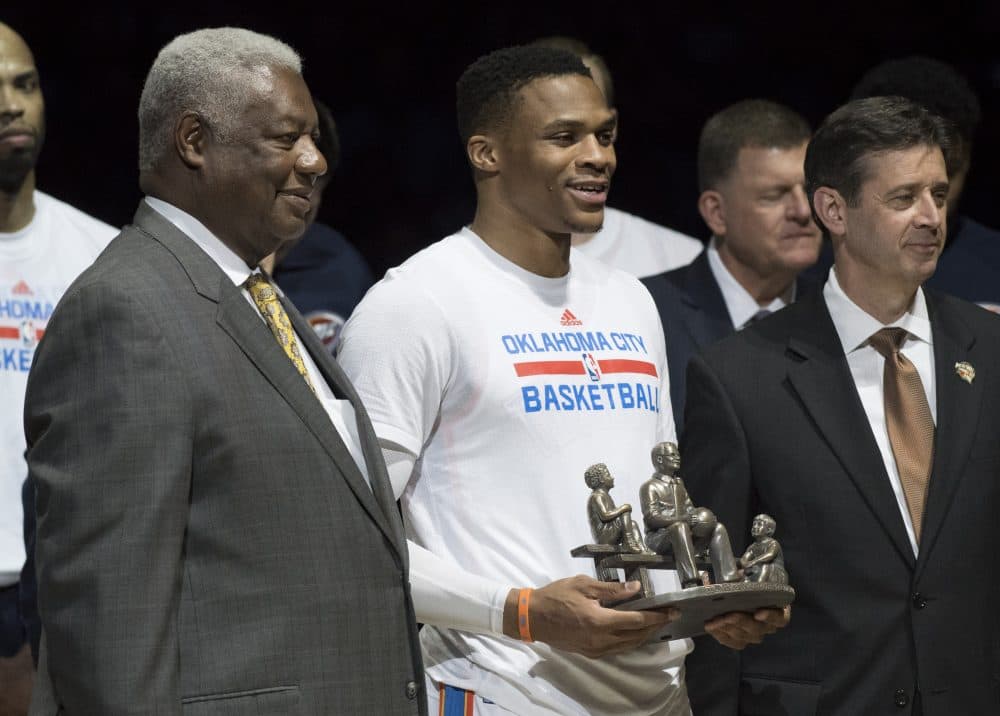 This article is more than 5 years old.
Russell Westbrook has become just the second player in NBA history to average a triple-double through an entire season. But can he be the new face of the league? That and more on this week's edition of "3 Stories You Should Know."
Sports writer and radio host Julie DiCaro and The Undefeated's Kevin Merida joined Bill Littlefield.
1. Russell Westbrook's Triple-Double Record
The Oklahoma City point guard recorded his 42nd triple-double of the season, passing Oscar Roberston and setting a single-season record. Kevin Merida weighs in.
It's one of the storied records. It's the kind of record for basketball — people can argue whether that's like averaging .400 — Ted Williams — or Joe DiMaggio's hitting streak, but it's a really big record in sports. And it's done by a player — and this is the interesting thing — he's kind of a rebel. He has a crazy fashion look. He's not always the most media-friendly guy. ... But my thought about it is, can he be the face of the league? Can he be this star that the league and the public will embrace?
2. MLB Domestic Violence Counseling
Recent player suspensions in MLB for domestic violence have ranged from 30 to 82 games. But earlier this month, Mets pitcher Jeurys Familia received just a 15-game suspension. Julie DiCaro shares her thoughts on the league's decision.
One of the reasons [the MLB] gave for departing so much from what had been standard is that Familia undertook 12 90-minute counseling sessions. I was curious because Aroldis Chapman, whose incident by all accounts was much more severe than Jeurys Familia, was only required to do one counseling session. And we don't have information on what other kind of counseling other players have done.
3. No More 'Bad Boy' Raiders
The Oakland Raiders — yes, the Raiders — are reportedly the only NFL team that has not had a player arrested in the past three years. Bill Littlefield wonders if that will be enough to entice Oakland residents to attend games before the team moves to Las Vegas.
These are obviously the new Oakland Raiders. Back in my day, when Al Davis owned the team, he only hired guys with criminal records, at least as far as I can recall. Current face of the Raiders is, of course, quarterback Derek Carr, known for helping a stranger whose car had broken down and various other acts of kindness. Is this enough of a feel good story to keep people going to games in Oakland?
More Stories You Should Know
This segment aired on April 15, 2017.