'Anybody Can Help Somebody': Lessons From Street Soccer
Resume
Want more Only A Game? Follow along on Facebook and Twitter.
---
Soccer. It may not seem like the obvious way to improve the lives of people emerging from homelessness and addiction. But that's what Street Soccer USA's been doing since 2004. The program now fields teams in 16 U.S. cities. Here's the story of one of those teams.
Seventeen-year-old Shauntel Payton is the second oldest of five children.
"I'm kind of the protector," she says. "Even though they've seen what I've seen, I don't want them to experience it worse than me. If anything, I'd want me to experience it the worst."
"When you talk about the stuff that you've seen, could you describe sort of what that is?" I ask.
"All I can really say is, like, things that no kid should really see, that I would not want any kid — doesn't matter, 15, 16 — to ever see," she says.
Growing up, Shauntel and her siblings lived with their grandparents. She says her mom was in and out.
But around 2010, Shauntel's mom moved into a transitional housing program outside Sacramento for adults who had been in homeless shelters or rehab centers. She was recovering from addiction.
Shauntel and her siblings joined their mom. Shauntel liked living there — there were lots of other kids.
"All the kids knew where I was coming from," she says. "We all came from somewhat of the same background, so we all kinda just connected."
Soccer With The Sacramento Lady Salamanders
Around the same time, another resident named Lisa Wrightsman was trying to start a soccer team.
"When I step on the field I just feel like a brand new person. And when I shoot the goal, it's like a feeling like I've never really felt before. It's like freedom."

Shauntel Payton
Wrightsman was a former college player. She was also recovering from addiction. When she moved into the transitional housing, she realized Sacramento had a Street Soccer team for men. But not for women. So she decided to start one.
And if she wanted to recruit women, she was certain of one thing: Children had to be welcome at practices.
"It was a difficult thing to try to get someone to watch your kids while you go to a meeting or go play soccer, so the idea was, they could bring their kids to this," Wrightsman says.
That's how Shauntel and her siblings ended up at the very first practice for the Sacramento Lady Salamanders.
The idea was that the kids would sit and watch while their moms practiced. But when the Payton kids started wrestling on the sideline, Wrightsman realized that plan wasn't going to work.
"I think it's one of those things where they're either going to be really distracting on the sideline, or you include them," she says with a laugh.
So Wrightsman invited Shauntel and her siblings to scrimmage against their mom and the five other players.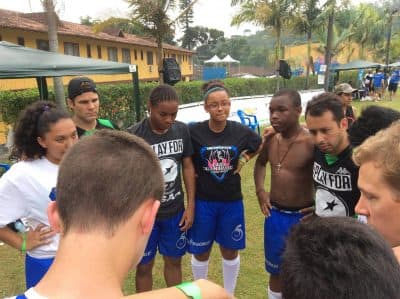 "It was like these older ladies kinda trying to figure out how to stop the ball, and then you've got kids blasting shots in the goal and making it look really easy," Wrightsman says.
So the Payton kids came back with their mom to Wrightsman's second practice. And then the third practice. And the fourth.
"Yeah, I mean, they were there every time," Wrightsman says. "They love soccer. And it was a way for them to play as much as they could. And we weren't gonna tell them not to.
Shauntel says those practices were important.
"It was like a different vibe when we would go there," she explains. "We kind of connected better than we would've, I think, without having some type of outlet to come together and do something as a family."
After that first season, Wrightsman got an administrative job at a nearby college. But she continued to lead the Lady Salamanders. Shauntel's family moved into their own place – and her mom started working as a personal trainer.
As Shauntel's siblings got older, they gravitated to other sports. But Shauntel stuck with soccer.
"When I step on the field I just feel like a brand new person," she says. "And when I shoot the goal, it's like a feeling like I've never really felt before. It's like freedom."
The Street Child World Cup In Brazil
And that brings us to an event called the Street Child World Cup. Every four years, the World Cup host country holds a competition for children who have been homeless.
In 2014, Wrightsman nominated Shauntel to join the U.S. team in Brazil.
Shauntel's mom told her daughter the good news.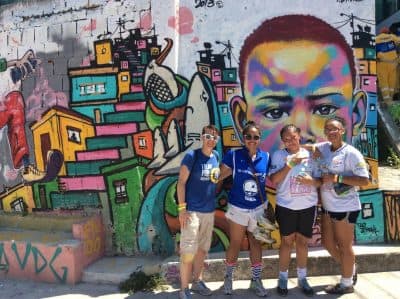 "And I was super excited, and I was like, 'Yes I want to go,'" Shauntel recalls. "And she was like, 'OK, well, you have to get all your stuff from your teachers, all your homework.' And I was like, 'OK.'"
Shauntel had never left the country. But in Brazil, she met boys and girls from Zimbabwe, Burundi, the Philippines, and 15 other countries.
Some of the kids were surprised to see Shauntel and her U.S. teammates.
"A lot of people kind of didn't know why I was there," she says. "Like, 'How are you homeless? You're from the United States?' I was really shocked. And I was like, 'I don't know.'"
The kids shared their stories. One Indian boy told Shauntel how he spent his days working for pocket change to help his family. And how he saw his dad abuse his mom.
"It made me kind of think back to my life and how much I took for granted," Shauntel says. "Because I came from that type of stuff, but it wasn't as bad as what I was hearing from other kids from around the world. The stuff that they went through kind of made me more grateful for even just the littlest things. Like having clothes, even though they weren't super name brand. Little things. Having my mom back."
Shauntel says as soon as she got back to the U.S., she gave all her siblings big hugs and started crying.
She says the trip made her more hopeful. She started dreaming about playing college soccer — and she kept playing for her high school team.
Meanwhile, Wrightsman started working full time for the Street Soccer organization in Sacramento. Last year, the group added a youth team for kids from low-income neighborhoods.
Wrightsman says it was hard finding committed coaches who cared more about teaching life lessons than they did about soccer.
"And Shauntel — I ran into her. I was like, 'Hey, Shauntel, what are you up to?'" Wrightsman says. "She was like, 'Well, I go to school and then I have a job I don't really like.' And I'm like, 'Oh, my god. Come coach with me. You have to coach with me.'"
Shauntel said she'd do it. But as you can probably tell, she can sometimes be low key.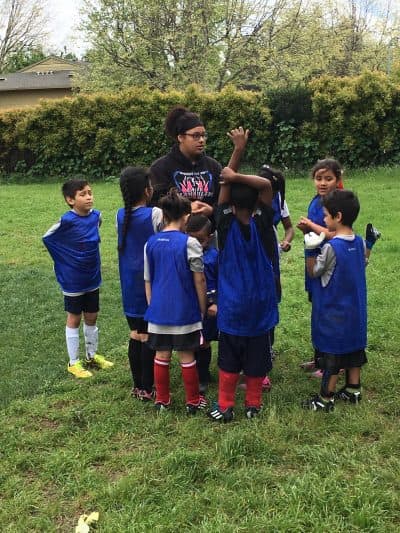 "Didn't have any questions," Wrightsman recalls. "She was just like, 'Yeah, that sounds fun.' And so I wasn't really sure if she'd show up or not. And the first day we had an opportunity to coach, she was on my doorstep, early. Ready to go. She has been the most committed."
Shauntel says the kids inspire her. She knows that a lot of them are dealing with tough situations at home — but they still show up to practice early.
"When the kids want me to be on their team, that makes me the happiest," Shauntel says. "When they're like, 'I want Coach Shauntel, I want Coach Shauntel.' Then I'm like aww."
Shauntel is getting ready to graduate from high school. She says her mom is doing well. So are her siblings.
She's next planning to head to a junior college — then a four year school. She's thinking about becoming a social worker.
"What do you hope that people who hear your story — what do you hope that they take away from it?" I ask Shauntel.
"That anybody can help somebody," she says.
Visit streetsoccerusa.org to learn more about the organization.
This segment aired on May 6, 2017.