3 Stories: White House Visits, Lance Berkman, College Athlete Contracts
09:56
Play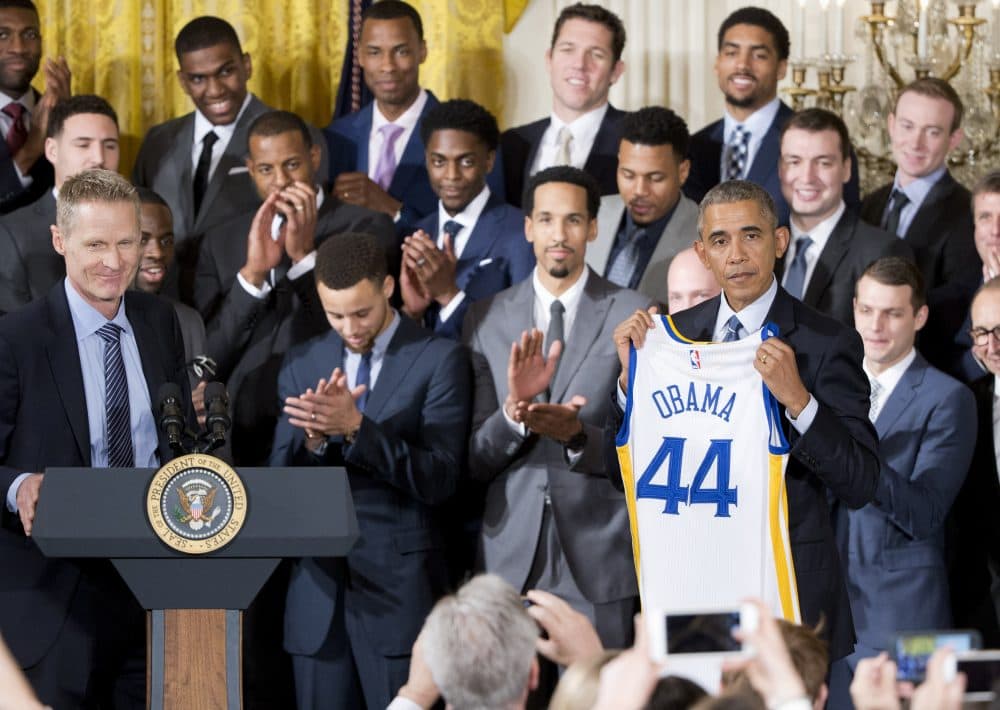 This article is more than 4 years old.
The pro sports world has two new champions: the NBA's Golden State Warriors and the NHL's Pittsburgh Penguins. Now that the trophies have been hoisted and the champagne bottles have been popped, reports are circulating about whether players from both teams will visit the White House. That's where this week's edition of "3 Stories You Should Know" begins.
Cindy Boren of the Washington Post and Julie DiCaro, a host at Chicago's 670 The Score, joined Karen Given.
1. Champions At The White House
Pittsburgh Penguins CEO and president David Morehouse said his team "would never turn down a visit to the White House." The Golden State Warriors have said they will make a decision on visiting the White House "when and if" they receive an invitation. Cindy Boren anticipates further developments.
"Even though players have been going to the White House since the 1800s and going to the White House is a form of respect for the office as opposed to the individual who might occupy it, players have boycotted in the past. Players boycotted Obama. Whatever happens, there will be a statement involved with it, and it's going to be important."
2. LGBT Rights In Sports
The St. Louis Cardinals' decision to host former player Lance Berkman as a speaker at the team's annual "Christian Day" has drawn criticism from LGBT groups, citing Berkman's "divisive and demeaning" actions toward the community. Julie DiCaro weighs in on how the Cardinals and teams across pro sports are handling the issue of LGBT rights.
"[Berkman's] also made several statements saying that society has become too tolerant of people's differences, saying, 'To me, tolerance is the virtue that's killing this country. We're tolerant of everything.' That was back in 2015. And that same year the Cardinals had a minor league player named Tyler Dunnington who actually quit baseball altogether. And he said it was because of all the jokes about LGBT people and all the homophobia that he encountered in the locker room. And certainly this is not unique to St. Louis. I would venture a guess that every single team around the country has an LGBT player in their locker room, whether or not they know it. But it seems like a really poor choice of a person to have come speak at Christian Night."
3. Legally Binding Contracts For Student-Athletes
The College Athletic Protection Agreement is being called the first legally binding contract between a college athlete and school. It would bring student-athletes more negotiating power and protections "worth over $100,000 beyond a minimum scholarships without breaking NCAA rules." Karen Given is skeptical that the contract can "fix" college sports.
"It offers multi-year scholarships, more stipend money. It obligates schools to pay for sports-related injuries. It would potentially give athletes the right to transfer schools. These are all great things. I have two kind of worries about it. One, it's totally voluntary. And, if a school does sign it, they're only going to do it for the very, very, very top prospects, which leaves the vast majority of players (and the players who most need protection) right where they are now. It doesn't do anything to solve the problems that exist in college sports right now."
More Stories You Should Know
This segment aired on June 16, 2017.