Littlefield On Ichiro: Paying Homage To An Elder In The Outfield
Play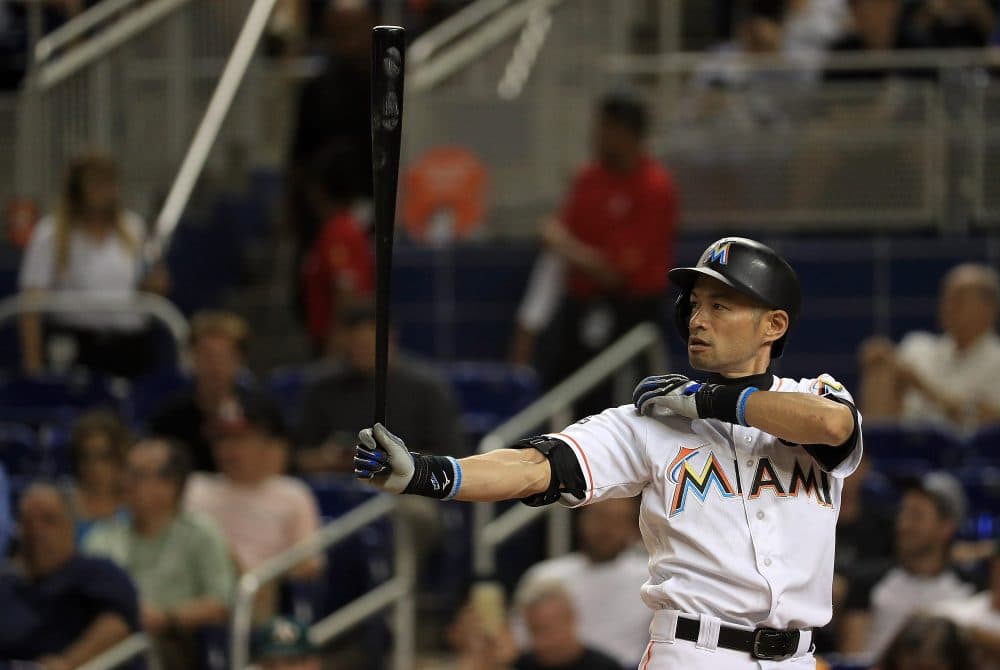 This article is more than 5 years old.
On Sunday, Ichiro Suzuki became the oldest player to start a Major League game in center field since 1900. Bill Littlefield was impressed…but then he's been impressed by Ichiro's entire career.
The Marlins are a losing team. Perhaps it's not their season,
Which might incline you to suppose there is no half-good reason
To watch the games they're playing, as they often disappoint,
And there are nights when, truth be told, they just stink out the joint.
But one of their outfielders found a place in baseball lore.
He's Ichiro Suzuki, and he's almost 44.
He isn't what he used to be, but don't begrudge him that.
For who can be forever a magician with a bat?
Since spring, 2001, he's hit as few have ever done,
And if the teams for which he's played have not been number one,
It's not the fault of Ichiro. Consider: 10 times he
Banged out 200 hits or more, and you can plainly see
If you peruse the record book, that seven times Suzuki
Amassed more hits than anyone, nor was that merely flukey.
He'd done it in Japan as well, before he crossed the sea.
He hit .387 there one season, meaning he
Was better there than anyone. Perhaps that's why it seemed
That to become a Mariner would be a worthy dream.
But Mariner or Yankee or old Marlin in the sun,
If you are thinking oldest starters, Ichiro's the one
Who has to top your list, because just recently the man
Who started hitting baseballs decades back there in Japan
Went trotting out to center field. No one his age had done it
To start a game since 1900. If the Marlins won it
Was quite beside the point, I think. I'm sure you think so, too.
The point was ancient Ichiro did all that he could do
To bring about that outcome. No one could have asked for more…
For Ichiro, as I have said, is almost 44.
I have one question, I confess, regarding what he's done.
Is Ichiro still playing baseball 'cause he finds it fun?
If so, hooray for him. I hope for his sake that it's true.
But what if he just cannot think of something else to do?
This segment aired on June 29, 2017.