Tom Meschery: The Most Interesting Man In The NBA
Play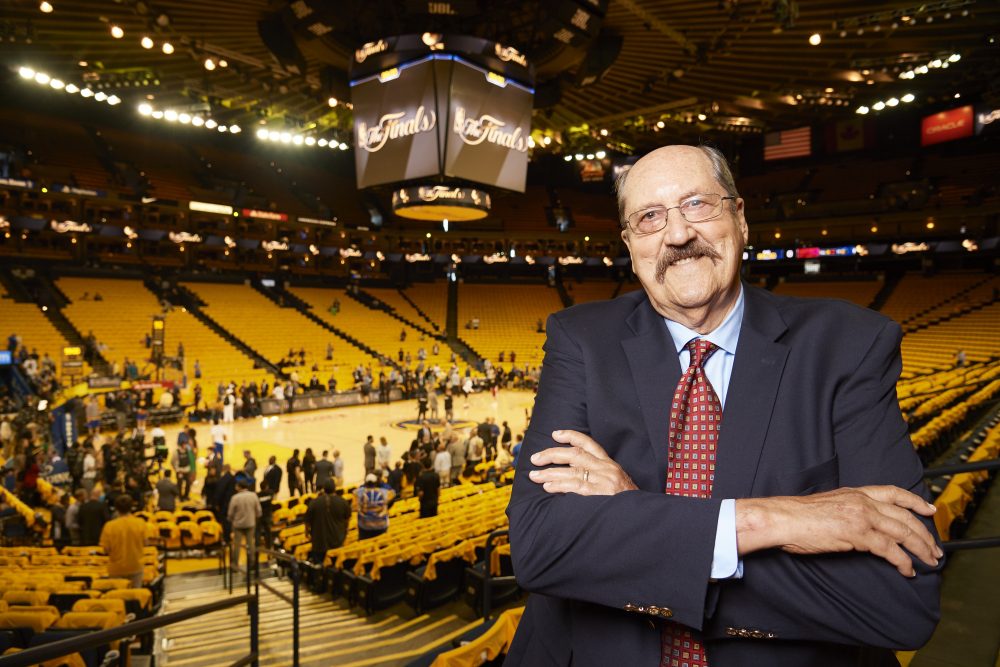 This article is more than 5 years old.
This story is part of a collaboration with Sports Illustrated's 2017 Where Are They Now? special issue.
Tom Meschery was known as "The Mad Russian" during his 10 NBA seasons from 1961-1971. The nickname was accurate in at least one respect. Tom Meschery's family did hail from Russia.
"My grandmother was a Tolstoy," Meschery says. "They were a very large family that included good ol' 'War and Peace,' Leo Tolstoy."
Meschery was born in Manchuria, after his parents fled the Bolshevik Revolution. He arrived in San Francisco after spending World War II in an internment camp in Tokyo.
"I hated being a foreigner," Meschery says. "My mother sent me off to elementary school the first day in short pants, came home crying because the kids were mean towards me. I had a very thick accent and I didn't speak English very well. There was a lot of, you know, 'Commie' and 'Better dead than red.' And I just thought — I needed to be an American."
It took Meschery until the sixth grade to find a solution to his problem.
"I remember — this is a very clear image in my mind — playing kickball. And I was up at the plate. And I kicked the ball so damn far that it went over the elementary school fence and out onto Pacific Avenue. That was a good, long kick. You know, I ran the bases, I ran along the bases. I came home, and some of the kids were slapping me on the back. All of the sudden, I realized everything had changed. And it had changed because of athletics. It had changed because I had done something that they respected. And from that point on, I worked very hard to be an athlete."
Meschery became a very good basketball player in high school and college. That's how he caught the attention of the National Basketball Association. The Philadelphia Warriors drafted him in the first round.
As Sports Illustrated's Jack McCallum writes:
Meschery was tall, tough and tempestuous, but he had a game, too, a nice midrange jump shot, a knack for passing and excellent defensive technique.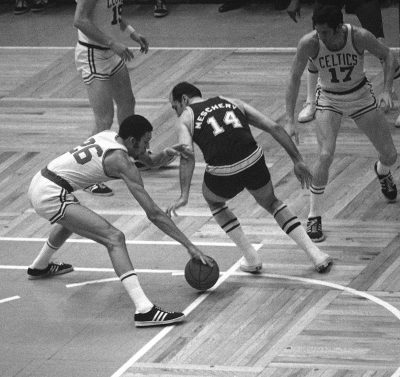 In his first season, Meschery played along NBA superstar Wilt Chamberlain. In his second season, after the Warriors moved to San Francisco, Meschery led the league in personal fouls.
"I had a temper, I admit," he says. "And I wasn't about to back down. And maybe that was sort of the immigrant in me, come to think of it. You know, I had to put up my dukes a lot when I was young. So I think I had a little bit of a short fuse."
In 1967, Meschery was selected in the expansion draft by the Supersonics, and he finished his career with four seasons in Seattle. That's where he found himself facing off against his former teammate, Wilt Chamberlain.
"I'm not sure if I even realized it was Wilt at the time, but somebody hit me with an elbow, and so I went after that person. And it was Wilt. But I wasn't about to back off. And so I started swinging. And this is, like, right out of a comic book. Wilt stretched out his arm, put his palm on my forehead and as I swung, of course, I couldn't reach him. Here I'm swinging at air, and Wilt is laughing at me. And he's saying, 'Come on, Tommy. Come on, Tommy.' Made me look like a fool, I can tell you that."
After he retired from the NBA, Meschery tried coaching. But he says he wasn't very good at it.
"There were a couple of times where I just sat around the house being very depressed," he says. "So what actually saved me is poetry."
"There were a couple of times where I just sat around the house being very depressed. So what actually saved me is poetry."
But soon after he retired from teaching, Meschery was diagnosed with multiple myeloma, cancer of the white blood cells. There is no cure.
"I've been in remission now for 10 years and I've long ago stopped thinking of years and I think only in terms of months. I like months," he says. "I don't like days because that sounds sort of, you know, a little too spiritual. And weeks, it doesn't sound substantial. But months are good. I can do a lot of stuff in a month."
To listen to Tom Meschery's full story — and to hear him read one of his poems — click the play button to the left of the headline at the top of the page.
For more from Sports Illustrated and Only A Game, check out last week's segment on Victor Conte.
This segment aired on July 8, 2017.