A Season With One Of Ohio's Top Creative Writing Teams
05:55
Play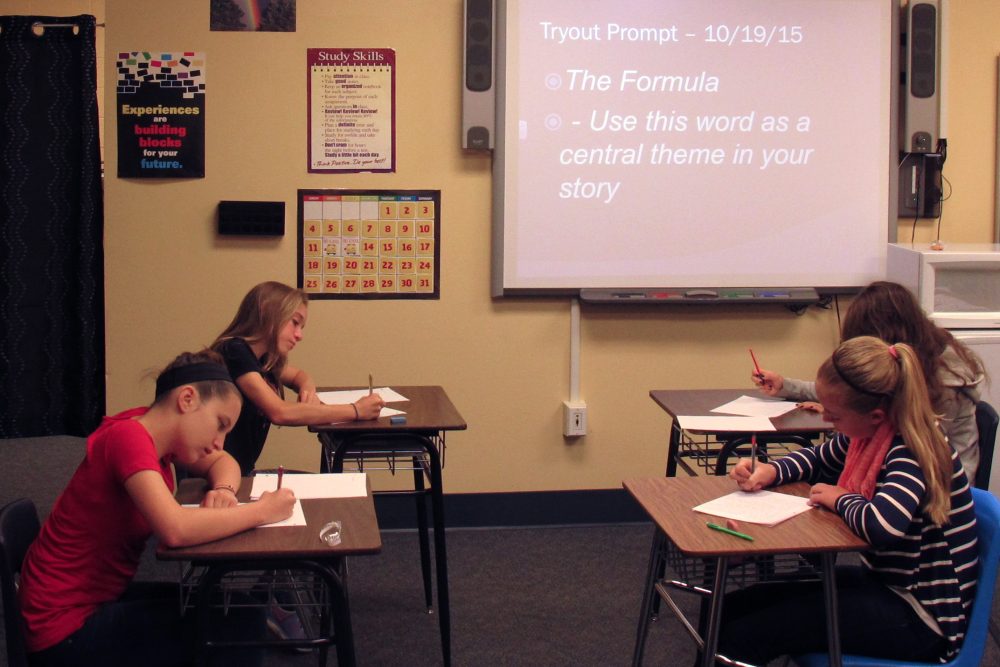 This article is more than 3 years old.
When you think of sports in the state of Ohio, Buckeyes football probably comes to mind. But there's another sport — well, sort of a sport — that has a proud tradition in the state. And you can't find it anywhere else.
---
Madi and Coach Jessica Anderson are sitting in a classroom at Gahanna Middle School East, outside Columbus.
"Do you want me to read the whole thing?" Madi asks.
"Yeah, go ahead," her coach responds.
"OK: 'As we drove to the animal hospital, my eyes started to fill with tears," Madi begins. "'I prayed that he was OK, but deep down I think I knew that this was just a distraction.'"
The sport is creative writing. Competitive creative writing. It's called Power of the Pen. It works like this: competitors are given a prompt and 40 minutes to write a short story. By pen.
In case you didn't already know, Gahanna Middle School East boasts one of the state's elite Power of the Pen programs. To get to Coach Anderson's office — well, classroom — you pass by the school's large trophy case. Next to the wrestling and basketball awards, there's an entire section for trophies adorned with golden quills and pens.
During the 2015-16 Power of the Pen season, Coach Anderson gave me inside access. Thanks to regular Skype calls, she kept me updated on her team, especially two of her star writers: Madi, who you met earlier, and Jenna.
They're pretty tight.
"Yeah, they sit at the same lunch table and things like that," Coach Anderson says.
(I'm gonna assume you can still appreciate the magnitude of that.)
Anyways, you know how some elite athletes are born playing their sports? They skate before they walk, things like that. Well, this is Jenna's story:
"I didn't really know what Power of the Pen was, and I wasn't sure if I really wanted to do it. But my parents kinda made me, so, yeah," she says.
OK — but Jenna and Madi both made the team as 7th graders. And in her rookie season, Jenna made it all the way to the state finals. Madi did not.
But instead of being jealous or bitter, Madi volunteered to help out at states. She wanted to be there with her friend.
"I took papers to the judges from different writing rooms. It was really fun," she says.
Adorable, right? Mrs. Anderson thinks it was inspiring, too.
"I think for Madi it was, 'Wow, this is really fun. And I want to be a competitor — not just a helper.'"
Peer Pressure
So the following September, Madi and Jenna returned to Coach Anderson's team for their 8th grade years.
Preseason expectations were high.
Practices started at 7 a.m. Mrs. Anderson put her team through drills — well, practice prompts, such as "Your main character is an alien" — and had team meetings to talk through potential plots.
"And then it's like the alien literally thinks she's on Venus, and then the girl tells her she's not on Venus," one student pitches at a practice.
"That's some good stuff right there," another answers.
After Thanksgiving break — still a few weeks before the team's first competition — I asked Jenna about being one of her school's star writers.
"What's it like to be on the team?" I ask. "Do people think it's cool?"
"Um, well," Jenna begins.
"You can be honest," Mrs. Anderson tells her.
"Not exactly," Jenna says. "Some people kind of judge, but I don't really care what people think about me, so, I just like to write."
But a few minutes later, after Jenna left the room, I spoke with Mrs. Anderson privately.
"Madi's doing fine," she says. "Jenna, I'm a little worried about. I feel like some days she's not taking it as seriously. And it could be because of the peer pressure she was talking about. Like, I'm glad she fully admitted it. And I don't know. I'm still missing a prompt from her. Right now she wouldn't even qualify to go on to districts."
Districts, Regionals, States ... And Beyond
But Jenna and Madi did qualify for districts — and they advanced to regionals, where they'd have a shot at earning a berth to states.
On the morning of the competition Mrs. Anderson sent me an email: "The team seems very relaxed, so I'm unsure what's to come today."
ESPN hasn't bought Power of the Pen broadcast rights yet, so back in Boston I had to wait for news to trickle in.
---
Listen to OAG anytime. Subscribe to the podcast. iTunes | Stitcher | RSS link
---
It actually took weeks for Mrs. Anderson to call with the final results. She had just gotten back from spring break and ...
"We call it 'the white envelope' was there waiting for me, and that's basically from the state office of Power of the Pen," she says. "And it basically has the final results from regionals and who qualified to move on to states. I was completely devastated because none of my 8th graders qualified."
The judges who score the stories had ranked Madi 30th — a good showing, but on the wrong side of the Power of the Pen bubble.
Mrs. Anderson took Madi and Jenna aside to deliver the bad news.
"They were OK," Mrs. Anderson says. "I think they were really disappointed. And I just need to sit down with them again and give them their certificates and say, 'You know what? I'm really proud of you. Don't ever give up on creative writing because you guys have a talent. And in the past two years, it's shown.'"
When I spoke to Madi and Jenna on their very last days of 8th grade, Jenna had some good news for me.
"There's a writing club at high school, so I was going to try that," she says.
I know, a boring writing club, not a writing team. Even so, Madi said she was planning on checking it out, too.
And I was glad to hear it. Because creative writing does have something in common with basketball and soccer and golf: the more you practice, the better you get.
This segment aired on September 9, 2017.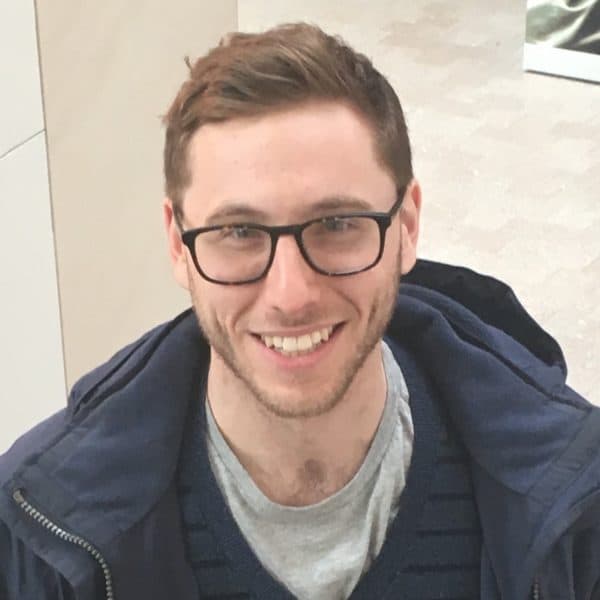 Martin Kessler Producer, Only A Game
Martin Kessler is a producer at Only A Game.