Latest Show: Ali And The Court Clerk, Competitive Creative Writing, 'WAR' Song
50:13
Play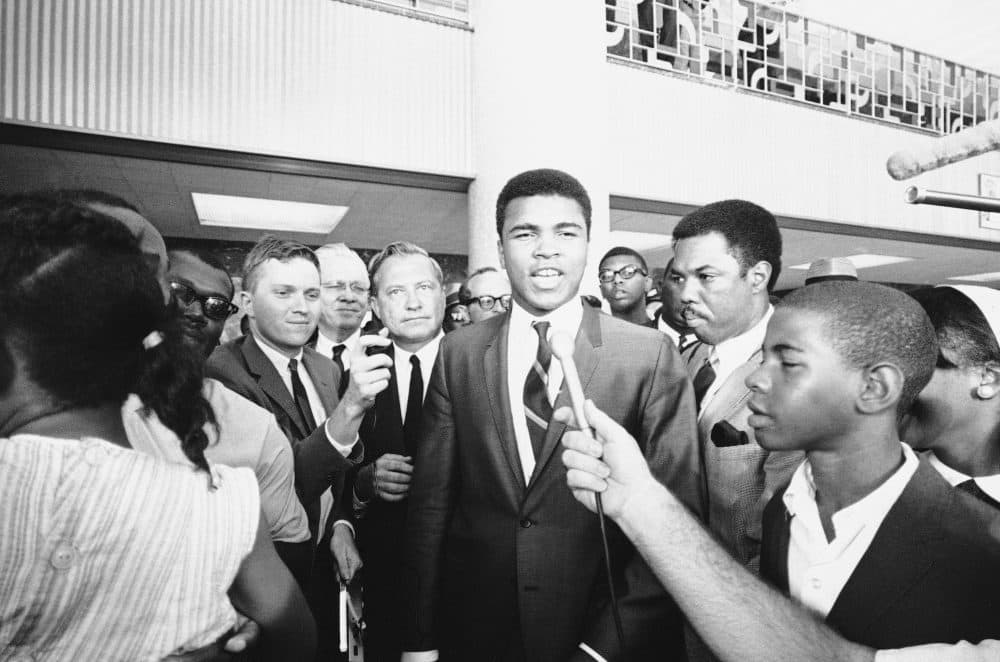 This article is more than 3 years old.
In 1967, Muhammad Ali was sentenced to five years in prison for refusing to fight in the Vietnam War. This week on Only A Game, the story of the Supreme Court clerk who helped reverse that ruling. Plus, Ohio middle schools compete for glory in competitive creative writing. And a songwriter uses his music to "WAR" against baseball's most complex statistics. Join us!
Subscribe to the Only A Game podcast at Apple Podcasts or Stitcher. 
---
The SCOTUS Clerk Who Helped Muhammad Ali Avoid Prison
After being sentenced to five years in prison for refusing to fight in the Vietnam War, Muhammad Ali's last hope was an appeal to the Supreme Court. On April 23, 1971, the Supreme Court voted to send him to prison. But the case didn't end there.
Elissa Ely: Conversations With A Yankees Fan
Growing up, Elissa Ely had no real desire to discuss the New York Yankees with her stepfather. But she remembers one time, much later on, when that conversation held a deeper meaning.
3 Stories: Girls In Tackle Football, Baseball Sign Stealing, U.S. Tennis
Rachel Bachman of the Wall Street Journal and Mike Pesca, host of the Daily Slate podcast The Gist, joined Bill Littlefield.
Each year, middle school students in Ohio compete in Power of the Pen. The premise is simple: paper, pen, a prompt and 40 minutes to write a fictional short story. Martin Kessler follows one team over the course of a season.
Charlie Pierce: The Week In Sports
Bill Littlefield and Only A Game analyst Charlie Pierce discuss the early demise of New England's "19-0" dreams. Also, the Los Angeles Clippers' expensive new "Star Courtside Seats", and how a German man broke his own record for beer stein-carrying.
More Than 'WAR': Baseball Songwriter Fights Complex Stats With Music
Mike Patton grew up obsessing over baseball statistics he'd read in the newspaper. But eventually the world of stats changed with advanced sabermetrics. Mike and his band have since been battling that change ... with music.
Littlefield: Stats Can't Tell The Whole Story Of Wade Boggs
Bill Littlefield proves that it's hard to reduce a five-time batting champ to numbers and statistics alone.
This program aired on September 9, 2017.