Fox Poop And A Father's Dream: Maria Sharapova's Wimbledon Upset
10:19
Play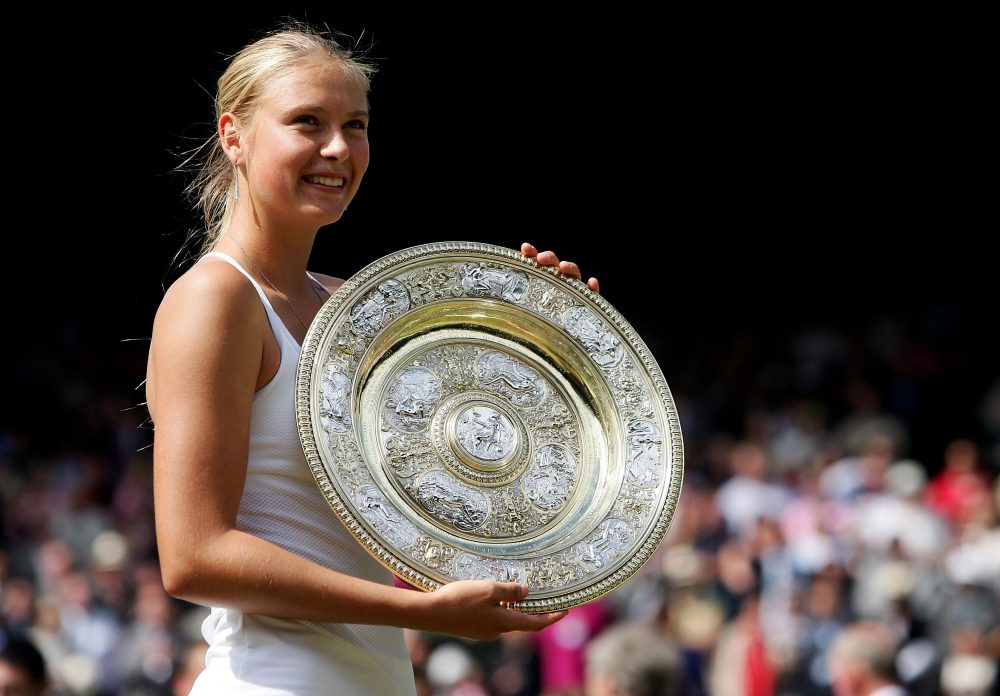 This article is more than 3 years old.
The tennis circuit is a not-quite constant grind. Almost, though. And after a while, the pros fall into a routine that must be at best predictable and sometimes numbing.
Except for Wimbledon, where some of the players stay in a village of English cottages.
"You had little milk brought to you every morning by your doorstep," says Maria Sharapova. "It felt like a very different environment to what I was used to at a traditional tournament."
Maria Sharapova first played at Wimbledon in the junior division when she was 15. She'd been preparing for that opportunity for a decade, since 1993, when Martina Navratilova had seen her whacking two-handed backhands — with a racket as big as she was — in a clinic in Moscow. Navratilova pulled Sharapova's father aside and told him his daughter could compete with the best. But he'd have to get her out of Russia to provide her with that opportunity. He'd have to get her to the U.S.
Father and daughter made the leap. They moved to Florida, and it turned out Navratilova was a pretty good judge of talent. In 2004, Sharapova, then 17, made her second appearance in the main draw at Wimbledon, where our story begins off the court.
Off To A Sloppy Start
"Before the tournament started, you were walking across the lawn to the clubhouse," I begin to ask Sharapova. "To put it as delicately as I can, you stepped on the waste of an animal, which — "
"I did. I stepped in poop," Sharapova says. "I didn't realize it. I thought maybe it could have been someone else. And then once I got to the locker room, I knew immediately it was me.
"And I remember — 'cause at Wimbledon it's surrounded by these little parks and commons, and I ended up going to the locker room attendant, saying, 'Um, I think something happened to my shoe. I don't have a spare. I need to clean this up. Is there anyone that can help me with this?'
"You know, I felt kind of embarrassed going to the sink in front of all the players and taking my shoe off. And a handyman outside the locker room actually helped me clean my shoe and then later told me that it was good luck."
… Good luck, because it was fox scat. And stepping in that stuff is good luck, right? I mean, everybody knows that.
"I did not believe him," Sharapova says. "I thought he was being very nice, but I did not think much of it."
Well, maybe she began thinking something of it once the tournament began. She lost only three games in her first round match, only four in the second round and just four more in the third. Amy Frazier, a veteran who'd been ranked as high as No. 13 in the world, tested Sharapova in the fourth round, but the 17 year old won 6-4, 7-5. So the luck of the sloppy shoe held up then, and in the quarterfinals as well, where Sharapova outlasted Ai Sugiyama, 7-5, 5-7, 6-1. Sharapova says the run to the semifinals wasn't as easy as it might have looked.
"It was intimidating in many ways. My opponents were intimidating. But I liked that feeling," she says. "I loved being in the spotlight. That was what I had trained for."
That training, remember, had begun when Sharapova was 6. It had necessitated that move to Florida, where her father had heard there were some tennis academies. But now she'd be in the spotlight illuminating the semifinals of the world's most prestigious tennis tournament.
"I remember sitting down with my coach after my quarterfinal match and being in the player restaurant, and my coach noticed that the feeling around me had changed and that people were noticing who I was and how I was playing tennis and were coming up to me and asking me for pictures and autographs," Sharapova recalls. "And he said, 'From now on, I want you — in the next rounds — I want you to treat this as — I just want you to put on these horse blinders. I want you to have this vision and focus, like you're just looking straight ahead and nowhere else.' And I remember that very vividly, because it was, like, immediately, I put on those horse blinders."
'There Was No Reason For Me To Win That Match'
Good idea, I guess. Except when she looked straight ahead — the only direction she could look with those metaphorical blinders on — Sharapova saw a bigger, better, stronger, more experienced version of herself. Lindsay Davenport, her semifinal opponent, favored the same hard, low shots Sharapova had been working to master. But Davenport had won three Grand Slam singles titles, including Wimbledon, as well as an Olympic gold medal, all of which her 17-year-old opponent understood.
"I mean, at that point, I still felt very much like a kid," Sharapova says. "I wasn't physically strong yet. I didn't have the experience. She did everything much better than I did. Everything and more. And there was no reason for me to win that match."
Well, maybe one reason. Or one besides the fox gunk. Rain. But I'm getting ahead of myself. When the semifinal match began, it went pretty much as Maria Sharapova had assumed it would.
"I felt from the beginning she was overpowering me. Like, everything that I did, she was able to return and do better. And it wasn't even about mistakes or any other thing. She just did it better. She hit it harder. Her serve had more power, had more accuracy. She found the lines, and I didn't. And she wasn't making errors, and I was. I mean, that's just a horrible combination," Sharapova says with a chuckle.
When the rain first delayed that horrible combination of events, Sharapova felt the situation was hopeless. She was probably wishing the skies wouldn't clear. But they did. And she and Davenport returned to the court. The plot remained unchanged. Davenport won the first set, 6-2, and continued to power her way toward the final.
And then it rained some more.
"I went back to the locker room during that delay," Sharapova says. "I was eating a chocolate bar. I was getting a little rubdown on my legs in the massage room and looking through a gossip magazine, and, you know, with the idea that I'd be flying back to the States the next day. I was down and out."
"And your dad had something to say at the break, right?" I ask.
"He did. So I was going back on the court. He looks at me straight in the eyes and says, 'You're going to win this match.' And I looked at him and I laughed. And then I realized he was serious. And then I became scared of what he was saying, but he gave me this confidence and idea that I could actually win it."
'Absolutely Nothing To Lose'
Yuri Sharapov had possessed that confidence almost since his daughter had first picked up a tennis racket. That has to have been the case, right? He'd taken her out of Russia and begged the tennis camps in Florida to make room for her. He'd pushed through back spasms and worked construction to pay their rent. He'd pinned his future and the fortunes of his family on Maria's tennis game.
So as he waited for his daughter's match against Lindsay Davenport to begin again, he told her that he'd had a dream in which she'd won the Wimbledon title. And then, perhaps preposterously, he told her that she had Davenport right where she wanted her, because it had been too easy for the former champ. Davenport would already have been thinking of the tournament final, rather than how to finish off the Russian kid.
And he was right. His daughter turned the match around in the second set, beating Davenport, 7-6. The final set was anti-climactic. Sharapova won it, 6-1.
Now, all she had to do was face the world's best female player. Serena Williams had won the previous two Wimbledon singles titles. Why shouldn't she make it three? Sharapova has an answer.
"Look, I was going into that final as someone that had absolutely nothing to lose," Sharapova recounts. "And she, on the other hand, was a two-time defending champion, so completely different stories. And I felt like she was the one that had a lot to lose. Like there was a lot on the line for her."
Since that day at Wimbledon, Serena Williams has owned Maria Sharapova. Sharapova can't deny it. She's said it over and over.
"I mean, she's owned me for the rest of my career, pretty much," Sharapova told me.
Like I said. She's lost to Williams 18 times and beaten her just once since that day. But on that day …
It was Sharapova, 6-1, 6-4. Her father had been prescient, or maybe he'd made up the dream. Doesn't matter. She was the champ.
"Did winning Wimbledon that year change everything?" I ask. "Did it shape your career as you were going forward? I mean, was that something you were aware of as it was happening?"
"It brought a lot of amazing things," Sharapova says. "And it was — it felt like overnight. It definitely felt like, wow, out of nowhere this comes. And maybe I expected myself to win later in my career. But when you think of everything that you go through, I definitely believed that I belonged. Maybe not physically, not experience-wise, but tennis-wise, mentality-wise — like, I was there to win it. And as I look back, that feeling hasn't changed."
'Unstoppable'
Maria Sharapova is 31 now. She's made tens of millions of dollars on endorsements, though she's also said that success hasn't been entirely glorious — that becoming a champion can lead to feelings of entitlement, even that, "in short, winning f---- you up."
She recently finished serving a suspension for using a medication called meldonium. She says she failed to notice that it had been added to the list of banned substances last year. She returned to the circuit at the U.S. Open late last month. She beat the No. 2 player in the world and made it to the quarterfinals. Though she has acknowledged that she has begun to imagine her retirement, she's also said she'd like to win another Grand Slam title. It would be her sixth.
Meanwhile, she's got a book out: "Unstoppable: My Life So Far." 
I wonder how Serena Williams feels about that title?
This article was originally published on September 22, 2017.
This segment aired on September 23, 2017.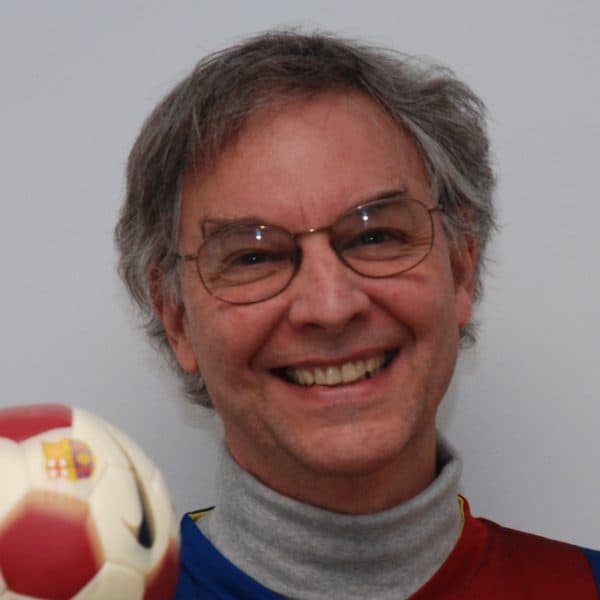 Bill Littlefield Host, Only A Game
Bill Littlefield was the host of Only A Game from 1993 until 2018.