Baseball Legend Casey Stengel's Life Told In 'Stengelese'
06:48
Play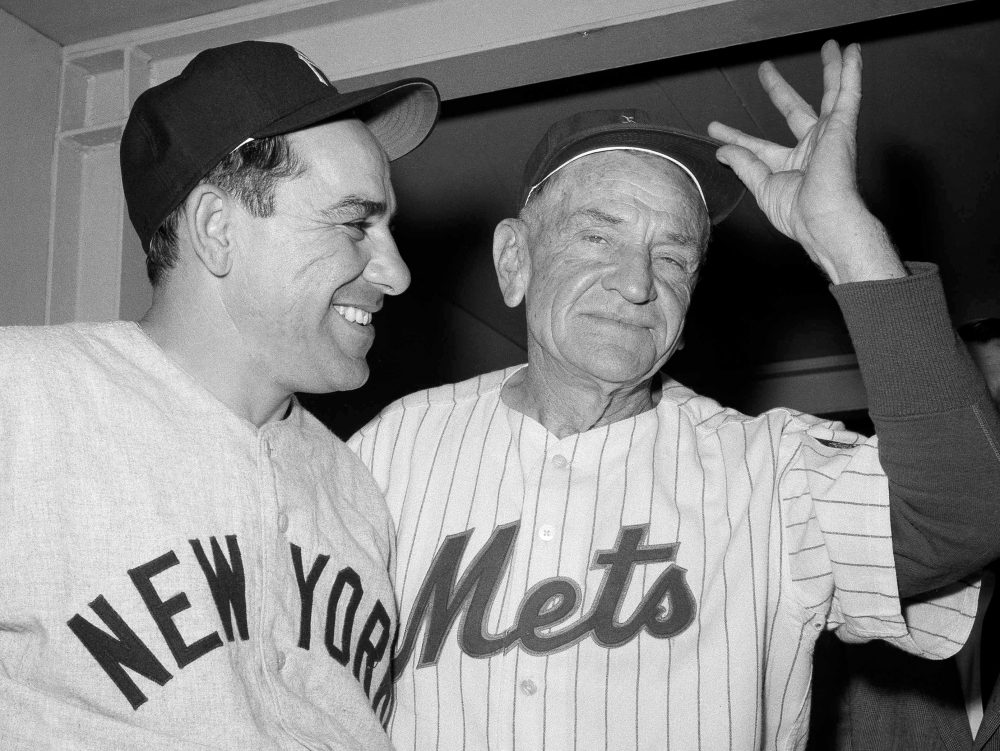 This article is more than 3 years old.
Casey Stengel, who died in 1975 at the age of 85, had a long career in baseball as a player and manager. But he's perhaps most remembered for his invention of "Stengelese," a language he spoke fluently, often in bursts.
Stengel played in the majors for five different teams between 1912 and 1925. Once he caught a sparrow in his hat, put the hat back on his head and then, when it was his turn to come to the plate, he tipped his hat and let the sparrow fly away. A good time was had by all.
When his playing days ended, he managed in the minors and the majors. Like a lot of managers, when he had good players, he won; when he didn't, he lost.
Up against the unhappy fact that he sometimes couldn't remember the names of his players when he managed the Mets in their early years — who could? — Casey shrugged and said, "Them are all good boys." He also said, "The Mets is like the WPA. We give everyone a job."
Casey's Conversations
His Stengelese wasn't limited to baseball. We don't have recordings of every burst of it, but consider, for example, Casey's recollection regarding his courtship of Edna May Lawson, with whom Stengel — still a player when they met — would share his life for 51 years.
"Edna had this Jewish doctor from Brooklyn, and I swept her off her feet so the doctor never married anybody and went on to do some splendid operations while he was waiting for me and Edna to split up," Casey explained, "but he's still waiting and I don't know how good his operations are anymore, and why would you go to him if he couldn't concentrate on his work?"
"Dr. Darrell, whom I'd come east to see — and saw very little of — warned me: 'You'd better forget about that ballplayer. He's not good enough for you,'" Edna said. "But I'm afraid it was the doctor I forgot about."
As manager of the Boston Bees in the late '30s and early '40s, Casey presided over more losses than wins. Attendance was awful.
Story continues below
Subscribe to the podcast
"People often ask me if this affected his personality — did he snap at the dog, glower at the toaster, snarl at his wife? "No, never," Edna said. "Casey would start talking baseball the minute we left Braves Field, and he'd gab nonstop, until we reached our hotel."
It was during those days that Casey cut one of his pitchers, sending him to the minor league team in Hartford for lack of courage under pressure. The pitcher was Warren Spahn. After serving in the military for three years, he'd win 363 major league games.
"Yes, I said 'no guts' to a kid who wound up being a war hero and one of the best pitchers anybody ever saw," Casey said. "You can't say I don't miss 'em when I miss 'em."
After Boston, Casey and Edna headed for the minors. Eventually, Stengel found himself managing the Oakland Oaks to a Pacific Coast League title.
"It was the biggest thing that had happened in that city since the Bay Bridge was built," Edna said. "Oakland went wild. His fame spread. His antics became legend. Casey was a little too famous for the Coast League to keep to itself any longer."
Back To The Big Leagues
Edna was right. Next stop: Yankee Stadium. Moving to the biggest of the big-time teams didn't alter Casey's obsession with the game. If anything, that obsession grew, as Edna discovered when they were supposed to be on vacation in Puerto Rico in 1952.
"The first night, he can't go to sleep," she said. "Not too far off there is a familiar muffled roar. 'Sounds like a baseball game,' Casey said, peeping over the covers. 'It's probably some sort of festival,' I said. 'Now turn over and get some rest.'
"Well, three hours later he's back in the room and telling me about a pitcher and a shortstop he saw. That was the end of our baseball sabbatical."
From 1949 through 1960, Casey presided over seven World Series wins by the Yankees. It was no surprise when people started honoring him. In Glendale, California, his home town, they dedicated Stengel Field.
"I've been thrown out of a lot of baseball parks, but this is the first one named after me," he said.
Also by then, Casey had seen more than a few innovations in the game. 1955 brought in batting helmets.
"If we'd had them when I was playing, John McGraw would have insisted that we go up to the plate and get hit on the head," Casey said.
Throughout the days of celebrity in New York, Edna contributed to the family legend. At a publicity event in Milwaukee before the World Series in 1957, though she was wearing a dress and heels, Edna agreed to try to milk a cow. She had no success.
"Someone milked this cow before I did," she said.
'There Comes A Time'
In 1958, Casey was asked to educate a committee of the U.S. Senate regarding baseball's reserve clause. Apropos of nothing, he took advantage of the big stage to review his progress in baseball, which had not been without missteps.
"I had many years I was not so successful as a ball player, as it is a game of skill," Casey says. "And then I was no doubt discharged by baseball, in which I had to go back to the minor leagues as a manager, and after being in the minor leagues as a manager, I became a major league manager in several cities and was discharged — we call it discharged because there was no question I had to leave."
By 1960, which would be Stengel's final season with the Yankees, he was beginning to feel his age, which was 70. He took some time away from the team and checked into the hospital for a physical. When he rejoined the team, he claimed the news was mostly encouraging.
"I'll tell you something," he said. "They examined all my organs. Some of them are quite remarkable, and others are not so good. A lot of museums are bidding for them."
Shortly thereafter, he was discharged by the Yankees, which meant there was no question he had to leave, though he would return to New York in 1962 to manage the Mets to four last-place finishes. Somehow he lived for another decade after that debacle. The words on a plaque at the site where Casey and Edna are buried suggest that he had no trouble shrugging off the losses:
"There comes a time in every man's life, and I've had plenty of them."
---
Learn more about Stengel's life and career in Marty Appel's book, "Casey Stengel: Baseball's Greatest Character."
Listen to our dramatic interpretations of Casey and Edna by clicking the play button next to the headline at the top of the page. Thanks to our actors: Mike Lovell and Amanda Balagur.
This segment aired on September 30, 2017.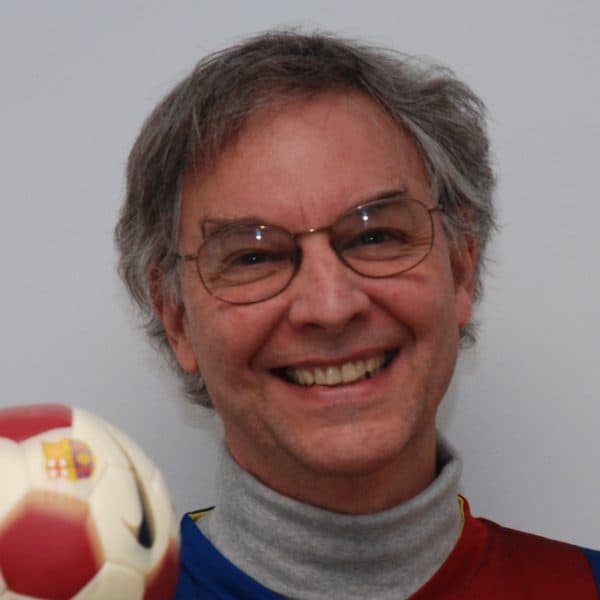 Bill Littlefield Host, Only A Game
Bill Littlefield was the host of Only A Game from 1993 until 2018.