Littlefield: On Those Who Throw Home Run Balls Back
Play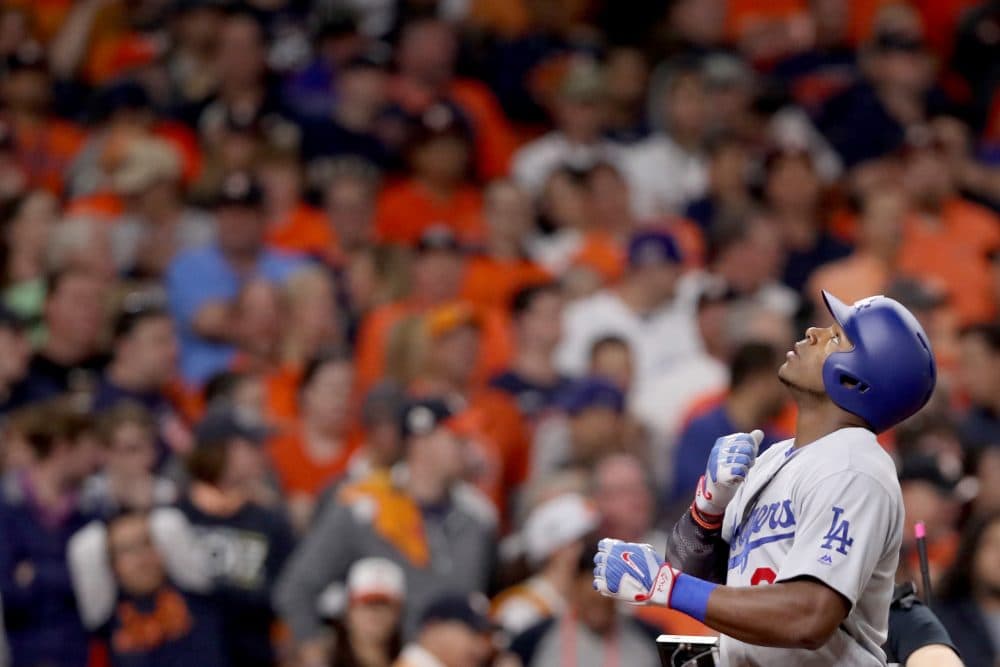 This article is more than 5 years old.
Baseball fans will long remember Game 5 of the 2017 World Series. It featured 25 runs scored between the Dodgers and Astros and eight home runs. But what Bill Littlefield remembers most vividly from that game is the Astros fan who captured a Yasiel Puig home run and tossed it back on to the field.
The estimable Thomas Boswell, longtime Washington Post sports columnist, once wrote that there are two kinds of baseball fans: those who come to the ballpark early enough to see batting practice, and those who don't.
This is a provocative contention, even though every time I hear one of those arguments that starts with, "there are two types of people," I'm inclined to fall back on the assertion that there are two types of people in the world: those who believe there are two types of people, and those with more imagination.
But for the sake of having something to discuss while we wait for some hot-stove league mathematician to calculate the total distance traveled by the home runs hit during the World Series, and how many times they would circle the earth if they were hit consecutively in a straight line, let's have some fun with another dichotomy.
Let's assume there are two kinds of baseball fans who catch home run balls hit by the team they're rooting against. One kind of fan holds on to the ball, looks at it as if they've never before seen a baseball, handles it with reverence, brings it home, probably eventually loses it. Or just puts it in a plastic case. Doesn't matter.
The other kind of fan throws the ball back on to the field.
I understand the latter type of fan. I even admire the integrity apparent in the gesture. "Nuts to your home run!" it says. "Stick it where the sun don't shine! I catch it in my bare hand as if it were a marshmallow! Hit another one to me and I will do the same. I toss it back like a stinking fish and I will continue to do so until the outfield is littered with baseballs that are worthless to me, since they were hit by you."
It's almost heroic, isn't it?
But perhaps because I have never come away from a ballgame with a baseball, were I to catch a home run ball, I would fall into the former fan category.
As a child, I wore my baseball glove at games. Hope sprung eternal. Nothing else did. I caught nothing.
As a young adult, I watched the guy next to me catch a ball Billy Martin, then managing the New York Yankees, tossed into the Fenway Park bleachers during batting practice. The guy was a Boston resident, rooting for the Red Sox. He kept the ball.
As an older adult, I was nearly decked by a ball fouled off by Mo Vaughn. That was in the old Memorial Stadium in Baltimore. I was sitting in the sling, a kind of secondary press box behind home plate. In fact, I was decked. I fell out of my chair. The ball slammed into the wall behind me. After it had stopped ricocheting around me, the guy sitting next to me picked it up. He didn't throw it back.
So if I were to catch a home run ball hit during spring training — let alone one hit during the World Series — much as I admire the integrity of the people who throw such balls back with contempt — I wouldn't do it. I'd hold on to it. I'd figure that after those games I'd attended with a baseball glove on my hand, and that game when Billy Martin missed me by one, and that game when Mo Vaughn nearly conked me in the coconut, my time had come.
This segment aired on November 2, 2017.