0-77: After A Winless Football Career, A Former Running Back Becomes Coach
Play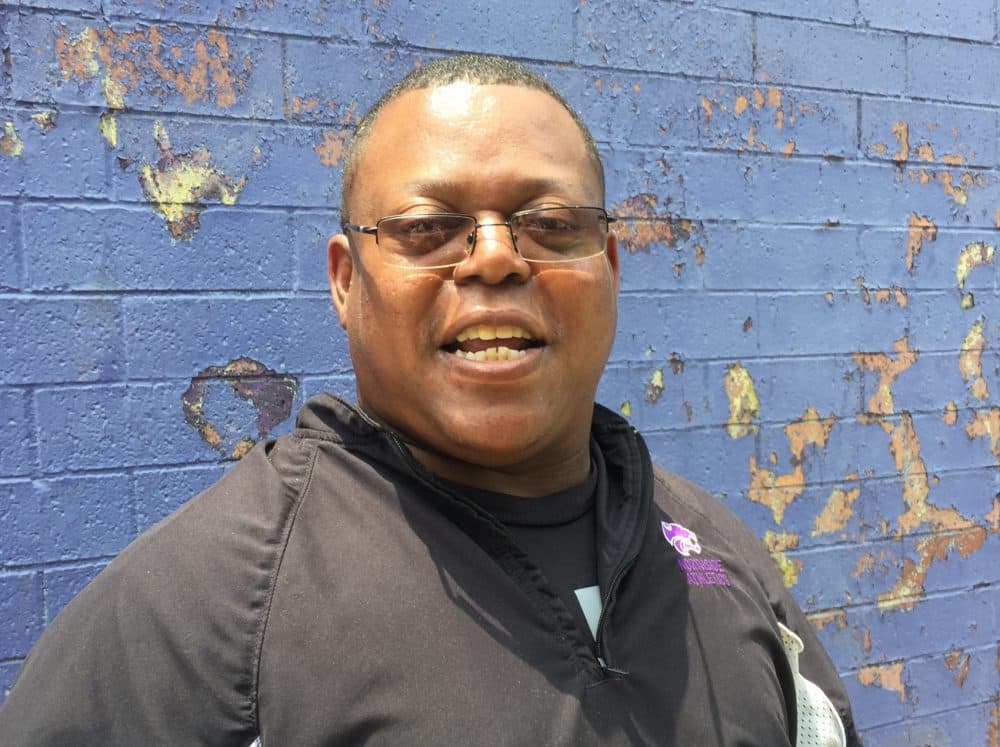 This article is more than 5 years old.
When he was at Jefferson Davis High School in Houston, Mike Porter was a pretty good football player.
"He was good," says Chuck Arnold, Porter's former coach. "He was a hard-nosed running back — get short yardage, good yardage, and he could run inside or outside."
Arnold was a rookie head coach in 1991, Porter's senior year. And when you're a new coach, it's nice to have a good player. The thing is, it's even nicer to have more than one.
"We used him for everything," assistant coach Gerald Garcia recalls. "We put him at tailback — we put him at any place we needed him that week. We did the scouting, and whatever their strength was, we'd plug Michael in there. I mean, if they had a big-time receiver, and all they did was throw it, Michael played corner that week."
"There were two seniors, two juniors, and the rest were freshmen," Chuck Arnold recalls. "So we took a beating that first year. I mean, we scored three touchdowns, and Mike had all of them. So it was a rough year."
Davis High — it's called Northside now — was six years into what would become the longest losing streak in high school football history, and there was no end in sight. The cumulative score that year: Other guys 437, Davis 22.
"Man, you just wanted to win, man," says Mike Porter, the hard-nosed running back who played wherever they needed him to. "Goodness, you come back to class, and some kid sitting in the class would make a joke about it. I had to learn to ignore that."
"When we first got here," Garcia says, "we'd had kids that — they wouldn't even wear their letter jackets, because they would get ridiculed by the other students."
"We passed out T-shirts with 'Jeff Davis Football,' and you'd see kids wear 'em inside out," Arnold recalls.
"These were the players," I say.
"Yeah, that was the players," Arnold says, laughing.
How'd it get so bad?
The Origin Of The Streak
The school is in a working class area, just north of downtown Houston. For a long time, Davis was just like a lot of other big-city high schools in Texas and elsewhere. They played some football — they had some good years, they had some bad years. And then in the '70s, things started to go downhill: budget cuts, poverty, white flight.
By the early '90s, the facilities were dilapidated, and most of the best players had found their way to other schools.
"If you know football, you've got to have an army," Garcia says. "And we were running out there with 15, 16 kids, trying to play 5A football."
The losing streak started in the middle of the 1985 season. When Mike Porter made the team, the streak had reached the 30s. By the end of Porter's junior season, the Davis High Panthers had lost 54 straight and were looking for a new head coach.
It's hard to believe, but not a lot of people wanted that job. Chuck Arnold did.
"You know, one of my goals was to be a head coach," Arnold says, "and there weren't that many of 'em popping up, so I took the chance when I had it. I knew it was a one-time deal: either change the program or I'd never get another shot. It's that kind of deal."
For Mike Porter, it wasn't all bad.
"You know, as a student and as an athlete, it was great for me," Porter says. "There was a life-skills kid — that's a form of special education. Every game, this kid would come up to me, like, on Monday or Tuesday, and was, like, 'Good game, Mike.'
"And, man, it's like — he couldn't play. And I'm sure he wanted to. But I got the opportunity to play. So I wanted to play for him, because win, lose or draw, he was always like that. So, you know, that's what I did. But we didn't win. We didn't win. And it was tough."
A College Losing Streak, Just As Bad As Before
After losing every high school game he ever appeared in, Porter played college ball at Prairie View A&M, just outside of Houston — and the losing continued.
In the aftermath of yet another tough day on the field, he got some news.
"I was on a bus, driving back to Houston," Porter says. "I believe we had lost to Alabama State. I don't know. The O-line coach, he got a newspaper and he was like, 'Hey, Porter. Your school won.'"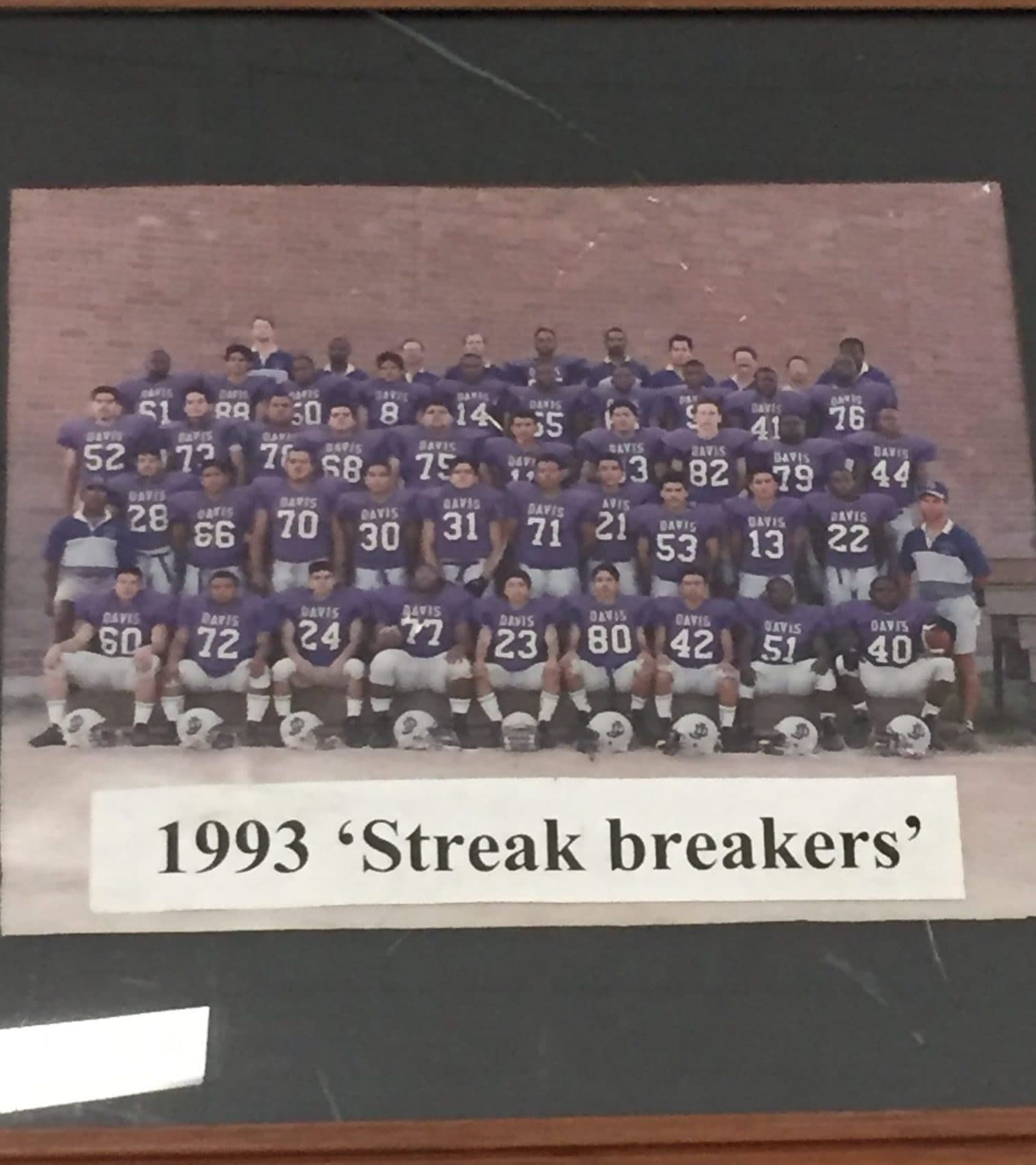 After a record 80-straight losses, Davis had finally won — a 19-18 squeaker over Wheatley. The win hadn't just made the front page of the Houston Chronicle. It was national news.
"Man, I just felt really good," Porter says. "You know, I was like, 'Oh, hell, we just lost,' but, you know, I was just really happy."
"No jealousy?" I ask.
"Well. Almost immediately, I thought, 'Oh, man, they finna start looking at us more. And they gon' find me."
Why'd they want to find him? Because it was 1993, and the Prairie View A&M Panthers hadn't won since 1989. Yeah, Prairie View A&M — also the Panthers. They were on their way to losing 80 straight games — exactly the same number as Davis High. It's an NCAA record by a lot. The second longest streak is 44.
"I just stopped looking at scoreboards that much," Porter says. "You know, we still hang out. We don't talk about it. We like to talk about — we say, 'You know what? We didn't win a game, but we kicked it like national champions.'"
Michael Porter's football career came to an end in 1996. His combined high school and college record as a player was 0-77.
Breaking The Personal Streak

Back at Davis High, Chuck Arnold was looking for an assistant coach. He gave Porter a call.
"He'd dealt with the adversity that we'd gone through there — and we were still going through it a little bit," Arnold says. "So I knew he could handle it, where a lot of people avoid the losing stigma completely. It was hard to find good coaches."
Porter was the offensive coordinator for the Panthers in 2008 when they went undefeated in the regular season and made it to the second round of the state playoffs. And when Chuck Arnold retired in 2013, Porter took over as head coach. The job was a little more attractive this time around.
Maybe all that losing as a player taught him a little something about how to coach.
"Well, it definitely shapes you," Arnold says. "You learn more from losing than winning, of course. I mean, you build character, as they all say. Yeah, well, I've had enough character building, and Mike has too."
Michael Porter did not have to wait eight years or 80 games to get his first win as a head coach, but it didn't come easy. His Panthers lost their first five. And then they beat Austin, 31-20.
"I mean, I think I jumped up in the air about five feet or something," Porter says. "But it was a wonderful feeling. We played a really good game, we win. Oh, it was awesome, man. It was — it just felt like everybody was with me."
"When I go talk to your kids and I say, 'What does Coach Porter say about the losing streak?' What are they going to roll their eyes and say, 'Oh, man. He talks about this all the time. Here's what he says.' What is it?" I ask Porter.
"Well, amazingly, we don't talk about it much," Porter says. "These kids weren't born."
"You never hear the end of him talking about himself," Patrick Brown, one of Porter's former players, tells me later. "Especially when we're down, and the team always say, 'Man, we stay losing' and stuff like that. He say, 'I know. I been through it. Pick your head back up.'"
"'Back in my day, I played a part of the team that had the 80-something game losing streak, and I know what it was like.' Just all kind of stuff like that," junior defensive tackle Jamichael Jordan recalls.
"You ever get tired of hearing about it?" I ask.
"No, sir, because it encourages me," Brown says. "Like, I don't want to be like Coach Porter. I want to win."
"And you guys told me that you make fun of him — not about the streak — just for being him," I say.
"He got these little phrases," Brown says. "He says, like, 'Maaaaan ... Man, y'all don't even know what y'all talkin' 'bout, man.' He talks funny. We always just be laughing and stuff in the huddle."
'I Don't Know Where I Would Be Without That Streak'
The 2017 season just ended for the Northside Panthers, formerly Jefferson Davis High. It was a tough one, starting with Hurricane Harvey. The neighborhood escaped the worst of the damage, but it was still hit pretty hard. The football schedule was reduced from 10 games to eight, and the Panthers were young and they battled injuries. But Porter says their enthusiasm never waned.
"I just hadn't felt like I had a complete team," Porter says. "But, I mean, kids compete. They're proud to play. It ain't the old days, where I'm hiding my shirt. They go out and compete."
The Panthers got blown out several times on their way to a 2-6 record. But they've got a coach who knows how to deal with that sort of thing
"I don't know where I would be without that streak," Porter says. "I mean, it made me a stronger person. I genuinely believe that. You know, it's rough to have to go through that, but, you know, if you do, don't worry. It ain't going to last forever. I don't feel like I'm still losing."
A longer version of this story — and other stories about losing — appear on King Kaufman's podcast, "Can't Win 4 Losing."
This segment aired on November 18, 2017.