Thanksgiving Leftovers Show
A World Record Paddler's Rendezvous With Rock Royalty
03:40
Play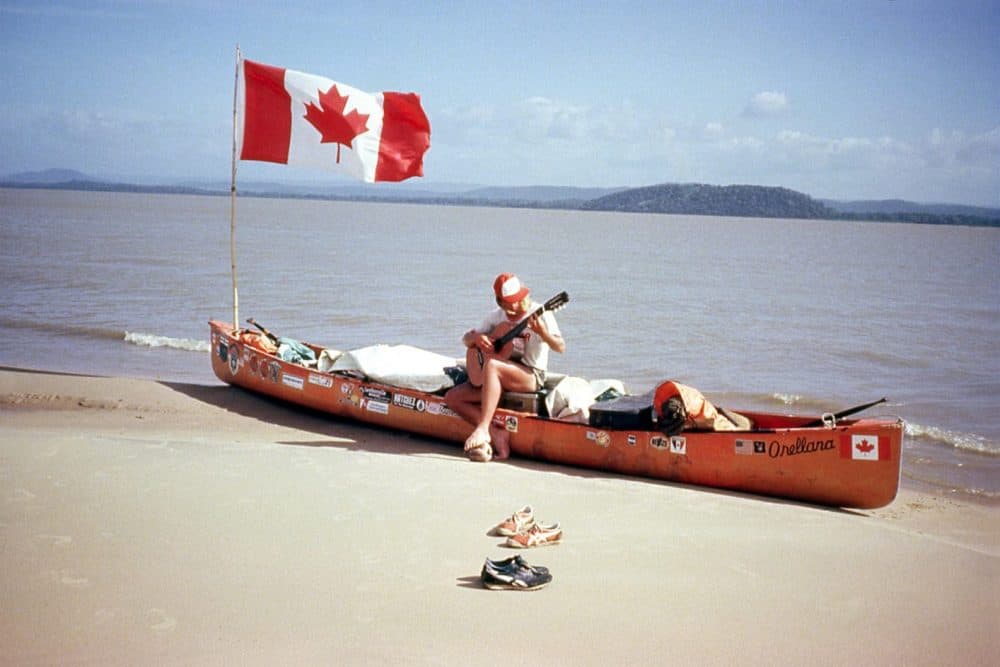 This article is more than 4 years old.
This story is part of Only A Game's Thanksgiving Leftovers Show. Find the full episode here.
---
On June 1, 1980, Don Starkell and his sons Dana and Jeff Starkell set out on a quest to paddle their canoe from Canada to Brazil. Crazy? Yes. Along their 12,000 mile journey, they experienced a major tropical storm and near execution by Honduran soldiers. And 19-year-old Dana, a budding musician who brought his guitar with him on the voyage, met a major rock star. Quite unexpectedly.
A Musical Interlude

A little over two months and 1,000 miles into their world record journey, Don, Dana and Jeff Starkell made it to Memphis, Tennessee, where they camped on a sandbar along the Mississippi River. Dana switched on their transistor radio.
"And I heard some music," Dana recalls. "Sounded like Queen. And they had a new album out, called 'The Game.' "
"The Game" was Queen's eighth studio album. It would go on to sell over 6 million copies worldwide. Three of the album's songs tore up the U.S. charts, including the band's all-time best-selling single, "Another One Bites the Dust." "The Game" was a monster. Dana liked what he heard as he watched the Mississippi River roll by.
"So then I hear they're going to be in Memphis that night at the Coliseum. I just started walking. And I think I had to walk almost like 7, 8, 9, 10 miles to get down there."   
At that point, the Starkells had paddled an average of 30 miles a day on the Mississippi. But Dana was young, and he was determined. He arrived at Mid-South Coliseum just after the show had gotten underway.
"I knocked on the front door, and there was a security guard there. And I said, 'I don't have tickets, I'm from Canada, I'd just love to listen to the band.' And he goes, 'You know what? It's not that busy tonight. Just go in. Grab a seat anywhere you want.' And I said, 'OK,' and I was gone," Dana chuckles. "So I went in, found a seat, watched the whole concert. I started thinking, 'Would it be ever so cool if I could possibly meet these guys?' "
A Brush With Stardom
"And I just went walking in through the office, and within 10 seconds, I was backstage," Dana continues. "Freddie Mercury came walking by, went into the dressing room. A few minutes later, Brian May came out, and then I struck up a conversation with him. And it was so incredible, because Brian May was one of my guitar idols."

Dana says he talked with May for a half hour. They chatted about the things most guitarists do. And then Dana changed the subject.
"I said, 'What do you think of this new album?' " Dana recalls. "And he really surprised me by saying he really didn't like it that much."
Dana walked the 8 or 9 or 10 miles back to the campsite. He told his Dad and his brother about his conversation with Brian May. The next day, they paddled another 30 or 40 miles on the Mississippi. And Dana practiced on his guitar.
Dana lives with his family in Iowa, where he's a classical guitarist and music teacher. For much more on the Starkells' journey, check out "Paddle to the Amazon" by Don Starkell. 
This segment aired on November 25, 2017.