Littlefield: One Sure Bet When It Comes To Sports Gambling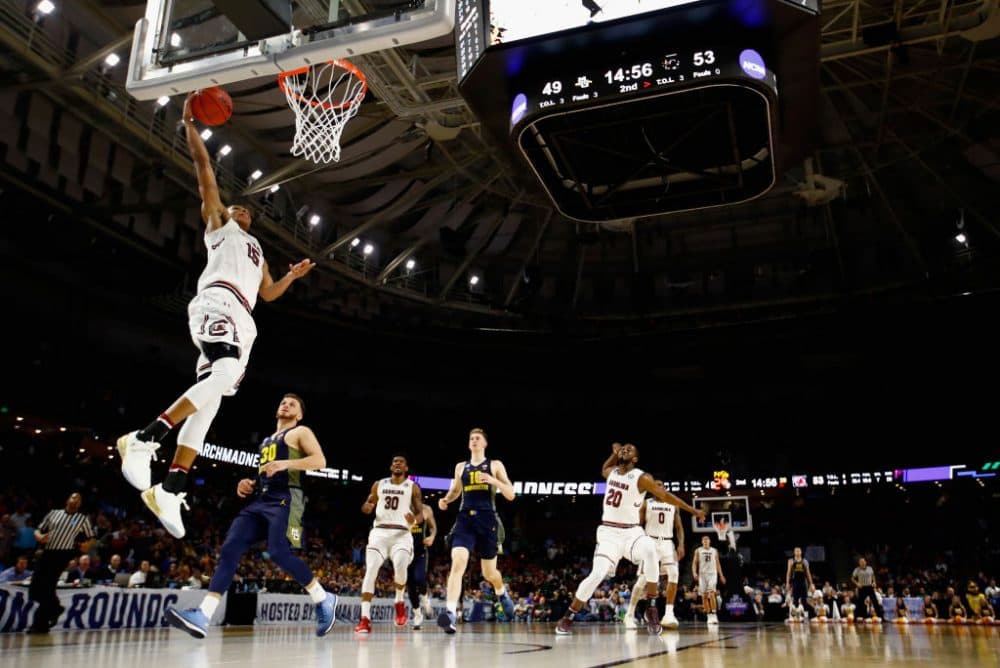 This article is more than 5 years old.
On Monday, the Supreme Court heard arguments in Christie v. NCAA. The justices will eventually decide whether New Jersey and various other states should have the opportunity to offer the same opportunities to bet on sports that are currently available in Nevada.
Bill Littlefield has been thinking about the implications of that decision.
Should you run out of milk one day, or need a loaf of bread,
The small store on the corner will take care of you. It's said
That there you're also free to buy a ticket for spare change,
And if you're very lucky, you might get to rearrange
Your life. For with $10 million, heck, with even 4,
You could afford a bigger house, a newer car ... what's more,
When you buy that small ticket, you'll be patching up the roads,
And building better bridges, too, and lightening the loads
On folks who might go hungry if you didn't take the chance
The lottery affords you, if you've money in your pants.
Or so the state assures us. I'm not sure it works that way.
I guess it all depends upon which people choose to play.
In any case, New Jersey thinks its citizens should be
Encouraged to do more than merely play the lottery.
And Jersey, my home state, has made a case throughout the courts
That people there and elsewhere should be free to bet on sports
At racetracks, in casinos, and I see the logic there,
The racetracks and casinos for the most part have been bare.
The state's take at a place that's boarded up is likely nil.
Why not haul in some suckers with the promise of the thrill
Of betting Notre Dame will clobber Michigan by 10,
Or that North Carolina maybe upsets Duke again?
The argument against this Jersey dream of revenue
Is that you must be careful with the things you want to do.
For what of the integrity of all that college sport?
And all those pro games, too? And so opponents tell the court,
The government set limits on what bets the suckers make
Beyond the Vegas desert, otherwise, for goodness sake,
They'd compromise integrity as we imagine it
Existing in our games, and though we're stretching it a bit
To say that there is such a thing, we trust the court will see
How awful this new betting on our games would likely be.
I don't pretend to know what the supremes will all decide.
I wouldn't bet on either one of the opposing sides.
But here's a sure thing for you, and I offer it for free,
No matter where the court comes down, we certainly will see
The leagues still making money. College coaches will as well.
The richest just get richer, and as anyone can tell,
The wisest folks refrain, which means they're choosing not to wager,
Except upon the surest things, for people who are sager
Than Jack who plays the lottery or Jill who bets the Pats,
See all that as a loser's game, and I suppose that that's
The lesson. Save your money, spend it if you like, or use it,
But don't bet games unless you are prepared to mostly lose it.