Littlefield: Boston Breakers Will Be Missed, But Not By Enough Of Us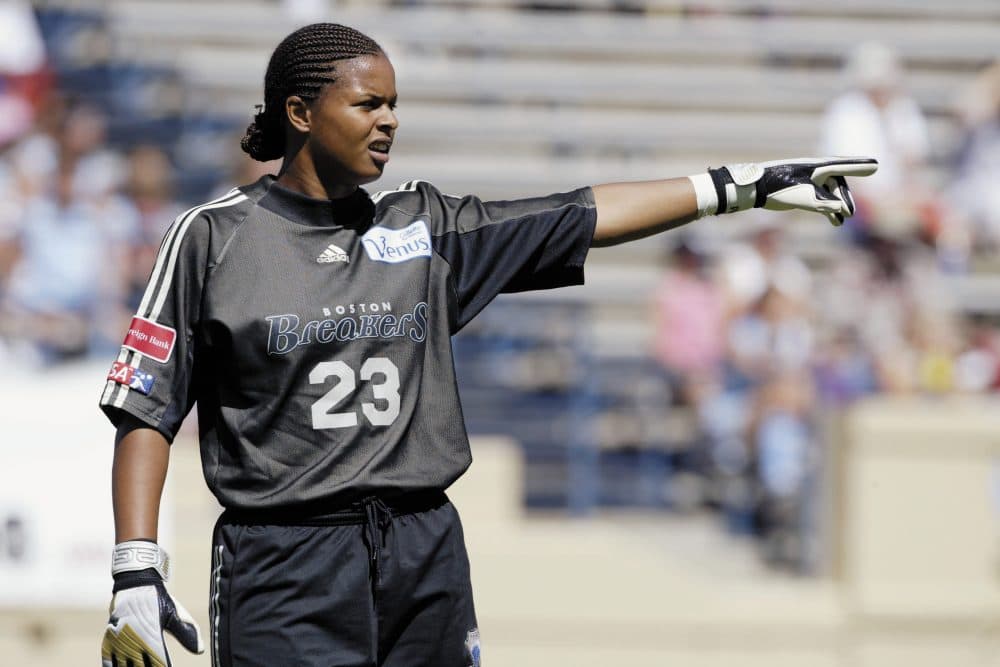 This article is more than 5 years old.
In 2001, before the Boston Breakers ever played a game in the first of the three women's pro soccer leagues of which they'd — sequentially — be a part, I was asked to write a magazine story about the team.
One of the more colorful characters on the team was a defender named Kate Sobrero, who has since become Kate Markgraf. Kate was literally colorful. During the '99 Women's World Cup, she'd lost a bet that required her to dye her dark hair red. I think it was something about whether Joy Fawcett would score a goal. Anyway, Kate played the remainder of the tournament as a redhead. Like a lot of fans of the women's national team, I knew that story.
Apparently she stopped dying her hair sometime before 2001, because when I went to the Breakers' office to interview Kate Sobrero, she wasn't a redhead. If she had been, maybe I wouldn't have fallen for the trick she played on me — but maybe I would have, because she was a pretty convincing actor as a brunette, and maybe she would have been convincing as a redhead too.
Anyway, when I arrived at the Breakers' office, which was still kind of under construction, I told the young woman at the receptionist's desk that I had an appointment to interview Kate Sobrero. The woman smiled pleasantly and said, "I'll see if she's here." Then she walked around a corner and back again, and said, "She is," or something equally goofy, because the woman playing receptionist before anybody'd hired one was, of course, Kate Sobrero.
At some point I told my daughters that story, which is perhaps why Kate became their favorite player. How could they not root for somebody who'd made their dad look silly? Except that Kate was also a terrific player to watch — all energy and determination, and always looking as if playing soccer was about the most joyous way a woman could spend her time. And the receptionist stunt was no fluke. Some years later we were talking about the Olympics and I asked Kate what sport she'd have played if her game hadn't been soccer.
She smiled and said "beer pong."
Are you beginning to understand what fun the Breakers could be? I hope so. And I wish more people had understood that before the team closed up shop this winter because then maybe they wouldn't have had to close up shop. They'll be missed, but apparently not by enough of us.