The U.S. Hockey Goalie Who Stood Up To Hitler At The 1936 Olympics
Resume
Francis F. Baker was born in Buffalo, New York in 1914.
"He was a small man," says his daughter, Jeddy Hood. "He was 5-foot-7. But he was very interested in sports and very active."
Hood and her father were fans of the Montreal Canadiens. They would frequently make the trip from their home in upstate New York to Montreal.
"Now, my mother wouldn't go because she thought it was barbaric. So he would drag me along," Hood says. "And I really enjoyed it. I had a good time. My father had a good time being very, uh, rude to the goalie, Gump Worsley."
Gump Worsley was All-Star-caliber, an eventual Hall of Famer. Baker's seats at the Montreal Forum were right behind the net. He'd yell at Worsley when he thought he wasn't playing well enough. One night, "The Gumper" snapped.
"Gump came around at the end of the game, and he shook his stick at my father," Hood recalls. "And he said, 'If you think you can do better then that, you get on the ice!' "
Baker thought maybe he could do better. Jeddy says he came well-prepared to the next game.
"My father shows up, and he has his goalie stick and his jersey. And Gump Worsley comes around, sees my father. He bows his head to my father and gave him a grin," she says. "And that was the last time he ever complained about my father screaming at him.
"That would be something he would do. He would stand up for things."
When Jeddy was older, she'd learn about another time her father did that.
" 'Die Vereinigten Staaten werden Deutschland immer besiegen' -- The United States will always defeat Germany."

Francis Baker, to Adolf Hitler
Backup Goalie Bound For Germany
Francis Baker attended Hamilton College in upstate New York during the mid-1930s. He studied the German language, among other things, and he was the goalie for the hockey team. Hamilton head coach Albert Prettyman was selected to lead the U.S. Olympic ice hockey team. In early February 1936, on the eve of the Winter Games at Garmisch-Partenkirchen, Germany, Coach Prettyman had a problem to solve, according to hockey historian Stan Fischler.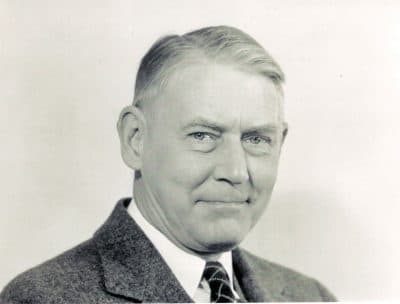 "The regular goalie had taken sick before they left to take the boat across to the Continent," Fischler says. "And when that happened, Prettyman got hold of his backup goalie, Francis Baker."
Baker agreed to join the team.
"And they arrived in Garmisch-Partenkirchen only three days before the Winter Games officially began," Hood says.
Baker practiced with the team as they prepared to compete amid a political climate in which U.S.-German relations were rocky at best.
"Well, they weren't cordial," Fischler says. "Certainly by that time, even though the United States under President Roosevelt was still an isolationist country, the dislike for what was going on in Germany was pretty widespread in the States."
That dislike found its way into the opening ceremonies on Feb. 6, 1936.
Following Hitler's declaration before a crowd of 40,000 that the 1936 Winter Games were officially open, delegations from 28 nations marched into an open-air stadium. It was a typical display of Olympic pageantry, except for the ubiquitous Nazi flags.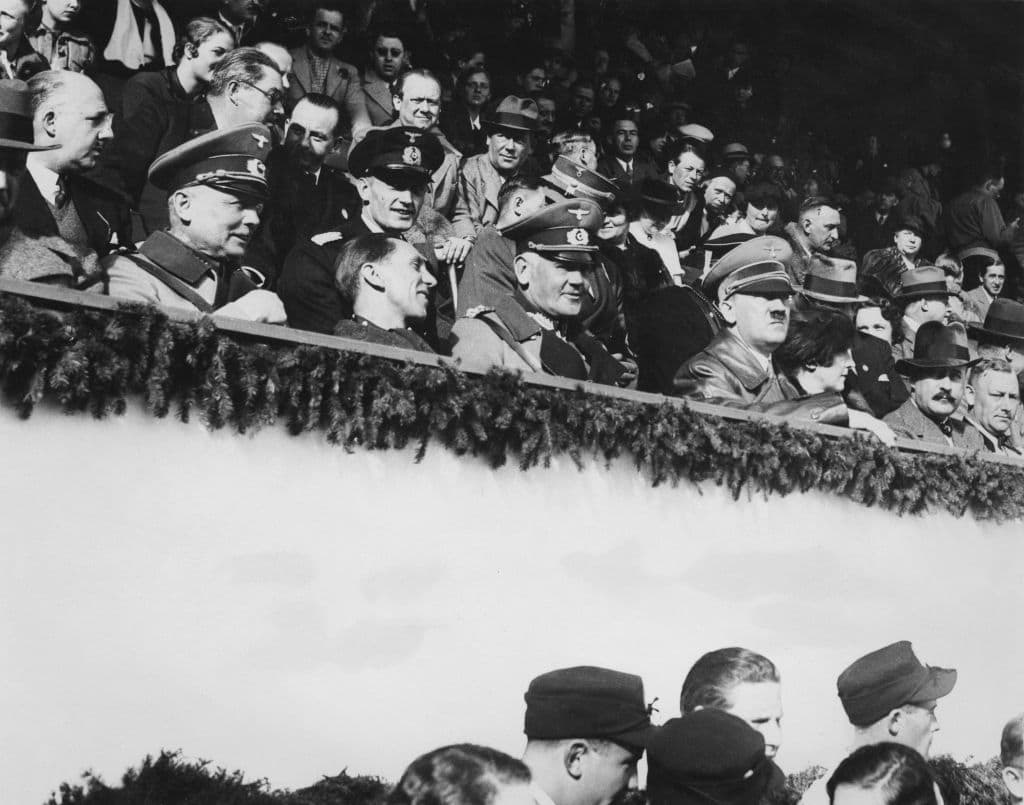 Hitler had told the IOC of his demand to have athletes from all nations salute him in the customary Nazi fashion, with right arms extended and rigid.
"And the American team did not do that," Hood says. "Their arms were to the sides."
"They didn't acknowledge the 'Führer,' " Fischler says. "And the 'Führer' responded by being furious. So we had a furious 'Führer.' "
"And that's what triggered Hitler to come down into the locker room," Hood says.
'The United States Will Always Defeat Germany'
Hitler and his cadre entered and began to shout at Coach Prettyman and the team.
"Hitler berated them, first for the non-salute. And then he, very hot-tempered, told them that, 'We will beat your American team on the ice tomorrow,' " Fischler says.
Hitler said all of this in German.
"My father, who had studied German in Hamilton College, was requested to do the translating," Hood says. "But when the dictator confidently assured them that they could not expect to beat them in the upcoming contest, my father summed up his courage and mustered his best German..."
" 'We will not only beat Germany in hockey tomorrow,' " Baker told Hitler, according to Fischler. " 'In addition, Die Vereinigten Staaten werden Deutschland immer besiegen: The United States will always defeat Germany.' And Hitler was infuriated and conducted an orderly retreat."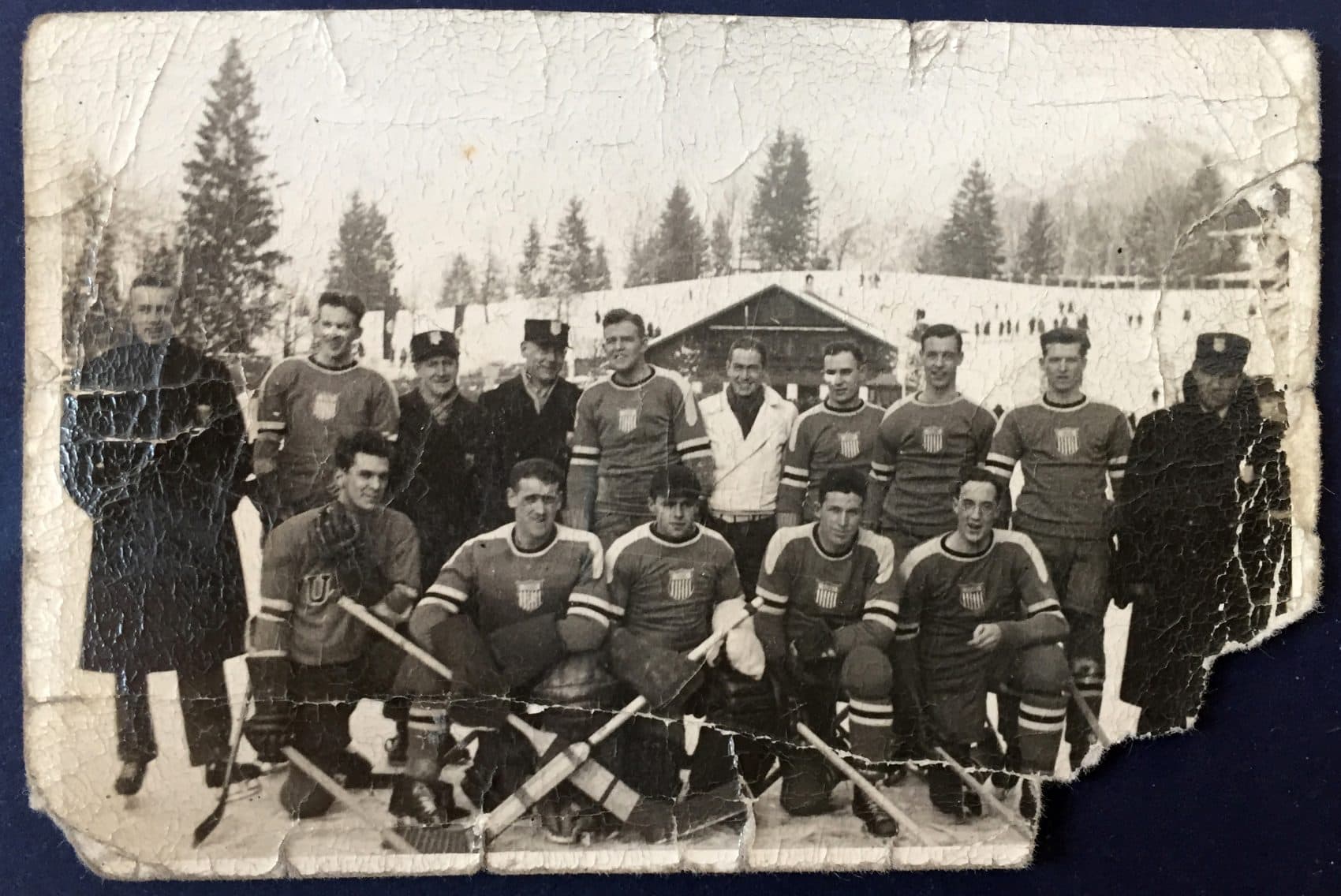 The U.S. and German ice hockey teams met on Lake Riessersee.
"Well, the game was [in] an outdoor stadium, in a blinding snowstorm with a throng of spectators, most of them rooting for the home team," Hood says.
"They describe the conditions as 'near-blizzard," Fischler says. "Baker later explained that it snowed so hard, they kept having to stop the game to clear the ice."
"The game was close," Hood says. "But the end result, as the brazen young goalie had predicted, was a victory for the USA, 1-0."
The U.S. team went on to win bronze behind Great Britain and Canada. But Baker had made two bold predictions to Hitler; only one of them had to do with hockey.
Making 'Good On His Boast'
Baker returned home, finished his undergraduate studies at Hamilton and went on to earn his medical degree. In 1941, Baker joined the U.S. Army Medical Corps.
"He landed on Normandy beachhead on D-Day plus two and followed the GIs to victory over Hitler's Germany in '45," Fischler says. "So Baker made good on his boast: the United States will always beat Germany."
Baker returned from the war. For 25 years he was a respected orthopedic surgeon in upstate New York. His daughter says he didn't often tell the story about his confrontation with Hitler.
"He was very proud of what he did, but he was not a person to drag it out of the closet and show everybody."

Jeddy Hood
"He was very proud of what he did, but he was not a person to drag it out of the closet and show everybody," Hood says. "He was not one to talk about it very much."
Maybe that's why Baker's story has been overshadowed by the many stories told and retold about the Berlin Summer Games of August, 1936. But in certain hockey circles, especially the one that encompasses Hamilton College in the quiet, upstate New York town of Clinton, Baker's story still shines like a goal light through a blizzard.
"As they like to say in Clinton," Fischler says, "his most distinguishing moment was his appearance with the team and his faceoff with Hitler."
---
This segment aired on February 24, 2018.