Don Cherry's Little-Known Coaching Championship
09:12
Play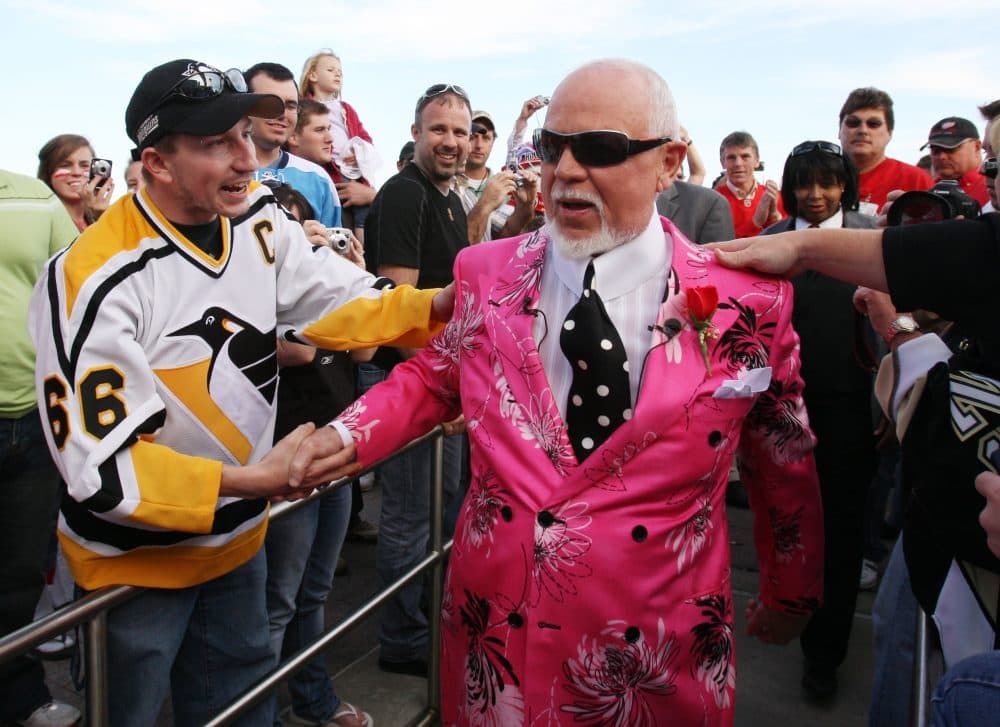 This article is more than 4 years old.
Jeff Knisley can remember the times he's been in his car, listening to sports talk radio, when the hosts bring up Don Cherry.
They mention that Cherry coached Bobby Orr and the Boston Bruins in the 70s – and that he won both NHL and AHL coach of the year honors. But then they bring up one of the knocks on Cherry: he never coached a team to a championship.
And whenever Jeff Knisley hears that, he has the same reaction.
"I would love to call in on some of these radio shows and say, 'Au contraire — he does have a championship ring,' " Knisley says. "It should be known that he did coach a championship team."
A Rock 'Em Sock 'Em Skater
Jeff Knisely grew up in Pittsford, New York – a suburb of Rochester. Back then he went by "Knise." He and his friends grew up playing hockey on the Erie Canal and rooting for the Rochester Americans.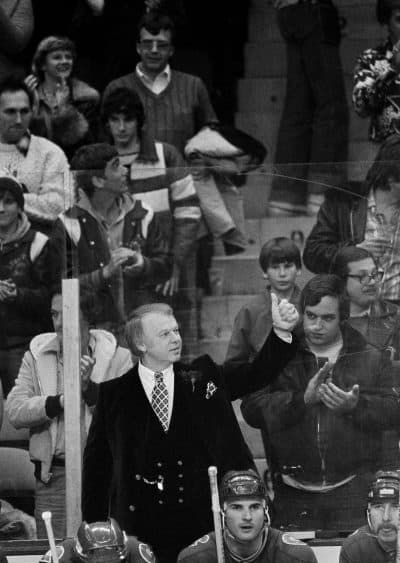 In the mid-60s, the Americans – or the Amerks, to locals – were one of just nine teams in the American Hockey League, the minor league for the NHL.
"You could actually bring beer into the games back then," says Al Vyverberg, one of Knise's old friends from Pittsford. "People would bring a six pack with 'em."
"You could holler through some chicken wire," says John Hoff, another of Knise's childhood friends.
"Way before glass," Al says.
Hockey was rough back then. Players didn't wear helmets. But even in a rock 'em sock 'em era, there was one Amerks player who seemed to rock and sock harder than everyone else: veteran defenseman Don Cherry.
"He was tough as nails," John says. "Really tough guy."
For Jay Hill, another Pittsford native, one memory stands out.
"They were up in Quebec, playing the Quebec Aces," he says, "and the lead story in the 11 o'clock news was 'Don Cherry got in a fight with a guy, and it lasted like 40 minutes.' They kept coming out of the penalty box. They couldn't break it up."
Life After Hockey 
But around the time that Jay, Al, John and Knise were getting ready to enter Pittsford High School, Don Cherry decided that — at 35 years old — he'd had enough.
Cherry retired from hockey in 1969 and was looking to start a new career in Rochester.
"I worked two years on construction. And I was laid off," Cherry says. "And, actually, for about two months, I couldn't get a job. I played 16 years pro — and then, to not to be able to have a job, it was very humiliating."
It was during that down period in Don Cherry's life when a man connected to Pittsford High School approached him.
"And he said, 'How about, Don, you coach?' " Cherry recalls. "And I said, 'Well, I don't know.' He said, 'Well, you got nothing else to do.' "
That logic was persuasive.
Don Cherry accepted his first coaching job: leading the Pittsford High School hockey team.
The news made its way to the boys on the team.
"What was your reaction that this guy who got into 40 minute fights was now going to be your coach?" I ask them.
"Well, Knise thought he could take him," John jokes. "I think we were all a little intimidated."
"I thought it was just so cool," Al says.
Meeting Their New Coach
When winter came, it was time for the boys to meet their new coach.
"Our very first practice, ever, we were on the ice waiting for Don," Al recalls. "And he stepped on the ice with his skate guards on and went down like a ton of bricks. We didn't know if we should laugh — what should we do? But as I recall, we kind of said, 'Well, he's a regular guy.' "
And from that day on, the boys couldn't wait to get to practice.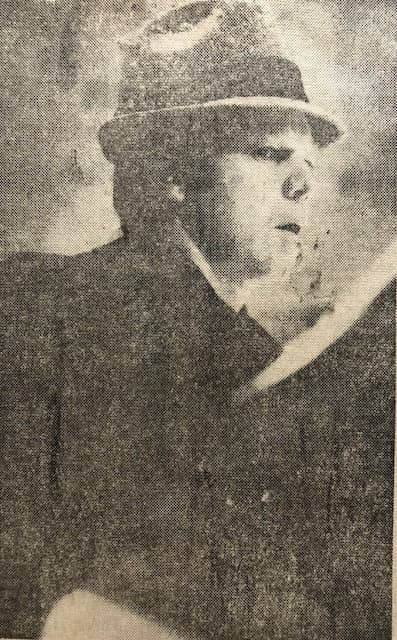 "We used to practice at 5 o'clock in the afternoon," Al says. "He would get there at 4. And we would battle to get there at 4, so we could sit and put our stuff on and listen to him tell hockey stories. Loved it."
"I think what I did was I got there early to show that I was interested — that I didn't show up just to coach," Cherry says.
The boys knew their new coach cared – but he wasn't perfect.
"He struggled with names," Jay says. "My name's Jay, but I was always Jack. For three years I was Jack."
"My last name, 'Vyverberg.' I was 'Viberg,' " Al says.
"I don't ever remember him yelling at us," Jay says. "We just wanted to play so hard for him that he never got — you know, coaches get frustrated and all that stuff, but we tried our hardest from day one 'til the end."
Double Duty
In Cherry's second season as coach, Pittsford reached the league championship – losing in overtime.
Soon it wasn't just the boys in the Pittsford locker room who knew Cherry had a knack for coaching. That next year, Cherry returned to the Rochester Americans – and was asked to become the team's player-coach.
But he didn't want to give up his job with Pittsford. So for the 1971-72 season, he pulled double duty. He shuttled back and forth from coaching the pros to coaching Pittsford.
His Amerks' team was so-so – but his high school team was stacked. They'd make opponents pay whenever they had a man in the penalty box.
"If you asked him today, I'd guarantee he could name our power play from 1972," Knise says.
"On the points was Al Vyverberg, John Hoff – they were two guys that could hit screamers from the point," Cherry begins. "You had a big centerman named Jay Hill. We had a guy, Eddie Scott, that used to work in the corners. And Jeff Kniley was the playmaker."
It's Knisely – but close enough.
Expectations were high. Cherry occasionally had to miss a game because of the Amerks' schedule — but Pittsford kept winning. They finished the regular season with an undefeated record and, once again, reached the championship.
But there was a problem: on the day of the big game, Cherry was scheduled to fly out with the Amerks. There was a chance that he'd have to leave before the game was over.
Game Day
In the championship, Pittsford jumped out to a lead – but the clock wasn't on Cherry's side. In the middle of the third period, he had to leave the Pittsford bench.
"Kind of inched up the stairs," Al recalls. "He didn't really wanna leave."
"I can still see him at the top of the rink," Jay says. "He was holding planes up and everything. And we scored a goal to cement it."
"And I think, he was, like, 'OK it's in hand,' " Knise says.
"Yeah, I went right to the last minute," Cherry says. "I said, 'Don, if you don't leave now you're going to miss the plane. So I had to leave them.' "
Pittsford hung on for the championship and an undefeated season.
"What did it feel like to have to celebrate the championship, though, without him there?" I asked John.
"He was with us," he says with a laugh.
Called Up To The Pros
John, Al, Jay and Knise all went on to play college hockey. Suiting up for a regular Div. I college coach was an adjustment.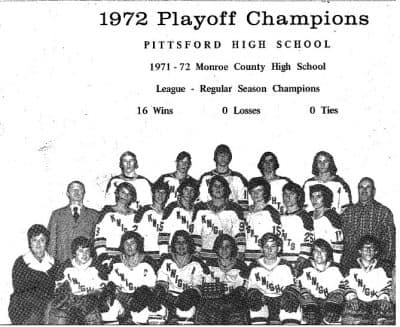 "Al and I stayed together and went to RIT to play hockey, and we had a coach that could barely skate," Jay says. "I mean, talk about a letdown."
And Don Cherry's time in Rochester came to an end in 1974.
Knise was helping at one of Cherry's summer hockey camps when he got the news.
"He came in one morning and said, 'You won't believe it, boys, but I've got the call to go coach the Bruins. And I have to leave in two days,' " Knise recalls. "And he said something, like, 'What do I say to Mr. Orr and Mr. Esposito?' "
From afar, the boys from Pittsford cheered on their old coach. And when John found himself in Boston, Cherry invited him to a game.
"I ended up in the locker room with him. And we split a six pack of beer, of Bud, in his office off the locker room after that game," John says. "I'm just a kid, right?"
Turns out, Cherry really liked reminiscing about his high school team.
"I went down to see him at his hockey camp," Al says. "And I walked in the locker room, and Mike Milbury was in there – three or four other NHL and AHL players. And he goes, 'Al Vyverberg! Now that was a power play.' He starts pointing at all these other guys: 'If you guys play power play like my high school team!' And they're all looking at him like he's absolutely nuts."
Cherry's 'Players'
The Pittsford boys always rooted for their former coach to lead Boston to the Stanley Cup — and Cherry's Bruins did reach the finals twice – but they never won.
Cherry coached Boston for five seasons, then spent a year with Colorado.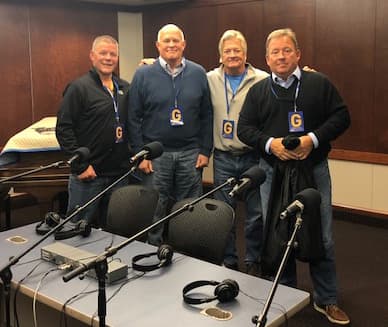 He's been on Hockey Night In Canada ever since – and his fame in the hockey world has only grown.
"All my life I've enjoyed telling people that I played for Don Cherry," Al says.
Years after Cherry's NHL coaching career was over, Knise went to visit him at one of his restaurants in Toronto.
"The bar was full," Knise recalls. "And he came running out, put his hands up in the air, and he goes, 'People: one of my players is here.' It's the first time I ever signed autographs. They all thought I played for him in professional hockey. And it was our high school team."
The guys from Pittsford know that, to the average hockey fan, they're not as important as Cherry's former NHL players (even if they were the ones to deliver him his only championship).
But hearing all the Pittsford boys' stories left me wondering: does Don Cherry view his former high school players any differently from his former pros?
"Oh, no," Cherry says. "I don't. I think of them very fondly. I think, actually, I'm more closer to them than my pros, because, let's face it, they were the guys that made me."
Thanks to listener Gary Brandt for tipping us off to this story. If you've got a good idea for Only A Game, send us an email at oag@wbur.org.
This segment aired on May 5, 2018.