Littlefield: After A Celtics Surprise, LeBron Carries On
Play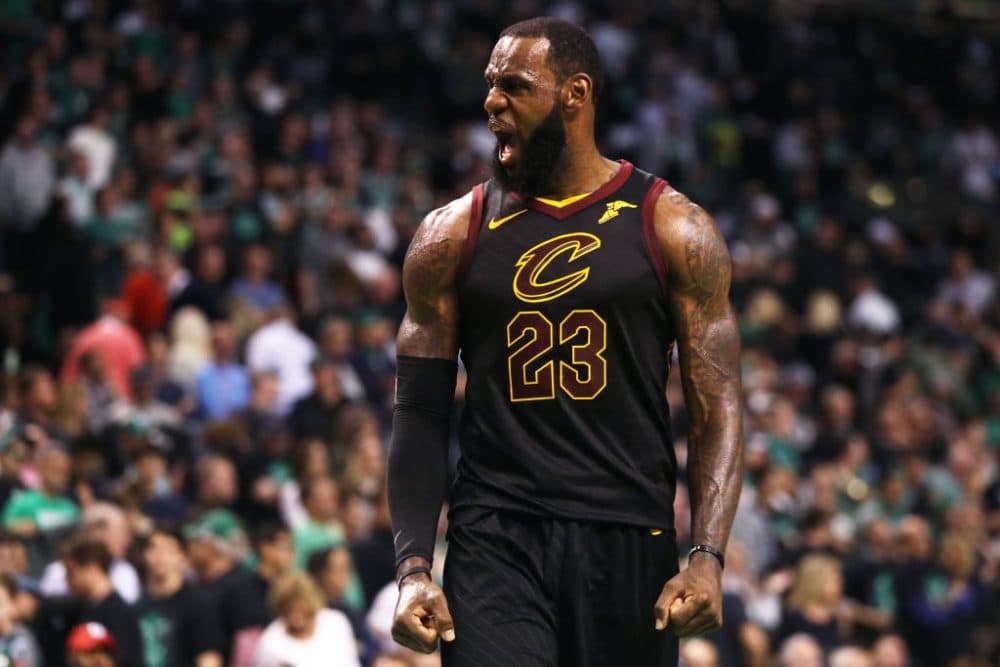 This article is more than 4 years old.
A good surprise is welcome news, so certainly there's that.
The Celtics were a great surprise. If you stayed up and sat
Amazed, as they beat Cleveland twice and looked as if they might
Win two of the remaining five, then you, like me, were quite
Excited. They were short one man who might have turned the tide,
But Kyrie Irving couldn't play. He missed that crazy ride
That ended late last Sunday, causing some to wonder how
The Celts had lost in Boston. Well, it's all behind us now.
And some of us have seen enough of basketball, I 'spose.
And some have turned away and said, "I guess that's how it goes."
But others will stay with the doings of the NBA,
And they will watch the games between the two teams still in play,
And I will be among them. I'll partake of the delights
Designed to keep us up too late and on too many nights.
And though the Cavaliers, in seven, overcame the Celts,
Who know now that a lead that seems substantial sometimes melts,
And though those Cavs prevailed, and Cleveland won the East again,
I won't hold that against them, won't much mourn what might have been.
For Cleveland has LeBron, who's earned his riches and his fame
By demonstrating how one man can rule this great team game.
He scores when no one else is scoring. Certainly that's true,
But scoring is just one thing that LeBron can always do.
He finds his open teammates, some deserving, others not,
And carries teams beyond their expectations. It's a lot
To pile upon the shoulders of one player, you'll agree,
His points, assists, and rebounds far exceed what you might see
From any other player doing everything just right.
And James? He does these things routinely almost every night.
So I will watch the Finals, for one day James will retire.
King James, some say, though they've perhaps not called to him "Hey, Sire!"
But one day he'll be history, and I believe his reign
Is very much worth watching, and the temporary pain
Of seeing him defeat the Celtics? I will let that fade.
I'll watch him play as well as ever this game has been played.
This segment aired on May 31, 2018.