Former U.S. Coach Bruce Arena: What Went Wrong In 2018 World Cup Run-Up
08:44
Play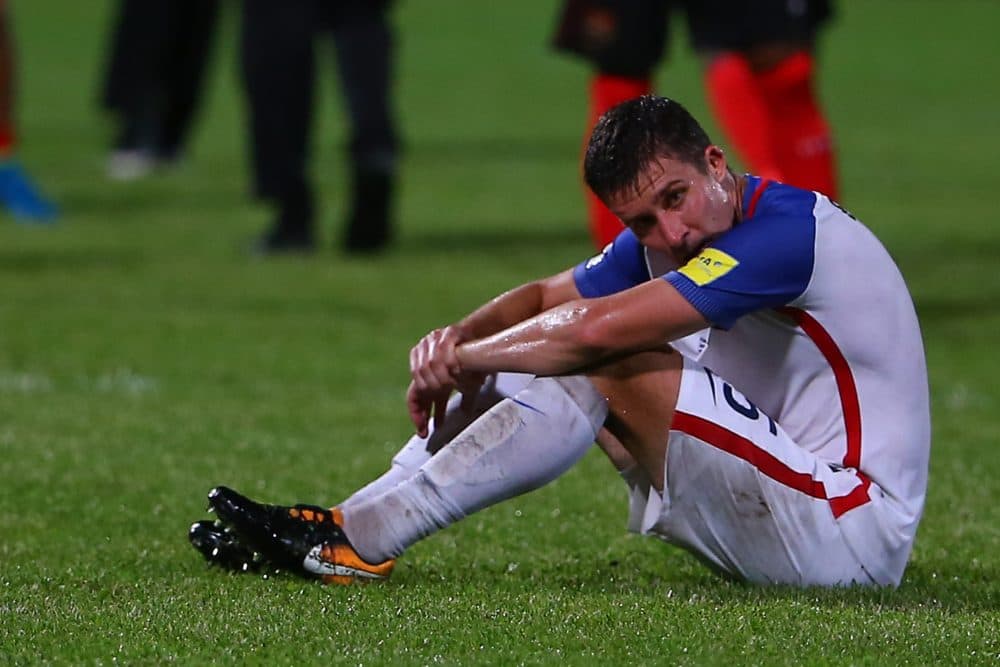 This article is more than 3 years old.
The 2018 World Cup begins next week in Russia.
Story continues below
Subscribe to the podcast
At the last World Cup, in 2014, the U.S. climbed gamely out of a "Group of Death" that included Germany, Portugal and Ghana. Then, led by an exceptional performance by goalkeeper Tim Howard, they nearly advanced to the quarterfinals, losing to Belgium in extra time.
The stage seemed to be set for further triumphs in 2018. But, no. U.S. fans will have to find another team to support. Theirs didn't make it to Russia.
How did that happen?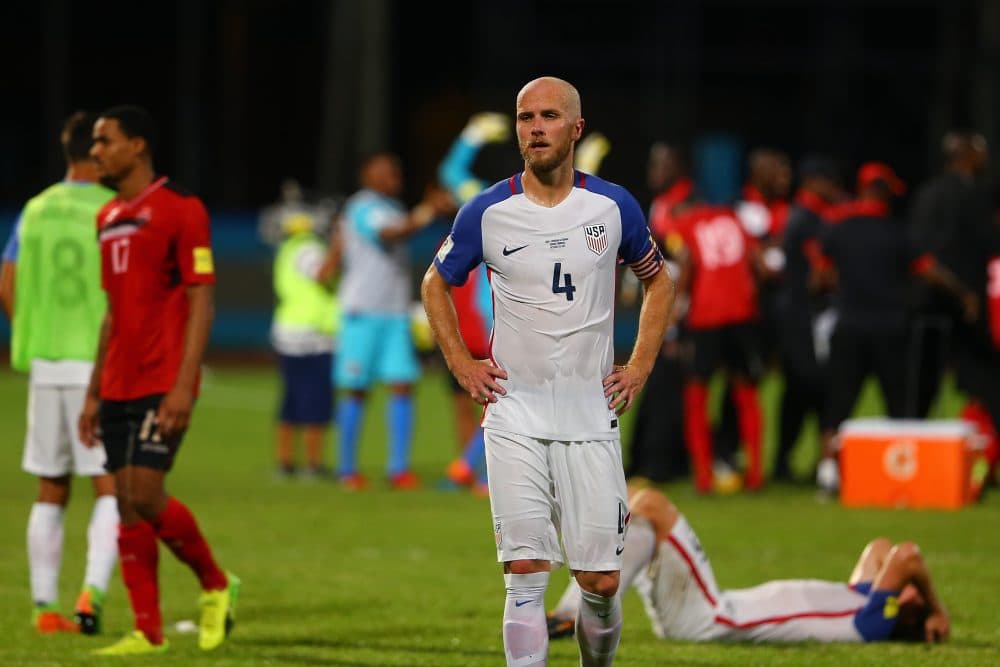 The Road To Qualification
The U.S. men's soccer team began the campaign to qualify for the World Cup on Nov. 11, 2016 in Columbus, Ohio. It didn't go well.
The 2–1 loss to Mexico despite the home field advantage was, of course, disappointing. Four days later, things got worse. The U.S. lost to Costa Rica, 4–0.
A win earns a team three points in the standings. You get one point from a tie. Two losses net the loser nothing, and nothing comes from nothing except firing the coach, Jürgen Klinsmann. The U.S. Soccer Federation brought back Bruce Arena, who'd coached the team from 1998 until 2006. He knew what he was in for.
"I certainly thought it was an honor," Arena says. "I realized that it was going to be a very difficult job."
Yeah, yeah ... he had to say that right? But, come on. The U.S. is a great big, strong, rich country playing against nations like Honduras, Panama and Trinidad and Tobago. And surely the return of Bruce Arena would give their confidence a boost, right?
"It was a group that was a little down, but my impression of the group was that they were a really good group of guys," he says. "I think the leadership of Michael Bradley and Tim Howard, for example, was outstanding. And I felt those veteran players were gonna be able to help us get through what we knew was going to be a very difficult year in 2017."
The Hex
The challenge would be to recover from the hapless start and begin to win, or at least tie, some games against the five other teams from North America, Central America and the Caribbean that had reached the stage of qualifying called "The Hex." Not, necessarily, because of any curse, although this time, well...
Anyway, six teams, the hexagonal: The Hex. Only three of those six teams would be guaranteed spots in Russia. The fourth would have to win a playoff game against a team from another conference to qualify.
On March 24, playing for the first time under Arena, the U.S. team rallied. They beat Honduras, 6–0, which is kind of like a baseball team winning, 24–0.
"Obviously an outstanding result," Arena says. "And a great feeling."
Except that three of the starters in that game went down with injuries serious enough to create doubt about their future availability. They did not play in the game against Panama four days after the 6–0 win. The U.S. came home with a draw, so just one more point.
Over the remainder of the spring and into the summer, Arena's team, a mix of Major League Soccer stalwarts and players employed by teams in Europe, could remain optimistic, if cautiously so. A 2–0 win over Trinidad and Tobago was followed by an encouraging draw with Mexico at Estadio Azteca in Mexico City, always a difficult place for the visitors to capture a point. But on Sept. 1, Costa Rica's team arrived at Red Bull Arena in New Jersey, where the U.S. should have had an advantage.
"We stepped on the field. About half the stadium was supporting the U.S. and the other half Costa Rica," Arena says."We don't know how those people get tickets — fans of the opposing team. But they manage to get them all the time."
Costa Rica delighted those fans by winning the game, 2–0. I wondered if that loss left Bruce Arena thinking he was doing something wrong.
"We lost the game against Costa Rica. That's what we did wrong," he says. "We also made a real big mistake as a Federation in putting that game in New York. Every game in qualifying is a battle. And every advantage you have, you gotta take advantage of that, and we did not do a very smart job in picking that venue."
Whoever was at fault, obviously the U.S. made no progress by losing that one. And little progress four days later, when they traveled to Honduras. They needed an 85th minute goal from Bobby Wood to salvage a draw.
By October, with two games left to play, the U.S. sat fourth in The Hex — a precarious position. Still, two wins would mean six more points. That would enable the U.S. to rise up the table and qualify, no matter the results of the other games in The Hex. Planning for Russia could begin.
The Fateful Game
On Oct. 6 in Orlando, the U.S. hosted Panama, and this time the home team prevailed, 4–0. So, as it worked out, a tie in the final game in Trinidad would suffice. The resulting one point would put the U.S. over the top, and all seemed in readiness — or did it?
"Well, nothing ever feels right when you're playing a game in [the Confederation of North, Central American and Caribbean Association Football]," Arena says. "You have the heat and humidity. The day before the game, we went to the game field, and it was flooded. And we literally could not train on it.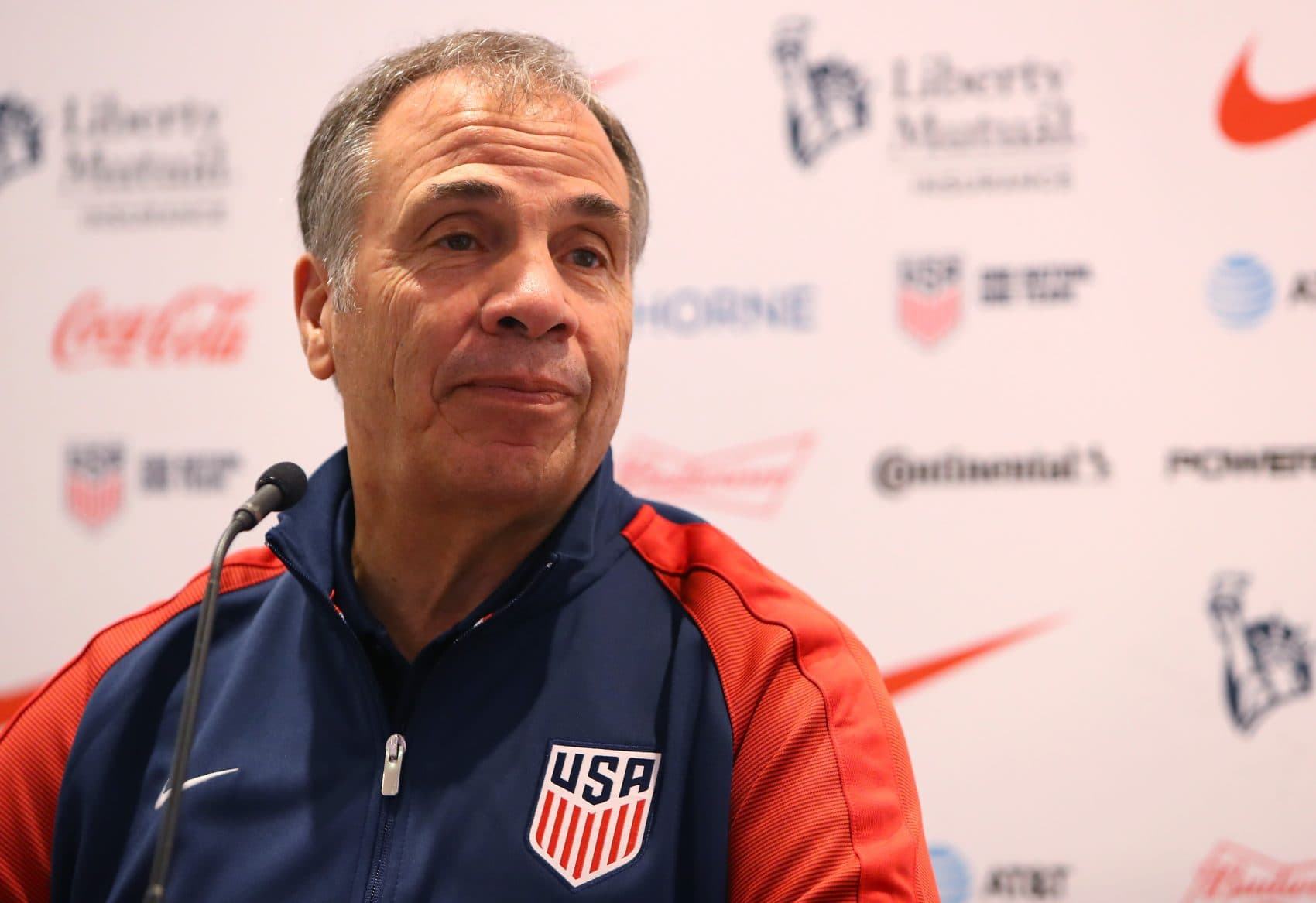 "So, we didn't know exactly what the field conditions were going to be like on game day. And when we got there, we found out the field drained properly. So there were no excuses on our end. They scored off an unusual goal, where Omar Gonzalez miscleared the ball, and it ends up in the back of the net for an own goal."
Down one was perhaps discouraging. As it turned out, down two would be deflating.
That's the position the U.S. found itself in after Trinidad and Tobago's Alvin Jones scored from nearly 30 yards out.
Arena's team got one back in the 47th minute. From then on, the U.S. became increasingly desperate.
"Their goalkeeper was playing very well," Arena says. "In the closing minutes we had the chance by Benny Feilhaber, the header inside the six-yard box, and then the shot from Clint Dempsey off the goal post. All of those in the closing minutes of the game. So it was just a matter of inches."
"It is over," commentator Phil Schoen declared on the telecast. "Trinidad, with nothing to play for, has dethroned the United States. Knocking them out of the World Cup 2018."
Looking Toward The Future
Bruce Arena told me there wasn't much he could say to the players. They knew what they'd done and what they had failed to do. They had failed to make it to the World Cup. But Arena did have something to say to the U.S. Soccer Federation. He said, "I resign."
"Well, there was no point in me remaining," he says. "I was hired to try to get this team into the World Cup. No one else was going to stand up and take any kind of responsibility. And I felt that it was in order that I do that."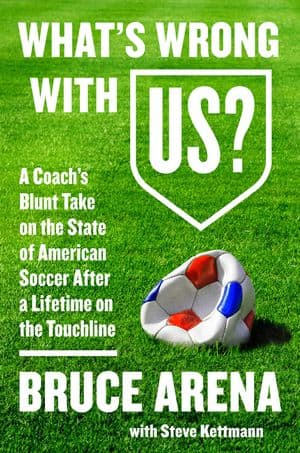 Arena left behind some recommendations: schedule home games that won't be convenient for the other teams' fans; work on building soccer in this country, rather than making money by playing Mexico in Southern California; encourage MLS to employ fewer foreign players; and concentrate on developing home-grown talent. But Arena does not feel that failure to make the World Cup will fundamentally diminish soccer in the U.S.
"It affects things commercially and politically," he says. "It doesn't impact where the sport is going, because the sport continues to grow at the major league level. However, there needs to be an improvement in technical leadership for our game. Everything has laid fairly idle since that day in October, and that is now about six months ago. So it indicates to me, again, that the leadership still doesn't get it."
Bruce Arena: gone as a coach, but not forgotten, though maybe some of the people in that leadership to which he refers might wish it were otherwise.
Read more in Bruce Arena's new book, "What's Wrong with US?"
This segment aired on June 9, 2018.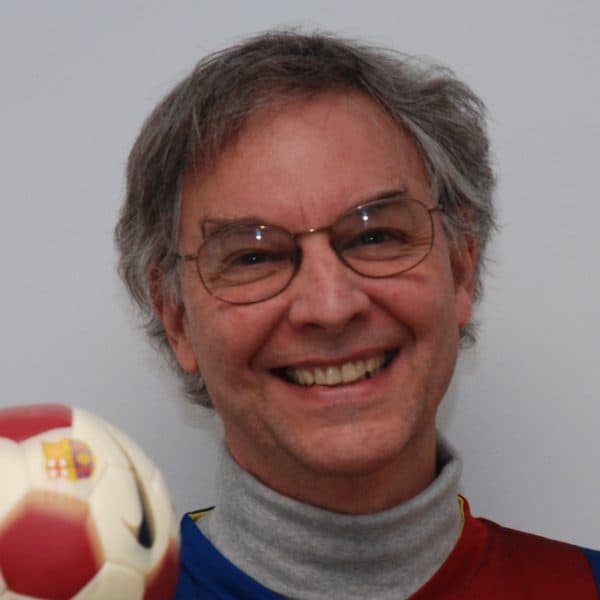 Bill Littlefield Host, Only A Game
Bill Littlefield was the host of Only A Game from 1993 until 2018.