Giving Up On Sportswriting — And Gaining A Lifelong Love Of Sports
Resume
In the summer of 1956, when Wanda Fischer was not quite 8 years old, she stumbled upon a Red Sox game on the radio.
"The guys had these beautiful radio voices," Wanda says."You know, these perfect sounding voices. They didn't have Boston accents."
Wanda tried to imagine the game, but she couldn't quite picture it. Sure, the diamond must have four sides. But what did the bases look like? So she asked her father to take her down to the field where the high school kids played.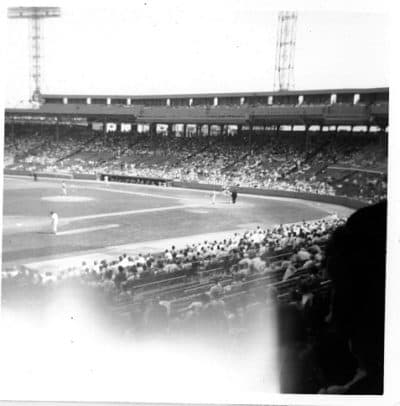 "Then the next time I listened on the radio, it made a lot more sense," Wanda says. "By the time I was 10, I started to pick up some of the nuances. And then, when I was 14, my mother allowed me to go with my friends to my first game at Fenway Park. And then it really got bad."
Wanda had been begging her mother to let her go to a Red Sox game for a long time.
"Oh, yeah," Wanda says. "Because in order to get to Fenway Park from Weymouth at the time, you had to take a bus from Weymouth to Quincy. And then you had to take another bus from Quincy to Fields Corner. And then you had to take a train from Fields Corner to Park Street station. And then you had to go upstairs and take a trolley. So that was a project."
The year was 1963. Wanda says bleacher seats went for a dollar, and kids under 18 could sit in the right field grandstand for 85 cents. But for their first time in Fenway Park, Wanda and her two friends paid three dollars each for box seats.
"And we just had so much fun," Wanda says. "We were so close to where the ballplayers were. And at the end of the game, we walked that bridge back to Kenmore Square and took the trolley, the train and the two buses home. And it was just amazing."
After that, Wanda's mother let her go to the ballpark on her own — as long as she brought home a ticket and a completed scorecard, to show that she actually had attended the game.
Learning From The Best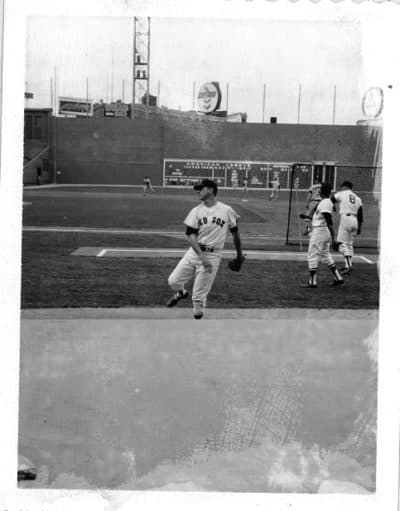 Wanda's mom didn't know how to read a scorecard. But Wanda did. She learned from the best.
"We always went for batting practice — we went early," Wanda says. "I was filling out my scorecard with the lineups. And Curt Gowdy — you remember who Curt Gowdy was?"
He was the "voice" of the Red Sox from 1951 through 1966.
"He came over to me," Wanda says. "And he said, 'Do you know how to fill out that scorecard?' And I was, like, 'Nooooo.' And he said, 'Well, let me show you how we do it in the booth.' And he showed me how to draw this little diamond and how to put in when a person hit a single and if they were caught stealing and all this other stuff.
"And he said, 'The next time I see you, I'm going to make sure you're doing it right.' You know, I was petrified — I thought he was going to come back and give me 40 lashes or something if I did it wrong.
"And he came back a few weeks later, when we were at batting practice. And he looked down and he said, 'How's it going?' And I said, 'Oh, um, I think I'm doing good.' And he said, 'OK, well, show me.' And I showed him.
"He goes, 'You're doing fine. Yeah, you're doing good.' I just thought that was absolutely fabulous that Curt Gowdy taught me how to score. And he gave me an A."
'You Might As Well Try To Be President'
Along the way, Wanda got the idea that maybe she could be more than just a fan of her beloved Red Sox. After all, she was a good writer. Her first letter to the editor — praising the local life guards — was published when she was in the second grade.
"I thought, 'I would really like to be a sportswriter,' " Wanda says. " 'And I think that I could do it. Even though I'm a woman.' "
Wanda went to the library and looked through the index cards to try to figure out if there were any women writing about sports. She found a few. But not many.
"My mother said, 'You might as well try to be President than be a woman sportswriter,' " Wanda remembers. "And I said, 'Well, maybe I should try to be President.' I don't know, you know."
When she got to high school, Wanda started writing about baseball for the school newspaper. She compared her articles to the ones the boys were writing. She thought hers were better.
Meeting Rick Reichardt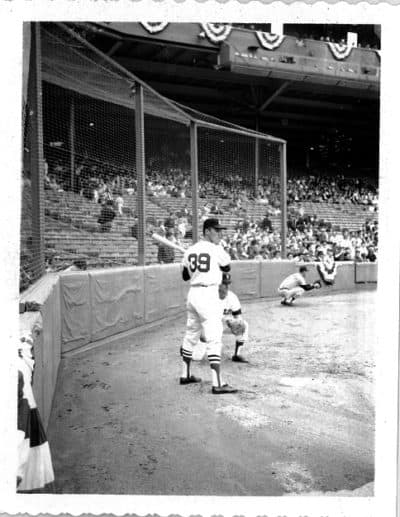 Then came the summer of 1965.
"Neither one of my friends who was one of my baseball companions was available to go to the game, so I went by myself," Wanda says.
Wanda stayed until the very end of the game. She mingled in the players' parking lot getting autographs. And as she was leaving, she spotted Rick Reichardt.
"And I said, 'Oh, aren't you the center fielder for the California Angels, Rick Reichardt?' " Wanda says. "And he said, 'Well, yes I am.' "
Wanda and Rick were headed across the bridge toward Kenmore Square. Rick was on his way to his hotel. Wanda needed to take the trolley to the train to the two buses that would take her home.
"I said my goal was to be a sports writer," Wanda says. "And I remember him actually stopping walking. And I think it was because he knew I was going to get on the train if we kept walking. He wanted to make sure I got the point."
That's when Rick Reichardt, center fielder for the California Angels, told Wanda Fischer, 16-year-old from Weymouth, Massachusetts, something that would change the course of her life.
" 'You know, you seem like a really nice girl,' " Wanda remembers Rick saying. " 'The guys really don't want women in the locker room or the clubhouse, and they're going to give you a hard time. I don't want to say don't do it. I'm just telling you that this is what you're going to be up against.'
"I don't want to say don't do it. I'm just telling you that this is what you're going to be up against."
"And I thanked him. And he went to the Kenmore Hotel where the ballplayers stayed, and I went down into the subway to get on the trolley."
On the long ride home, Wanda thought about what Reichardt had said. She decided to follow his advice and not pursue a career in sports writing.
Later, when Jim Bouton's book, "Ball Four," came out, and she read about what went on in baseball's clubhouses, she knew she had made the right choice.
"I would not have been able to handle the kind of language, let's say, that I was not used to hearing at my house when I was growing up," Wanda says. "I just wouldn't have been able to do it."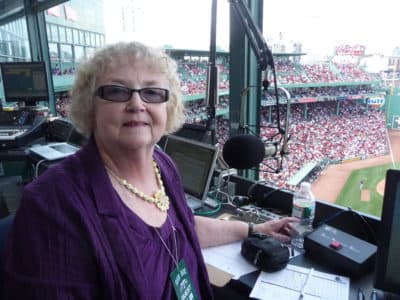 It's not that Wanda was easily intimidated. She had been opinionated enough to write a letter to the editor in the second grade and independent enough to travel to ball games on her own at the age of 14.
"Well, I fought with the boys all the time at school," Wanda says. "But I would go home and cry about it. Because they made fun of me, you know. But how much of that could you take if it was constant by grown men whom you'd idolized all your life?"
A Different Path
Wanda had a long and rewarding career in public relations and marketing. She says she's proud of all the women she sees on TV talking about sports, but she definitely did not go to work every day wishing that she had become a sportswriter.
"What I realized over the past 40 years is that, most likely, had I not taken that advice and I tried to break in through that glass ceiling that existed in the late '60s, early '70s, I probably would've hated sports," Wanda says. "And if I had hated sports, my life would've been completely different. Where would I be?"
Wanda doesn't live near Boston anymore. But she's still a fan of the Red Sox. And on Aug. 5, 2012, when the Sox hosted the Minnesota Twins, she got the chance to audition to become the public address announcer at her beloved Fenway Park.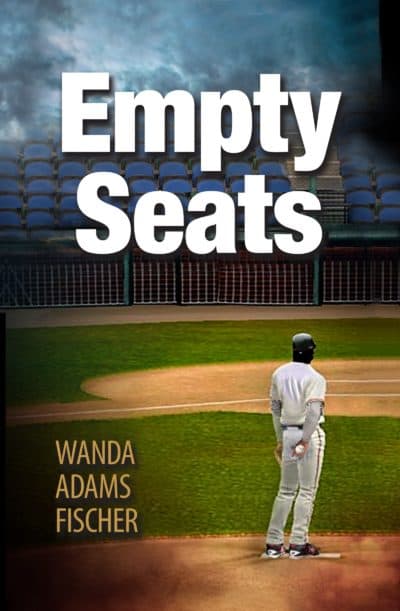 "It was basically the thrill of my life," Wanda says. "To be up in that booth and to say things like, 'Now batting, No. 15. The second baseman: Dustin Pedroia.' You know, I mean that was amazing. That was amazing. And if I didn't love baseball still, I wouldn't have done that."
Recently, Wanda Fischer published her first book — a novel set in baseball. One of the characters is a minor league ballplayer who grew up in Weymouth, Massachusetts — two busses, a train and a trolley ride from Fenway Park.
When the novel was finished, Wanda sent a copy to Rick Reichardt.
"I did — I found him through Facebook," Wanda says. "He didn't respond to me yet. But I expect to hear from him."
Wanda is thankful for the advice that Rick gave her that day.
"I am, I am," Wanda says. "Sometimes I will just be driving by a field, and I'll see a Babe Ruth game. And I'll pull over, and I'll watch it for a few innings. And somebody next to me will say, 'Which one of those kids out there is your grandson?' And I'll be, like, 'None of them. I just want to watch these guys for a few innings.' I just love this game. I don't know, I can't explain it."
---
Wanda Fischer's novel is called "Empty Seats."
This segment aired on August 11, 2018.