The Nearly Forgotten History Of Basketball HOF Inductee Ora Washington
Play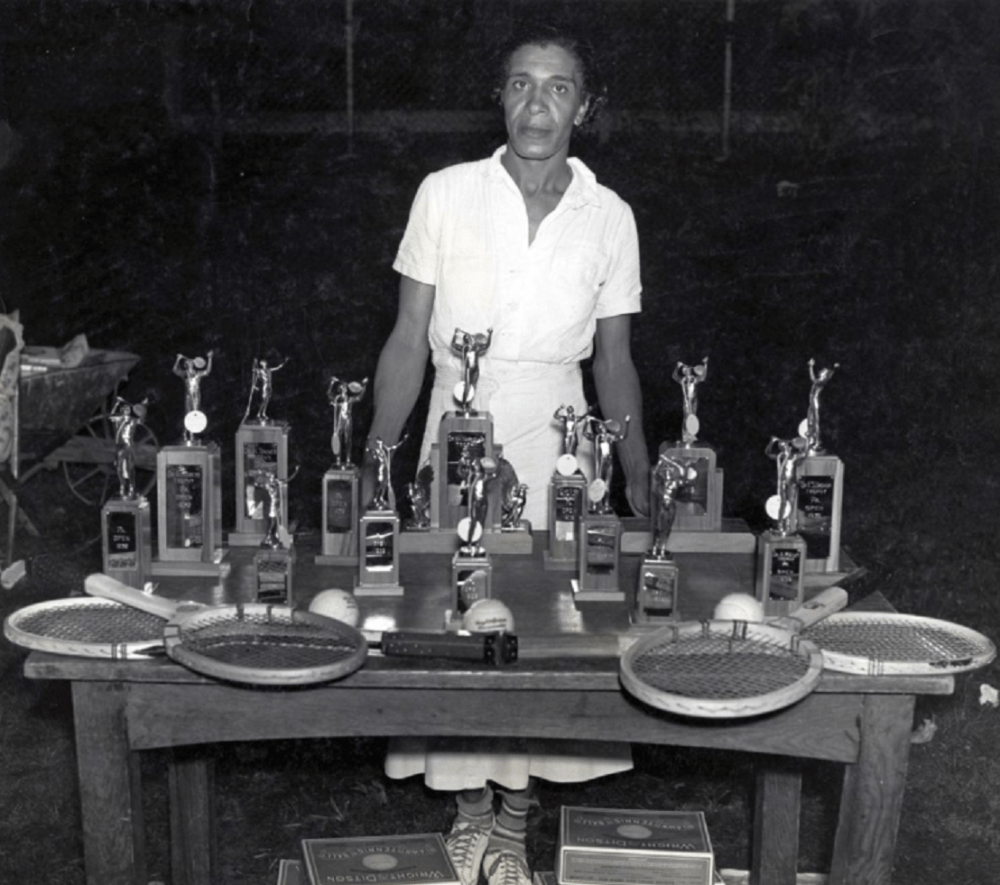 This article is more than 4 years old.
The first time Ora Washington made it into a hall of fame, all did not go according to plan.
Ora Washington was inducted into the Black Athletes Hall of Fame two weeks ago.
This is from the New York Times, Apr. 11, 1976.
But the seat reserved for her on the dais the night of the induction ceremonies was empty. ... And Miss Washington's whereabouts remain a mystery.
According to the Times, "Miss Washington" held the American Tennis Association's singles title for 12 years — actually, it was eight. Her prowess on the basketball court wasn't mentioned.
"They say she was an allround athlete who had speed and a smashing serve," Charlie Mays, founder of the Black Athletes Hall of Fame told the Times. "But racial barriers were too strong to break during her day, so many of her achievements were never acknowledged."
Mays says that based on bits and pieces of information he has received, Miss Washington is believed to be in her late 60s and was last known to be living in Philadelphia. He says he will keep Miss Washington's awards in a glass case in his office until he can find her.
Len Lear knows where "Miss Washington" was that night.
"She could not be there, because she had died five years earlier," Len says.
When Ora Washington died in May of 1971, Len was working for the Philadelphia Tribune, the country's oldest continuously published African-American newspaper. But Len first heard the name Ora Washington a few years earlier.
"Someone in the office told me about all her accomplishments," Len says. "And I said, 'That is crazy.' I said, 'I've got to interview this person. Could this be real?' I mean, it's just hard to believe."
Meeting Ora Washington
The year was 1969. Ora was 71 years old. Len didn't have any trouble finding her. But she wasn't exactly what he was expecting.
"First of all, she was 5-foot-7 — quite ordinary," Len says. "She was thin. If you walked past her on the street, you wouldn't know this was somebody special."
Ora didn't brag about her 23 national tennis titles or the dozen national championships she won in basketball. And she didn't complain about the fact that she'd never been allowed to compete for a title in a sport that wasn't racially segregated.
"She really didn't have a lot of anger about the race issue," Len says. "Which surprised me, because she certainly had justification."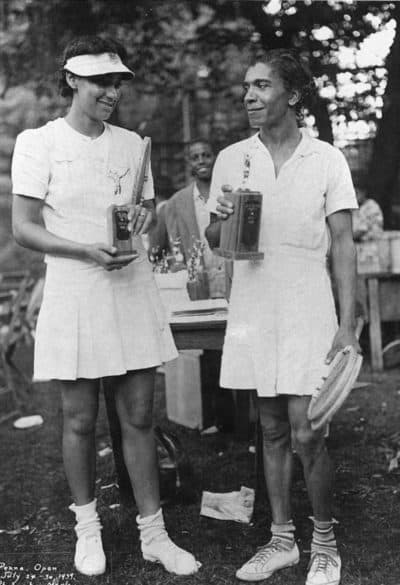 Len says if Ora was alive today, she'd be rich.
"And this to me is the saddest part of all, even sadder than not being allowed to play in the major tournaments," Len says. "She wound up being a maid in her later years. A maid — that is to say, housekeeper — in the house of a white family in Germantown. And if she were around today, Ora Mae Washington would be one the most famous female athletes in the world."
#OraNotOraMae
But before we go any further into Ora's story, independent historian Pamela Grundy wants to set the record straight: Ora's name was never Ora Mae.
"I have no idea where this Mae has come from," Pamela says. "I've never seen in the contemporary, like, in the newspapers of the time — when they were reporting on her, they're just calling her Ora Washington. They are not calling her Ora Mae Washington.
Pamela believes the "Mae" was added after Ora's death.
Much of what has been written about Ora-not-Ora-Mae Washington simply isn't true. So Pamela Grundy stuck to sources she could trust: official records, contemporary newspaper accounts, interviews with a few of Ora's opponents and a surviving cousin.
"This is what historians love," Pamela says. "It's so exciting when you just like find that little tidbit of information."
And here's another one of the liberties time has taken with Ora's story. She didn't become a maid after her athletic career ended, as Len Lear had assumed. She worked as a maid her whole life. And becoming a maid is what brought her to Philadelphia in the first place.
Ora Washington was born in 1898 in Caroline County, Virginia. Her family owned a farm — they weren't sharecroppers. But still, life wasn't easy.
"By the 1910s, '20s, things are getting kind of hard on the farm," Pamela says. "And you can tell from the census that they're not doing well."
When she was a teenager, Ora joined the mass migration out of the South, as blacks — especially women — moved north to find work.
"She had an aunt who had done this — had gone up, who had been quite successful, gotten married," Pamela says. "And so Ora left. And she went and she stayed with her aunt for a little while, until she found a job."
Ora's Tennis Career
Ora also found Germantown Y, known back then as the "colored YWCA." She started playing tennis sometime in 1924, possibly as a distraction from grief over the death of her sister.
"She picks up a racquet, and all of a sudden everyone realizes she's going to be really good," Pamela says.
Just a year later, in 1925, Ora Washington won her first of 12-straight American Tennis Association national women's doubles titles. Later, she'd win eight singles titles and three more in mixed doubles. Pamela found this one quote — it sums up Ora's dominance on the tennis court.
"She was so intimidating, many of her opponents were beaten before the first ball passed over the net," Pamela recalls.
But the square-jawed farm woman wasn't always celebrated.
"The idea, typically, for female athletes is — the best strategy is you play hard," Pamela says. "But the second you get off the court, you put your lipstick on, you fix your hair up and you talk about how much you're doing this until you can get married and have a family like every other normal woman. That's very much a strategy."
Ora didn't do that. She never married. She lived with what Pamela describes as "a series of female companions."
"Ora, I think, makes the black leaders nervous," Pamela says.
So instead of celebrating Ora for winning all those titles, the tennis community started suggesting that Ora's dominance was bad for the game. But Ora found more acceptance in the working-class sport of basketball.
Picking Up Basketball
She picked up the game in the fall of 1930, playing for the Germantown Hornets, a team sponsored by the Y. Basketball, like tennis, was segregated, and the team with the best record in the country at the end of the season was declared the National Champion. In 1931, that team was the 21–1 Germantown Hornets.
"They actually end up breaking away from the YWCA the next year," Pamela says. "And they form a little semi-pro team."
The Hornets' success caught the attention of the Philadelphia Tribune, which, starting in the fall of 1931, sponsored its own team, the Tribune Girls.
"And then they have this epic battle," Pamela says. "And the Tribune, of course, plays it all up."
The two teams met for a five-game series to determine the national champion. It stretched out over almost two full months.
And it all came down to Game 5.
The cash customers fanned to fever heat by the ardor and closeness of combat gave outlet to all kinds of riotous impulses.
Those are the words of Tribune sportswriter Randy Dixon. In the third quarter, with the Tribunes ahead, Ora "let go a humdinger from way back beyond the center of the court."
The ball went in. The Hornets rallied. But it wasn't enough. The Tribunes won the game, the series and the national championship with a final score of 31–23.
The next year, the Tribunes hired Ora Washington away from the Hornets. The paper ran ads in support of its dream team.
Start saving 25c now so you can attend Thanksgiving Nite ... They make you forget the Depression.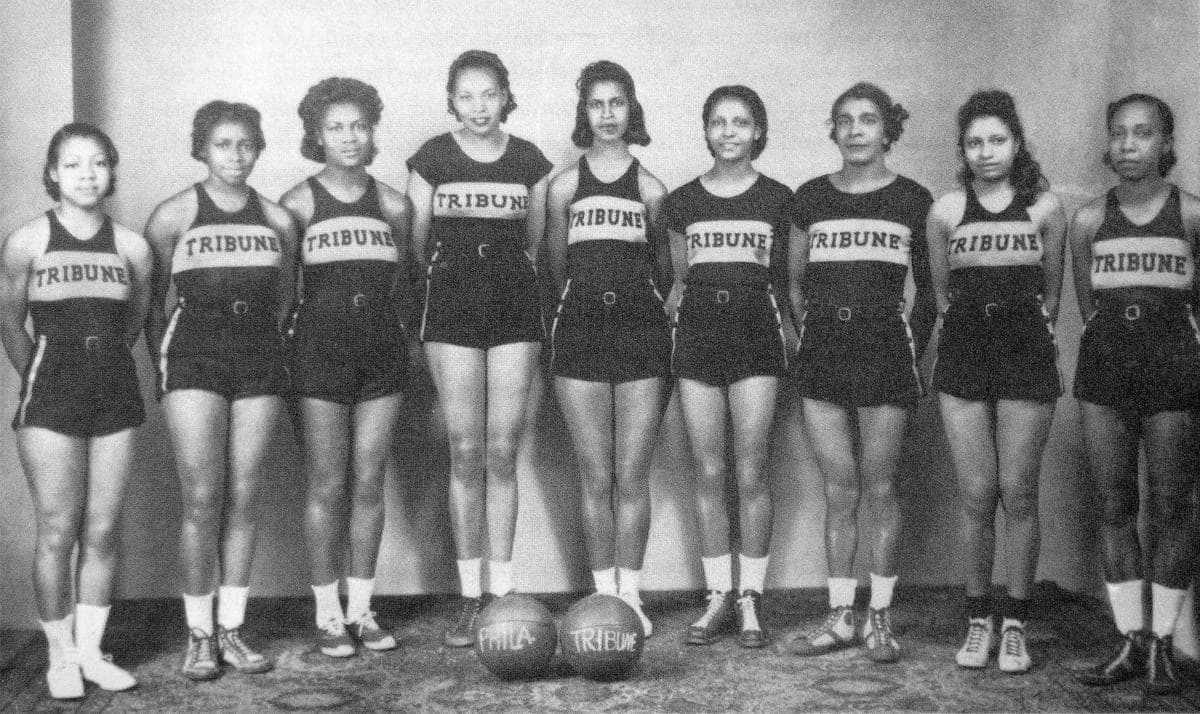 Over the next 12 years, Ora and the Tribune Girls barnstormed up and down the east coast, through the South and the Midwest. The team had no rivals, and Ora was their star.
The End Of Ora's Athletic Career
Meanwhile, Ora kept winning on the tennis court. She took home the singles title eight times in the nine years between 1929 and 1937. And then, in 1938, she retired from singles.
"The up-and-coming star is a woman named Flora Lomax," Pamela says. "And she's, like, a doctor's daughter. She lives in Chicago. She loves to dance. She wears these cute outfits. She's, like, the ideal.
"Then Ora unretires for one match. She goes to a tournament in Buffalo to play — specifically to play Flora Lomax. She beats her, and then she retires again."
Ora continued to play basketball until 1943, when the Tribune Girls were disbanded. She won her last national doubles tennis title in 1947. And that's when she disappeared from the public eye.
"At that point, the post-war period is really bad for women's sports," Pamela says. "And Ora just continues to work as a housekeeper. Nobody pays any attention to her. Everybody's paying attention to Jackie Robinson and Wilma Rudolph and Althea Gibson — and these folks who come along at the right time to be in the broader spotlight."
"If she was around today, Ora Mae Washington would be one the most famous female athletes in the world."

Len Lear, former Philadelphia Tribune reporter
Thanks to Pamela Grundy's efforts, a historic marker commemorating Ora's accomplishments was placed at the site of the Germantown Y. And Ora was inducted into the Women's Basketball Hall of Fame. Pamela sent a nomination to the Naismith Memorial Basketball Hall of Fame as well. Though she didn't hold out much hope.
"Everybody I talked to said to me, 'You would be wasting your time,' " Pamela says. " 'There is no way that the Naismith Hall is going to put her in. Because they put in so few.' I would love to know who was the person and the process that did the nomination and got her in."
I think I can help with that.
Claude Johnson is the founder and executive director of the Black Fives Foundation. The Hall denied my request for information on the person who brought Ora to their attention. But I'm pretty sure it was Claude.
He researches and publicizes the stories of players from the Black Fives era — that's 1904, when African-Americans first started playing basketball in large numbers, to 1950, when the NBA was integrated.
"This all started with me realizing that there were these teams that had been forgotten," Claude says. "And so I just kept doing research. But I found that nobody else knew about it. The Hall of Fame didn't, the archivists at the Library of Congress or any place else that I went ..."
Beginning in 2007, Claude started publishing a list of early basketball pioneers — men and women from that Black Fives era — that he felt should be in the Naismith Hall of Fame. On that very first list, and every list since, was the name Ora Mae Washington.
"She was the first African-American female sports superstar," Claude says. "During the height of the Great Depression. During the height of Jim Crow. Whether you're talking about male, female, black, white — really, she stands out."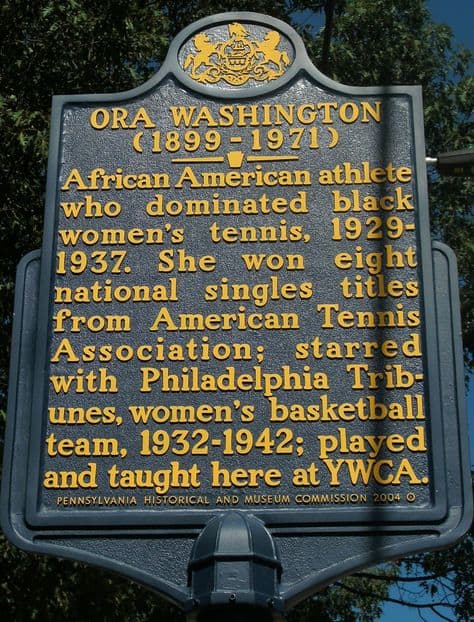 Ora will be the eighth person in as many years from Claude's list to be enshrined in the Hall.
Claude heard the news when the rest of us did: when the Hall made the announcement during the NCAA Final Four in March. It took Len Lear, former writer for the Philadelphia Tribune, a little longer to get the news.
"Well, I hate to tell you this," Len said. "But I'm finding this out for the first time. Wow. Far out."
Len says things are different for black athletes today — players like LeBron James, who sign contracts for hundreds of millions of dollars and appear in magazines and TV commercials.
"Even racists will root for somebody like that," Len says. "So I think it's very important that someone like Ora Mae Washington, who had to fight against so much more to do what she did, that she shouldn't be forgotten."
Independent historian Pamela Grundy can't quite shake her dismay that Ora is being inducted as Ora Mae Washington. She feels the name is diminishing. But a Hall of Fame enshrinement means that Ora will be forever remembered. And given how close she came to being lost to history, that's important.
This segment aired on September 1, 2018.